January 23, 2014
13 Year Old Kid Chef Eliana Brings Home Tasty Award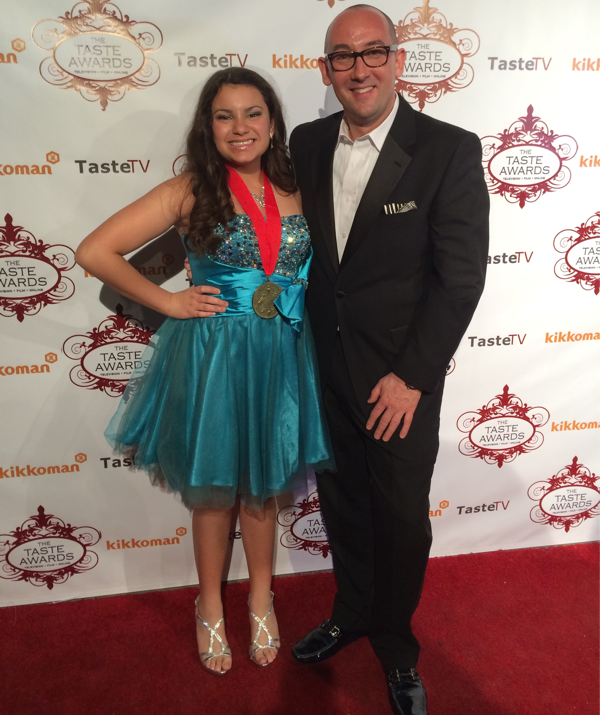 Culinary Sensation – and 13 Year Old – Kid Chef Eliana Takes Home Tasty Award
13 year old culinary sensation, Kid Chef Eliana (Eliana de Las Casas), is a Taste Award honoree, a recipient of an award for Special Achievement in the Outstanding Kids category for her role as host of "Cool Kids Cook," her weekly web radio show on the VoiceAmerica Kids network. The TASTE AWARDS are the highest awards for the Lifestyle Entertainment Industry. Also known as the Tasty Awards, they are the premier broadcast awards show celebrating the year's best achievements in Food, Fashion, Home, and Lifestyle programs on Television, in Film, Online, and on Radio. She accepted her award at a red carpet event at Grauman's Egyptian Theater in Hollywood, California on January 16, 2014.
Two other Louisianans took home top honors as well. Baton Rouge blogger and radio show host, Jay Ducote, won in the Best Food and Drink Radio Broadcast category for his radio show, Bite and Booze. Chef Emeril Lagasse was honored with a Lifetime Achievement Award.
The accomplished cook and award-winning cookbook author's weekly radio show, "Cool Kids Cook," is on VoiceAmerica, the Internet's largest talk radio network with over 9 million monthly listeners. Notable guests on her radio show feature some of the top chefs in the nation including Jose' Andres ("Made in Spain" on PBS), Andrew Zimmern ("Bizarre Foods" on Travel Channel), Pastry Chef Gale Gand, Melissa d'Arabian ("Ten Dollar Dinners" on Food Network), White House Executive Pastry Chef Bill Yosses, and so many more. Eliana says, "I'm honored and thrilled to be a Tasty Award recipient! This award means so much to me and I am so grateful." Eliana says laughing, "My award was presented by Ashley James, the executive chef of the Four Seasons Hotel Los Angeles at Beverly Hills, and as I walked up the stairs to accept my award, I kept thinking to myself, 'Don't fall! Don't fall!'"
Her latest cookbook won a 2013 Parents' Choice Approved Award from the Parents' Choice Foundation. The full-color, hardcover cookbook entitled Cool Kids Cook: Louisiana (Pelican Publishing) showcases Louisiana recipes that are simplified so that the whole family can cook together. Her third cookbook, Cool Kids Cook: Fresh & Fit (Pelican Publishing), will debut in February 2014.
She has shared the cooking stage with Chef John Besh, filmed with Chef Aaron Sanchez (Food Network) and Chef Carla Hall (ABC's "The Chew"), and appeared on national television. She was featured on Nickelodeon's Nick News with Linda Ellerbee in December 2013 and is featured on the January/February 2014 covers of Ingredient magazine and Iguana magazine. She was also featured in the 2013 Holiday Issue of Louisiana Kitchen & Culture Magazine.
Her mission is to encourage families to cook together and to inspire kids to become culinary explorers. As Eliana always says, "Cool kids cook and get creative in the kitchen!"
I had the pleasure of meeting Kid Chef Eliana in person last month at the NOLA Chefs' Aid for the Philippines event. She is a joy to be around and an inspiration for the young and old alike!
Here's a pic, from that event, of my son Christopher with Kid Chef Eliana: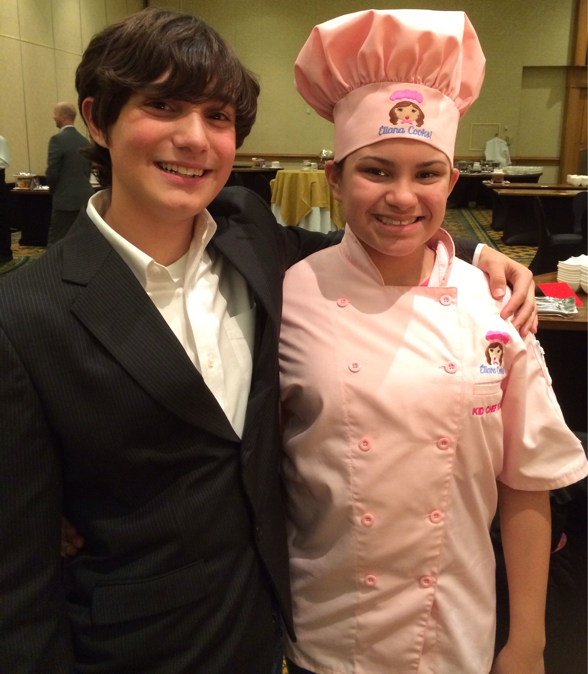 Note: Most of the article above was taken from a recently published press release. You can find out more about Kid Chef Eliana at her website: KidChefEliana.com