April 8, 2014
13 year old Kid Chef Eliana Nominated for Best Up and Coming Chef in Louisiana by ACFNO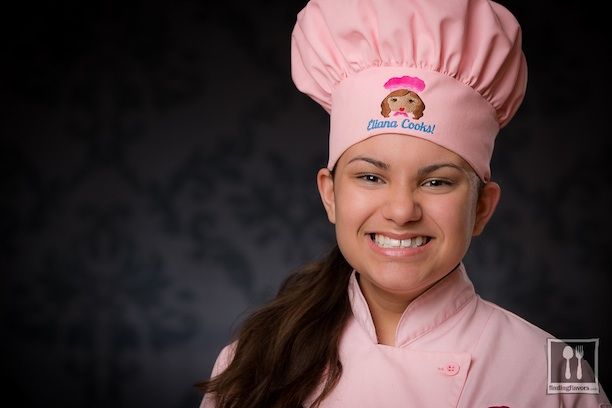 Kid Chef Eliana (Eliana de Las Casas), the award-winning 13 year old chef, radio show host, and author, has been nominated for Best Up and Coming Chef in Louisiana by the American Culinary Federation, New Orleans chapter. ACFNO will honor top Louisiana chefs at the annual Best Chefs of Louisiana event at Generations Hall on Tuesday, April 8, from 6:30-9:30 p.m. Kid Chef Eliana is the youngest chef on the roster.
The event includes the honoring of this year's chefs, a silent auction, live band, and, of course, great food from over 30 chefs. It benefits Children's Hospital's Emergency Transport Program, which includes the only helicopter dedicated solely to pediatric transport in Louisiana, and ACFNO's Culinary Scholarship Fund. For more information about the event and for tickets, visit www.acfno.org.
Kid Chef Eliana is a 2014 Taste Award honoree, a recipient of an award for Special Achievement in the Outstanding Kids category for her role as host of "Cool Kids Cook," her weekly web radio show on the VoiceAmerica Kids network. The TASTE AWARDS are the highest awards for the Lifestyle Entertainment Industry, celebrating the year's best achievements in Food, Fashion, Home, and Lifestyle programs on Television, in Film, Online, and on Radio.
The accomplished cook and award-winning cookbook author's weekly radio show, "Cool Kids Cook," is on VoiceAmerica, the Internet's largest talk radio network with over 9 million monthly listeners. Notable guests on her radio show feature some of the top chefs in the nation including Jose' Andres ("Made in Spain" on PBS), Andrew Zimmern, Pastry Chef Gale Gand, Melissa d'Arabian, former White House Executive Pastry Chef Bill Yosses, and so many more.
Her second cookbook, Cool Kids Cook: Louisiana, won a 2013 Parents' Choice Approved Award. Her third cookbook, Cool Kids Cook: Fresh & Fit (Pelican Publishing), debuted in February 2014. The latest cookbook focuses on fresh foods and healthier recipes for families. She is the Kids Ambassador for SoFAB Institute, has shared the cooking stage with Chef John Besh, filmed with Chef Aaron Sanchez (Food Network) and Chef Carla Hall (ABC's "The Chew"), and appeared on national television. She was featured on Nickelodeon's Nick News with Linda Ellerbee this past December.
Eliana says, "I am truly honored to be nominated for Best Up and Coming Chef. It was such a surprise and I am so humbled to be listed with some of the best chefs across Louisiana. I am so grateful to the ACFNO and all the chefs in New Orleans and beyond, who have welcomed me and become my mentors. This is such a privilege!"
Her mission is to encourage families to cook together and to inspire kids to become culinary explorers. As Eliana always says, "Cool kids cook and get creative in the kitchen!"
***Photo Credit: FindingFlavors.com***