October 4, 2011
Hot Sauce: 4 Mouth-Warming Hot Sauces To Keep You Warm This Fall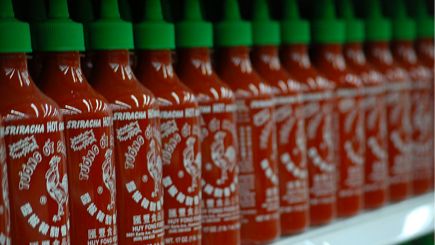 I love hot sauce.
That's not surprising if you know that I'm a Louisiana boy. I grew up with hot sauce.
As a matter of fact, when I talked back to my momma as a child, I was "rewarded" with a dash of hot sauce on my tongue. At the tender age of 7 I couldn't really appreciate the finer points of hot sauce. At that time, it was only a harsh and agonizing punishment. I remember those tears!
I learned my lesson though. [I love you, Momma!]
And today I love hot sauce. I can't tell you exactly when the change took place, but at some point I moved from fear to infatuation… then to love.
I love hot sauce.
Here are a few of my favorites:
Sriracha is affectionately known in these parts as "Rooster Sauce" because there's a rooster depicted on the front of the bottle. Really good stuff. Not so hot that it will incinerate you, but it will definitely clear out the sinuses.
In our house we love to make what we call "Sriracha eggs." [I'll give you that recipe in a minute.]
I should also tell you that  we also like to call it "Shah-Ra-sh" or "Shah-Ra-She." So, really, we make "Shah-Ra-She eggs." They have a bit of a bite. 😉
Tabasco is a Louisiana staple. It's been made on Avery Island since 1868. I love that hot sauce too. In recent years they have branched out. Tabasco now makes a garlic sauce, a jalapeno sauce, a habanero sauce, a chipotle sauce and several other products. But, personally, I like the original.
Did you know that Tabasco was an ingredient in the original Bloody Mary recipe made in Harry's New York Bar in Paris? It's true! We Louisiana folk get around! You can find the full Tabasco-Bloody Mary story in episode 118 of the Catholic Foodie. I produced that episode when I was at the beach this summer. Fun!
Crystal is probably our all-time favorite. It's so versatile! It's not as hot as Tabasco, and it has more of a tang to it. We love that tang! We love to add Crystal to our red beans and our white beans, and… Goodness! We like to add it to just about everything!
Louisiana Hot Sauce, in my mind, is somewhere between Crystal and Tabasco. It's hotter than Crystal, but not as hot as Tabasco. It does have tang though. Did I mention that I love that tang?
I just read something the other day about the health benefits of hot sauce. I don't remember all the details, but I like the idea. Maybe I should dedicate an episode of the Catholic Foodie to this question: Does hot sauce make us more healthy?
Here's our recipe for "Shah-Ra-She eggs" (it's crazy-simple!):
Ingredients:
4 to 6 eggs
Whole milk
Butter
Sriracha
Kosher salt & fresh ground black pepper to taste
Directions:
Pre-heat a cast iron skillet on medium heat.
Crack eggs and add to a mixing bowl.
Add a splash or two of milk.
Add Sriracha to taste (we usually start with one "circle" around the bowl).
Beat until well mixed.
When the skillet is hot, add enough butter to coat the bottom.
Immediately add the eggs.
Season with salt and pepper, to taste.
Stir eggs around in skillet for about a minute. DO NOT overcook. If they look like they are cooked, then they are over-done.
Remove eggs from pan and place on serving plate. This allows them to finish cooking on the plate. You can then plate them and serve. (Or, of course, top with a bit more Shah-Ra-She…. And green onions, if you're really adventurous!)
We love "Shah-Ra-She eggs," and I hope that you do too!
If you decide to make this recipe, please let me know how it turns out! You can email me at jeff@catholicfoodie.com, or you can call the listener feedback line at 985-635-4974. I love to play voice feedback on the show!
And, until next time…
BON APPETIT!
Photo courtesy of ilovememphis on Flickr.com.
Disclosure:

Any links in this email may very well be affiliate links, which means that I get a small commission if you decide to purchase something you discovered here. It doesn't cost you a penny more, but it does help to support the work that I do here at the Catholic Foodie. Thank you! By the way, if you do buy some hot sauce, email me and let me know. I would like to thank you personally.