September 26, 2014
7 Quick Takes: Moms, Birthdays, and Home Cooking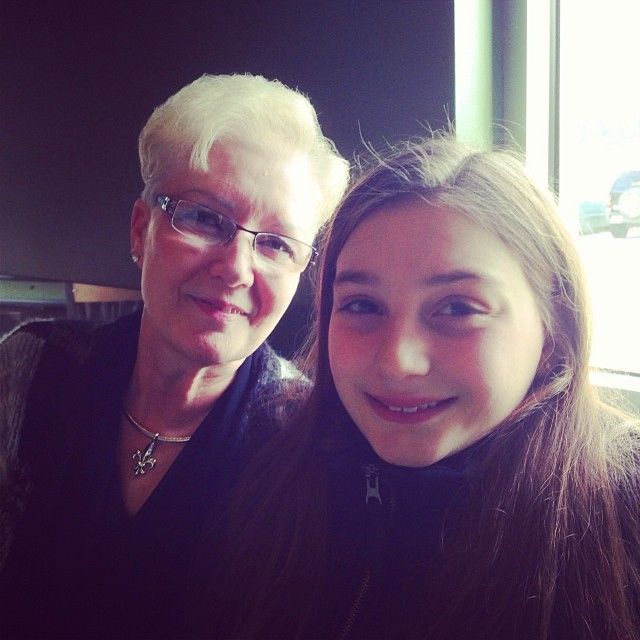 Today is my mom's birthday. I think she is 27 years old today. Yeah, I'm sure of it. 😉
In today's 7 Quick Takes I want to share a little bit about my mom… and wish her a happy birthday.
Take 1
My mom has been my biggest cheerleader. Always there. Always loving. Always supportive. Always encouraging. I thank God for her everyday, but I do so especially today on her birthday.
I am frequently interviewed for print, web, and radio about food, faith, and home cooking, and there are a few questions that I am often asked, like:
How did you acquire your love of cooking?
How old were you when you first started cooking?
Did your mom and dad cook a lot when you were growing up?
My sister and I were fortunate. My mom stayed at home, and she cooked dinner for us every night. Certain dishes stick out in my mind to this day: Chicken & Spaghetti, gumbo, her fried chicken, fried shrimp and her famous "Sandy Fries." My mom was famous for her french fries. She cut the potatoes by hand and dusted them with flour, salt and black pepper, and then fried them to crispy perfection. I loved those fries!
Had my mother not embraced the sometimes-drudgery-and-oftentimes-joyful activity of cooking dinner for us daily, then I don't think that The Catholic Foodie would have ever come about. It was her example – her love-in-action – that first helped me to see and experience the importance of food, faith and family.
So, thank you to Sandy Young – my Mom – for cooking for me, for loving me, and for encouraging me. I love you! Happy Birthday!
Take 2
And speaking of moms and cooking, PBS Newshour published an article earlier this month entitled Study finds that home-cooking disproportionately burdens mothers. The article was essentially about a study that a team of researchers at North Carolina State University published challenging the idea that home-cooked meals are ultimately "better" for the family as a whole.
The story is a real gem [said tongue-in-cheek]. It's reminiscent of that NPR story that ran back in February of 2013… the one that basically said that if preparing family dinners is too demanding then – obviously – we need to redefine what's good for the family. In other words, get rid of the expectation of family meals. The guilt is just not worth it.
Oh, the wisdom!
Not.
Here's a little snippet of the latest and greatest family-and-tradtion-are-too-hard-and-should-change tirade, courtesy of PBS Newhour:
"One could say that home-cooked meals have become the hallmark of good mothering, stable families, and the ideal of the healthy, productive citizen," their abstract reads. "Yet in reality, home-cooked meals rarely look this good. Leanne, for example, who held down a minimum-wage job while taking classes for an associate's degree, often spent her valuable time preparing meals, only to be rewarded with family members' complaints — or disinterest."
Let's not change ourselves. Let's change traditions and expectations instead.
What's the real problem here?
Ultimately, I think it's that we are too busy. We have become a society of human doers instead of human beings. And nobody, not even my family, is as important as me. Right? But, because of the way that God made me, with a conscience, I feel guilty about putting myself and my desires first… ahead of others. So, instead of sacrificing for the good of others (because that's just too uncomfortable)… Well, I think you get my drift.
I'd love to get your thoughts on the article. What do you think?
Take 3
Catholic Community Radio has a new page for the Around the Table Food Show. I think it looks great! What do you think?
I see three faces there that were made for radio.  And I'm happy to see Chef Matt Murphy on top image of that page too!
Take 4
Chef Leah Chase was our guest on the Around the Table Food Show last week. Today Kevin Holden of Hola Nola Foods – the only tortilla factory in Louisiana – joins us today at 3:30 on 690AM in New Orleans and 1380AM in Baton Rouge. You can also listen online at http://CatholicCommunityRadio.org. The show will re-broadcast tomorrow at 4:30 PM.
Listen in and tell me what you think!
Take 5
Holy Land Pilgrimage: A Preview of Day 5 in Jericho – The next Food Meets Faith Pilgrimage to the Holy Land is still on, and registrations continue to come in… but there is still room!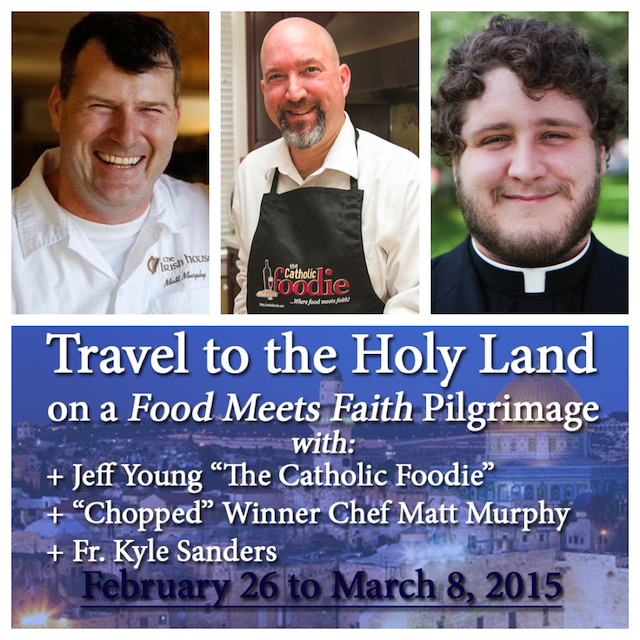 The pilgrimage is from February 26 to March 8, 2015, and space is limited. This is the pilgrimage last year that inspired my new book Around the Table with The Catholic Foodie: Middle Eastern Cuisine.
Here's a sneak peek of what you will experience on DAY 5 of the pilgrimage:
Day 5 – JERICHO – DEAD SEA– Depart for the ancient town of Jericho to see the Mt. of Temptation. We have time for shopping in Jericho and enjoy lunch in a family owned restaurant where the owners share stories of local traditions and methods of cooking. Don't forget to bring your bathing suit for this afternoon's float in the Dead Sea. Time permitting we enjoy a visit with a local Bedouin family for tea and to learn about their traditional way of life. We begin our ascent to Jerusalem through the Judean Hills and are greeted with a Genesis Welcome. Buffet dinner at the hotel.
Does it sound like fun? Does it sound like an incredible faith-building experience? Then come with us!
Register by calling Susan at 1-800-842-4842.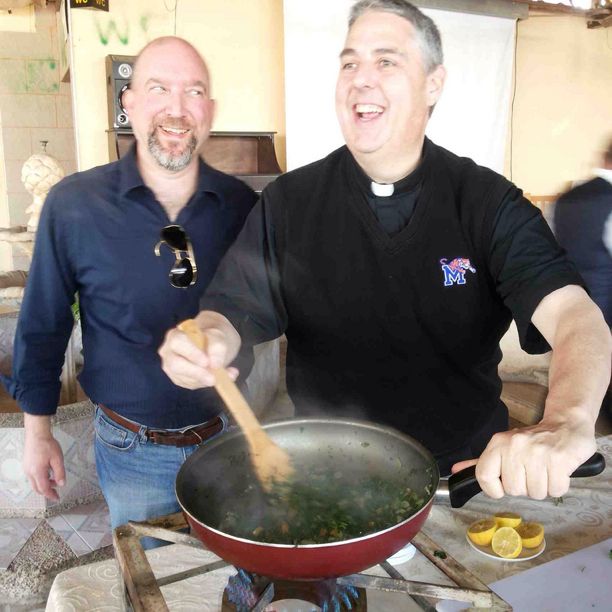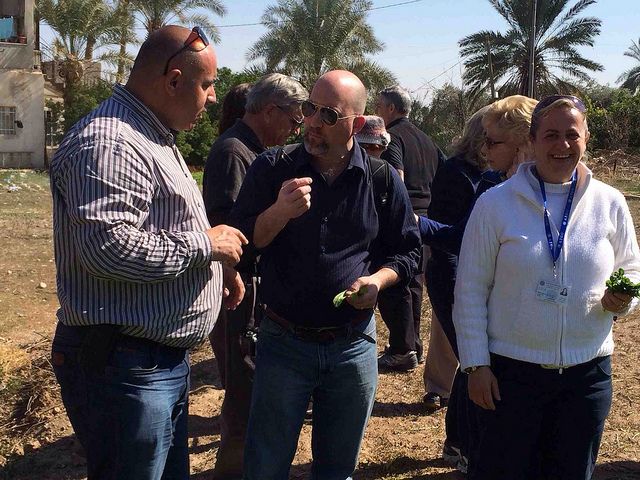 Take 6
The Catholic Foodie in the Clarion Herald – If you are in or around the Archdiocese of New Orleans, keep a weather eye out for the next issue of The Clarion Herald. It's on the horizon and will make its appearance sometime next week.
I had a great conversation with the Clarion's award-winning editor and writer Peter Finney last week. The October 4th (the feast of St. Francis!) issue will feature some sort of write-up about The Catholic Foodie. How neat! Can't wait to see it!
Take 7
Advanced Praise for Around the Table with The Catholic Foodie: Middle Eastern Cuisine – I have been so blessed to work with so many incredible people on the book project… from chefs and friends who have contributed recipes to the talented editors and designers at Liguori Publications. A the release date for the book nears – November 1, 2014 – I have been even more blessed (and humbled!) by the wide range of endorsements for the book that have come my way. Here's just a sample of a couple of them:
"I met Jeff Young on Facebook while he was on his first ever Food Meets Faith pilgrimage to the Holy Land. I had been there a couple of years before, and was excited to see that amazing land unfold before his eyes. Jeff has a love for life and the wonderful things that God has given us that is not only contagious, but which resonates in everything he does, especially when he talks about food. So when you combine Jeff's passion for food with the mouth-watering foods of the Holy Land, well, it's a recipe for AWESOMENESS! One of my favorite places in the Holy Land is Cana, where Jesus performed his first miracle: turning water into wine at a wedding. For me, this miracle says so much about how God wants us to be happy and enjoy the yummy things in life, and it is this very perspective from which Jeff presents this delectable array of recipes. Reading this book is like having Jeff sit next to you in the kitchen, chit chatting while he shows you how to make magic. If you've been to the Holy Land, it's a great way to remember all of the scrumptious foods you had when you were there; and if you haven't been, you'll want to go after you make just a few of these delectable recipes. Start with the pita… then the hummus… mix up a little fattoush, and I'll be right over!"
– Diana von Glahn, The Faithful Traveler, http://www.thefaithfultraveler.com/
"In Around the Table with The Catholic Foodie: Middle Eastern Cuisine, Jeff Young serves up a tantalizing blend of Middle Eastern food, faith, history, and travel. He turns the seemingly exotic tastes and flavors of the Holy Land into fabulous yet simple recipes that any Catholic foodie can recreate right at home."
– Mary DeTurris Poust, author of Cravings: A Catholic Wrestles with Food, Self-Image, and God
"Jeff understands the trifecta of food, family, and friends. He uses his own experiences with his family to encourage people to share the gift of preparing and sharing a meal together, and the bonds that are developed in this, the heart of our homes. His recipes feature fresh, seasonal ingredients, and there is something for the novice cook and the experienced culinarian alike."
-Susan Ford, President, Our Kitchen & Culture, LLC; Publisher, Louisiana Kitchen & Culture, and Louisiana Recipes.
You can now pre-order your copy of Around the Table with The Catholic Foodie: Middle Eastern Cuisine at Amazon.com.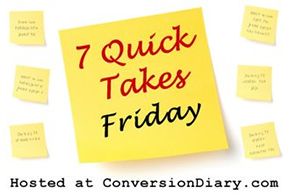 For more Quick Takes, visit Conversion Diary!