October 3, 2014
7 Quick Takes - Shish Kebab Recipe, Catholic RadioThon, Press, and More!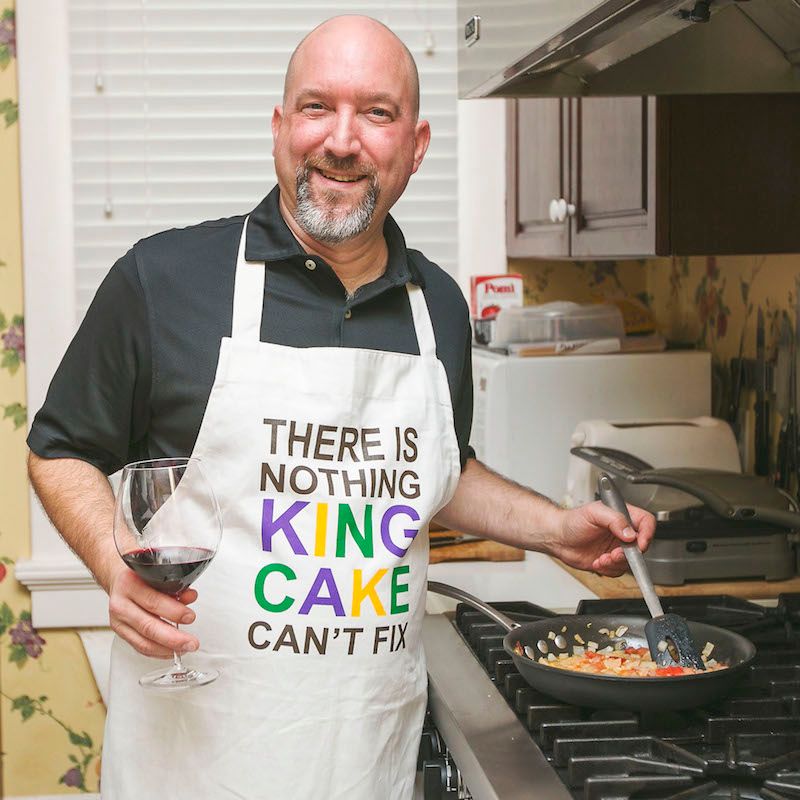 Yes, I know these are supposed to be quick takes. And, if you look at it from a certain perspective, the following are indeed quick takes. I mean, I could go on for hours on each of these.
In today's 7 Quick Takes you will read about The Catholic Foodie in the latest issue of the Clarion Herald, our family Shish Kebab recipe, an article I'm working on about comfort food, this week's guest on the Around the Table Food Show, a sneak peek at our upcoming visit to Bethlehem (like the actual Bethlehem… you know, where Jesus was born), the upcoming radiothon for Catholic Community Radio, and what Chef John Besh, Bishop Sam Jacobs, and Lisa Hendey have to say about my soon-to-be-released book Around the Table with The Catholic Foodie: Middle Eastern Cuisine.
All this, and more… below. Keep reading. And enjoy!
Take 1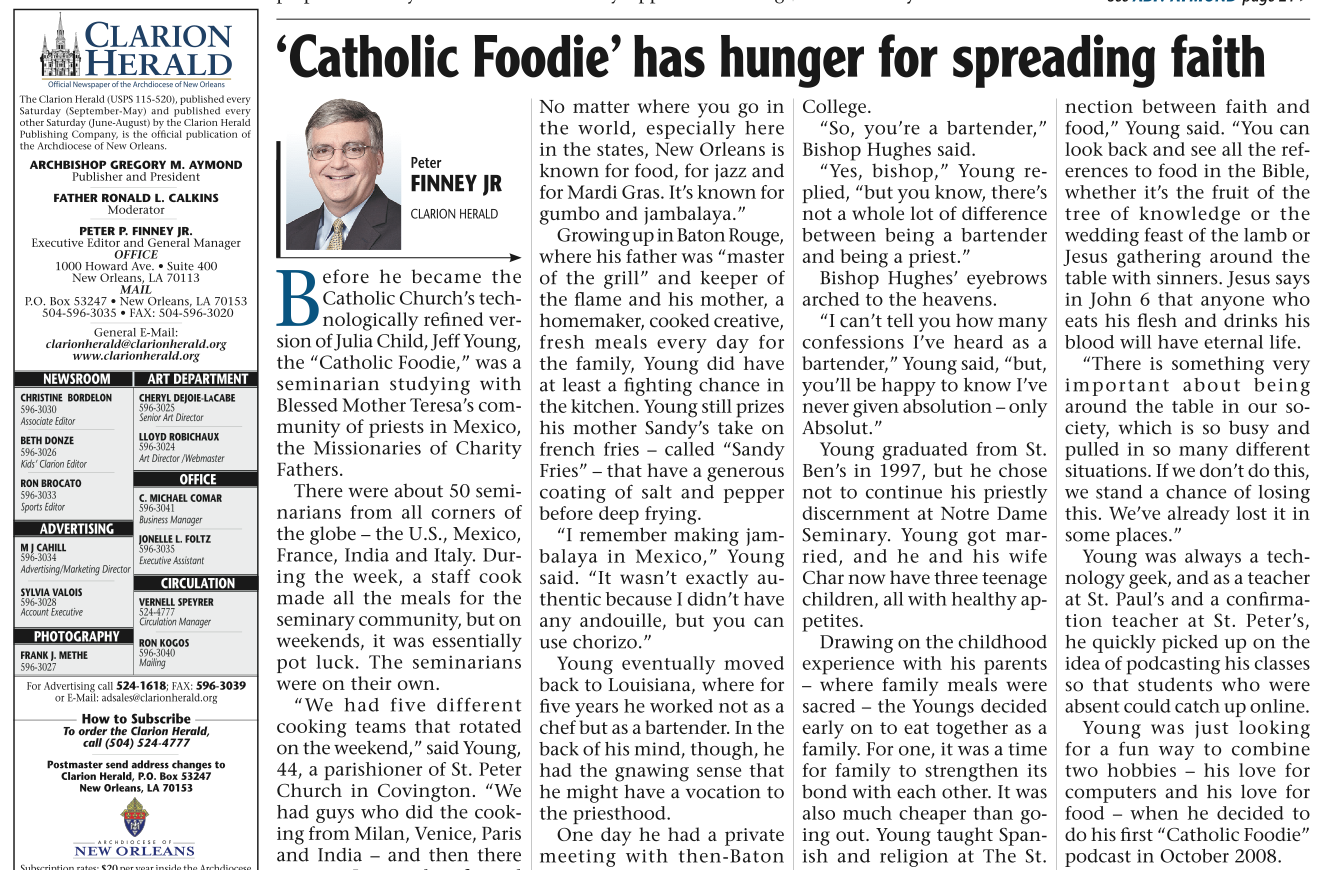 The Catholic Foodie in the Clarion Herald – I was so excited the other day to see a write-up about The Catholic Foodie in the Clarion Herald, the official newspaper of the Archdiocese of New Orleans. I mentioned in last week's 7 Quick Takes that I had had a delightful conversation with the Clarion's editor, Peter Finney Jr. Well the article, actually it's his column for the week of October 4th, is out now. It is titled, 'Catholic Foodie' has hunger for spreading faith, and you can read it online by clicking here: The Catholic Foodie in New Orleans' Clarion Herald.
Thanks, Peter! Never thought of myself as "the Catholic Church's technologically refined version of Julia Child," but I'll take it.
Take 2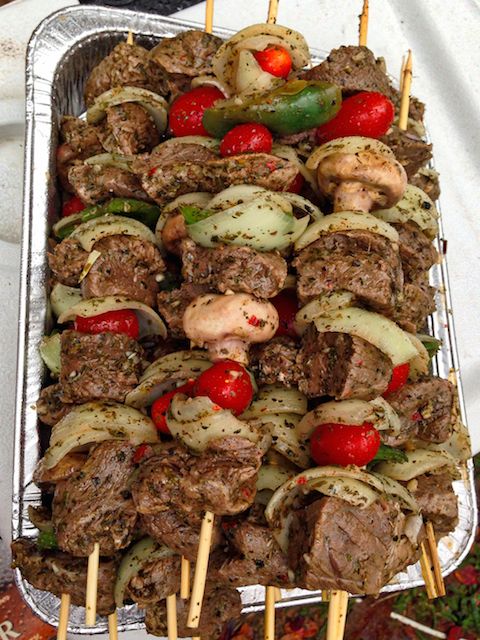 Lebanese Shish Kebab #Recipe… Great for Tailgating! – In case you missed it, I shared last week our family recipe for Lebanese Shish Kebab. You can make it with chicken, lamb or beef. This recipe recently appeared in the Liguorian Magazine, and it will also be included in my soon-to-be-released cookbook: Around the Table with The Catholic Foodie: Middle Eastern Cuisine. So this recipe is like a little sneak peek into the book.
In addition to the recipe, I also reflect on a conversation that I had with Marcelle Bienvenu about cooking and recipes back in the summer of 2009. I think back to that conversation frequently when I talk recipes with folks. Check out last week's post to read more of Marcelle's wisdom.
Take 3
Comfort Food – "Every culture and every country has it. It may vary slightly from region to region and from season to season, but in its essence, comfort food carries within itself a sense of home."
That line, above, is the opening line of an article I'm working on about comfort food. I could really use your help on this one. In the comments below, please tell me your favorite comfort foods and why you love them so. Thanks!
If you're curious about the pic above, that was a comfort food treat I treated myself to on Wednesday. It's a Soft Shell Crab Slider from District Donuts on Magazine Street in New Orleans. It was… Well… Words just can't do it justice. I'll just say it was good. Real good.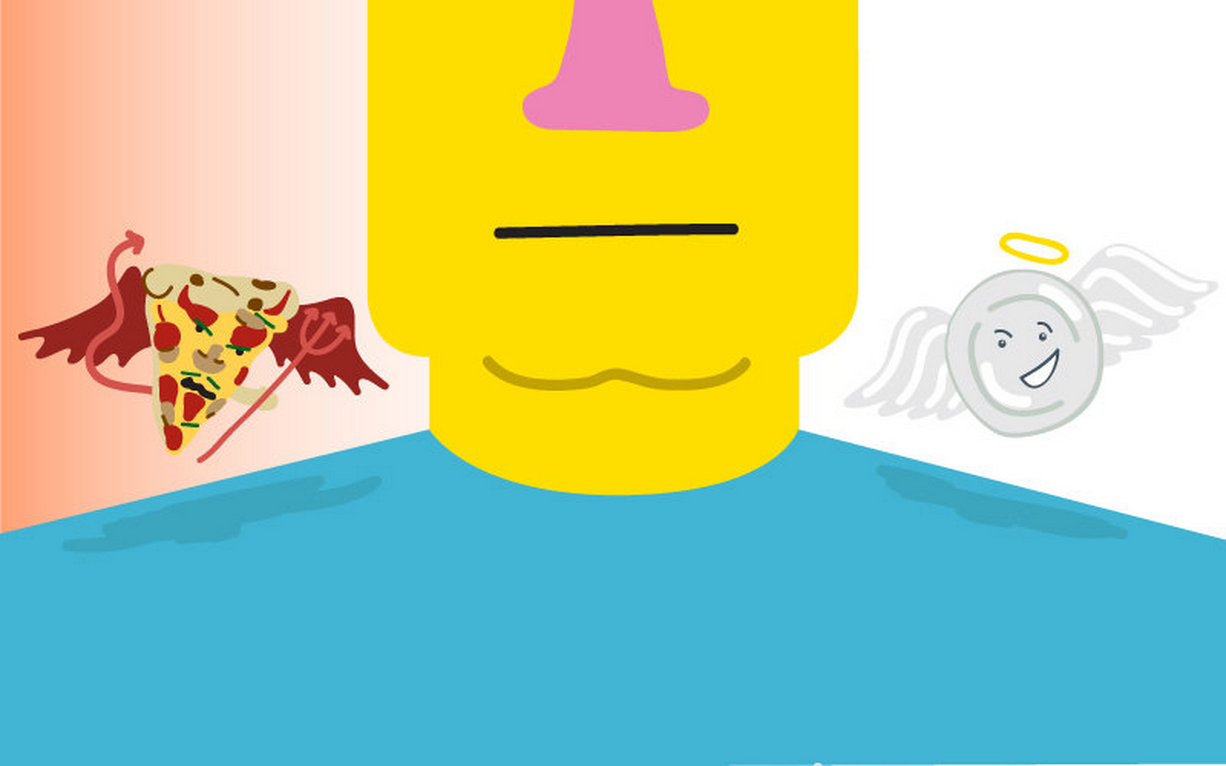 Oh, and here's a little something about the antithesis of comfort food… fasting. I was interviewed a couple of weeks ago by an editor of Good Magazine. In honor of Yom Kippur, which begins tonight, Good Magazine is running this article called When Foodies Fast. It's a small collection of thoughts on fasting by foodies. I'm happy to have been included.
Take 4
Around the Table Food Show on Catholic Community Radio – Last week Kevin Holden of Hola Nola Foods joined us on the show. Today at 3:30 PM, Chef Amy Sins of Langlois in New Orleans joins us to talk about the history and mystique of Creole cooking.  Listen in today at 3:30 on 690AM in New Orleans and 1380AM in Baton Rouge. You can also listen online at http://CatholicCommunityRadio.org. The show will re-broadcast tomorrow at 4:30 PM.
Built inside a turn-of-the-century Italian market in the historic Marigny neighborhood, Langlois Culinary Crossroads delivers the best of both worlds: an authentic New Orleans dining experience set inside a fully-equipped cooking classroom. Langlois offers hands-on and demonstration Cajun/Creole cooking classes and culinary tours, and is home to a retail store stocked with local products, hard-to-find cookware, and gourmet to-go food. Food lovers, cooks of all skill levels and the culinarily curious are all welcome!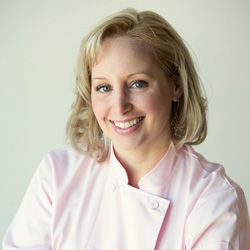 Chef Amy Sins is a born-and-raised South Louisiana girl with Cajun and Creole cooking embedded in her culinary DNA. The region serves as her pantry and she cooks with passion and enthusiasm using native ingredients and local food traditions – from boucherie to bayou, rice fields to roux, cypress-filled swamps to seafood fished from Gulf coastal waters.

Chef Amy strives to preserve the unique culture and cuisine of Louisiana by teaching Creole and Cajun culinary traditions in hands-on educational classes for people of all skill levels. Even the building is a nod to the culinary history of the region: Langlois is located inside what was once Ferrara and Sons Italian Grocery in the Marigny neighborhood of New Orleans.

When not teaching at Langlois, Amy hosts The Chef Show, a weekly radio program on WRBH 88.3 FM.

In 2005, Hurricane Katrina threatened the South Louisiana way of life, Amy moved quickly in doing her part to preserve the region's food and culture. She wrote Ruby Slippers Cookbook: Life, Culture, Family & Food after Katrina, an international award-winning cookbook celebrating the local food and stories of life after the storm.

In less than two years, Langlois has received local, regional, and national praise, most recently by Travel & Leisure as one of the "Best Cooking Schools Around the World." Chef Amy was also nominated in the prestigious American Culinary Federation's Best Chefs of Louisiana 2014: Up and Coming Chefs. In 2012, chef Amy won GSN's "Beat the Chefs" reality show cooking competition.
Take 5
Holy Land Pilgrimage: A Preview of Day 6 in Bethlehem – The next Food Meets Faith Pilgrimage to the Holy Land is still on, and registrations continue to come in… but there is still room!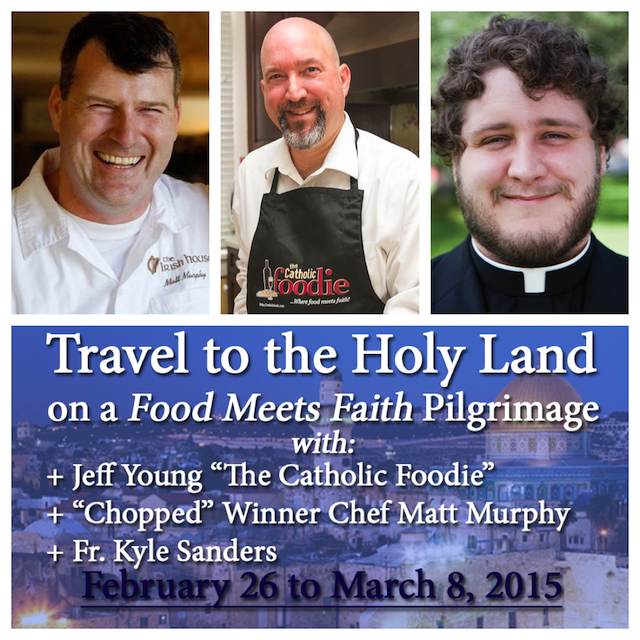 The pilgrimage is from February 26 to March 8, 2015, and space is limited. This is the pilgrimage last year that inspired my new book Around the Table with The Catholic Foodie: Middle Eastern Cuisine.
Here's a sneak peek of what you will experience on DAY 6 of the pilgrimage:
A DAY WITH THE CHRISTIANS IN BETHLEHEM + WINERY VISIT – We depart for Bethlehem to celebrate Christmas Mass at the Church of Nativity (St Catherine). Next we visit Manger Square, and Shepherd's Field. Today, lunch is on your own in Bethlehem. As an expression of our solidarity with the local Christian population, we shop here to help support the local Christian families. Next we taste locally produced wines at the Bethlehem Winery, operated by Franciscan Monks, and maybe buy some bottles of Bethlehem Wine to take home as gifts. Tonight is a special experience as we enjoy " Sharing the Bread" dinner in the homes of the local Christian families in Bethlehem , who welcome us to their homes and make us feel as if we were one of their own family.
Does it sound like fun? Does it sound like an incredible faith-building experience? Then come with us!
Register by calling Susan at 1-800-842-4842.
Take 6
Next Week: Radiothon on Catholic Community Radio! – Catholic Community Radio, 690AM in New Orleans, will host a radiothon next week. Catholic radio does good work and reaches so many people with the good news of our faith. And Catholic radio needs our support. Listen in and support Catholic radio. Keep an eye out for the radiothon lineup at http://catholiccommunityradio.org.
Take 7
Advanced Praise for Around the Table with The Catholic Foodie: Middle Eastern Cuisine – I have been so blessed to work with so many incredible people on the book project… from chefs and friends who have contributed recipes to the talented editors and designers at Liguori Publications. A the release date for the book nears – November 1, 2014 – I have been even more blessed (and humbled!) by the wide range of endorsements for the book that have come my way. Here's just a sample of a couple of them: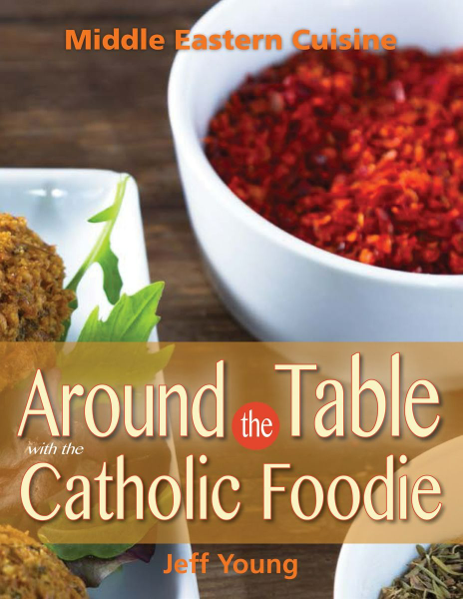 "Around the Table is a delicious culmination of Jeff Young's explorations of his passions for both food and faith. I share the same enthusiasm as Jeff for faith, Holy Land and table, and he bridges all three of these through approachable recipes and insightful anecdotes."
– Chef John Besh, restaurateur, author and philanthropist
"The combination of a spiritual pilgrimage to the Holy Land with recipes from many of the local areas visited is a rare treat in a cook book. It provides double flavor: spiritual food and tasty dishes."
– Bishop Sam Jacobs, Bishop Emeritus of the Diocese of Houma-Thibodaux
"Jeff Young's 'Catholic Foodie' Apostolate remains one of my favorite resources for nurturing and encouraging Catholic families. Through his 'Catholic Foodie' podcast, his blog resources, his active speaking apostolate and his engagement in a broad variety of social media venues, Jeff has built a strong following for his unique brand of ministry. As a frequent listener to Jeff's show and someone who has had the opportunity to work in partnership with Jeff, I've seen firsthand the impact of his work on individuals and families. I am confident that Jeff Young's planned book will provide yet another facet to his service on behalf of the Church and families. I can't wait to share it with our CatholicMom.com family of readers and to see the impact it will have on individuals and families."
– Lisa M. Hendey, Author of The Handbook for Catholic Moms & A Book of Saints for Catholic Moms.
For more Quick Takes, visit Conversion Diary!