November 27, 2015
Advent, the Holy Land, and an Evening with The Catholic Foodie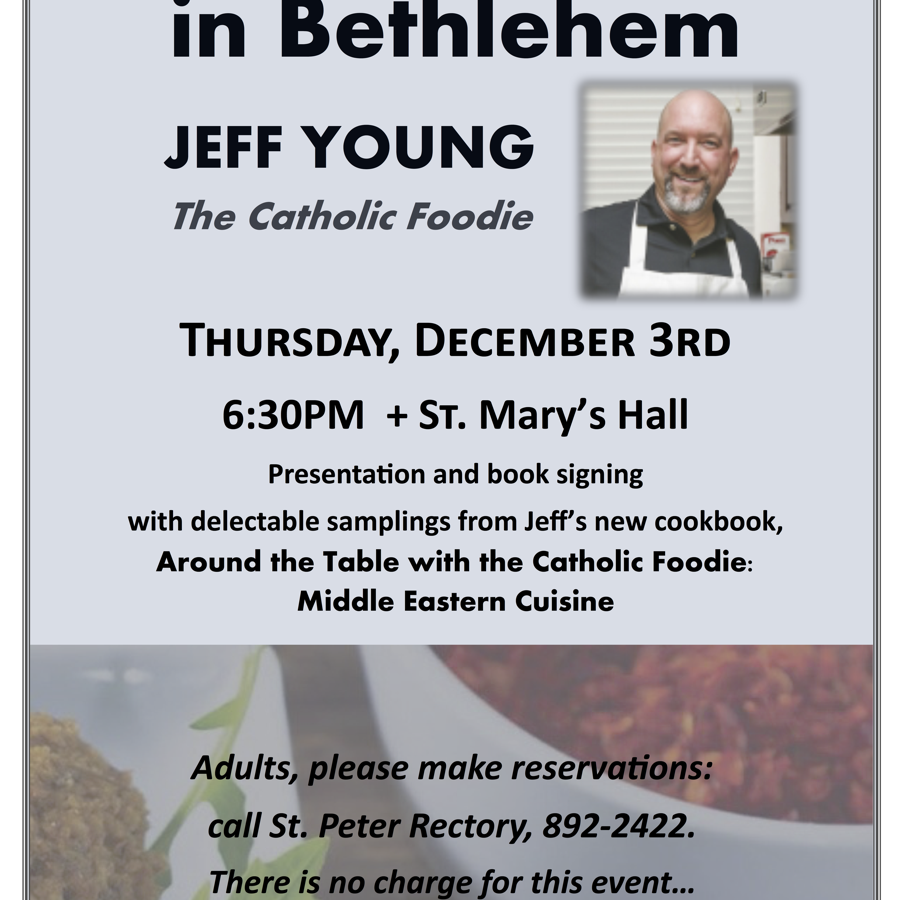 The holy season of Advent starts on Sunday, and I am honored to present some reflections next Thursday on ways to break through the malaise of familiarity that we often have with the Christmas story… ways that we can enter into this Advent season and allow God to surprise us anew with the grace and wonder of the birth of Jesus.
Together with my team of skilled Catholic culinarians, I'll be preparing for you a number of dishes from my recently published cookbook Around the Table with The Catholic Foodie: Middle Eastern Cuisine based on my pilgrimage to the Holy Land last year.
Come out and join us if you can. See the details below. And if you can't make it out, please consider helping to spread the word.
THANK YOU!
Advent is near, creating thoughts about Jesus and the Holy Land and hummus.

Yes, hummus.

Moving from the bible as caricature can be difficult. The St. Peter Adult Formation Committee has one idea to make that foreign land more realistic: eat its food.

Parishioner (and author and radio host) Jeff Young will be an able guide for this Advent reflection, taking a cue from his recent book Around the Table with The Catholic Foodie. Learn more about Jesus' lands and culture on Thursday, December 3rd at 6:30pm.

See an official flyer for the event, and then please RSVP soon (985-892-2422, or rectory@stpeterparish.com).