April 13, 2016
Amoris Laetitia and the Recipe for Joy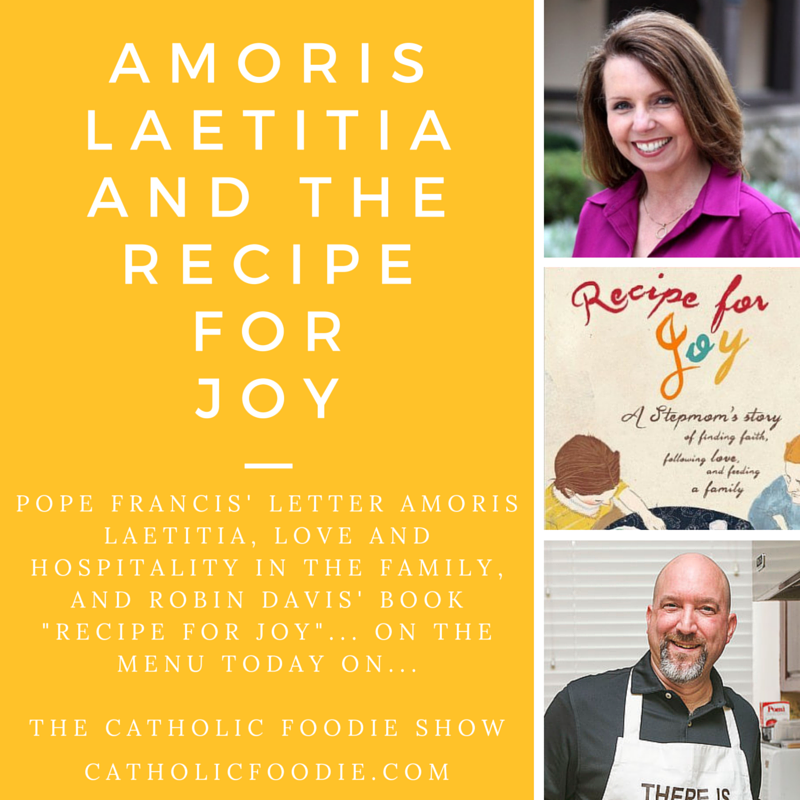 Pope Francis' letter Amoris Laetitia (The Joy of Love), love and hospitality in the family, and Robin Davis' book Recipe for Joy… all this and more on The Catholic Foodie Show!
From The Joy of Love to the Recipe for Joy
Our world is seriously lacking in the joy department. Personally, I think we are all too busy for our own good. We tend to forget how important, even necessary, joy in life really is. Pope Francis – in is Apostolic Exhortation The Joy of the Gospel – reminded us of the necessity of joy in the Christian life. And, again, in his latest document – The Joy of Love – Pope Francis reminds of the simple and necessary joy we experience in the love of the family.
The release of Amoris Laetitia (The Joy of Love) got me thinking again of a conversation I had with Robin Davis a couple of years ago. Robin is the author of Recipe for Joy. One of the things I loved about Robin's book is that she addresses a serious need for families, but she does so with joy. And her joy is contagious.
From the back cover:
There were three things food writer Robin Davis promised she would never do: move back to Ohio, get married, and join an organized religion. Never say never! – today, Davis lives back home in Ohio, is a wife and stepmother, and is a practicing Catholic. In Recipe for Joy, she serves up her inspiring story of food, family, and faith.
On today's show, I talk about Amoris Laetitia and I also share with you the conversation I had with Robin. I think you will find the conversation both joy-filled and inspirational. If your life is anything like mine then you can also use a little help to find joy in the midst of a hectic life that often dishes out suffering and heartache when we are really hungry for love. This message is for all of us.
LISTEN TO THE SHOW
Click the Play button below to listen to the show. You can always right-click and save-as to download the show for listening later.