November 21, 2011
Are YOU a Catholic Foodie?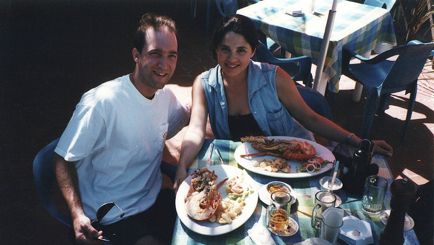 Here are 7 signs you can look for to find out if YOU are a Catholic foodie:
1. You know about the launch of the NEW Catholic Foodie website at CatholicFoodie.com.
I am very happy to say that the response to the new site has been overwhelmingly positive! CatholicFoodie.com was recently mentioned on the Smithsonian Institute's blog, and it was selected as the Website of the Day by CathNews.com in Australia, and CatholicFoodie.com was picked (twice!) recently as a blog of the week on ucanews.com.
2. You signed up to receive weekly culinary inspiration via the Catholic Foodie newsletter.
In addition to weekly culinary inspiration, you will also get tasty faith-building nuggets on a regular basis. And it's FREE!
3. You know that Alton Brown has pulled the plug on his Good Eats show on Food Network. After 13 years, Good Eats comes to an end. The final episodes (hour-long specials) will air just before Thanksgiving and Valentine's Day.
On episode 123 of the Catholic Foodie podcast I said goodbye to Good Eats. You can find that episode at /cf123-goodby-good-eats. On episode 124 of the podcast, I shared our experience of meeting Alton Brown at a recent book signing in New Orleans. He was in town to promote his latest cookbook, the final edition of Good Eats: Good Eats 3 – The Later Years. All 3 Good Eats cookbooks are fun, informative, and packed with solid "applications." I highly recommend them!
4. You've heard the rumor about the Catholic Foodie's Wine Buying Guide, and you're excited that it is soon to be released.
If you have ever felt overwhelmed by the astounding number of wine choices, then you are going to love this guide. And it's FREE! To be the first to know when it is available, make sure you subscribe to the Catholic Foodie newsletter.
6. You are excited about the new Mary in the Kitchen section at CatholicFoodie.com.
You can now find Sarah Reinhard's Mary in the Kitchen segments in text format at CatholicFoodie.com/mik.
7. You are thrilled to hear that the NEW Catholic Foodie newsletter is short, sweet, and weekly… filled with kitchen tips, inspiration and recipes.
***After you sign up for the newsletter, you will receive a confirmation email. Make sure that you click the confirmation link in that email to confirm your subscription. I hate spam (both varieties, email and canned), so I only want to send emails to folks who have confirmed that they want to receive them. If you haven't done so already, subscribe NOW!***