November 22, 2015
Around the Table in Bethlehem – Join Me December 3rd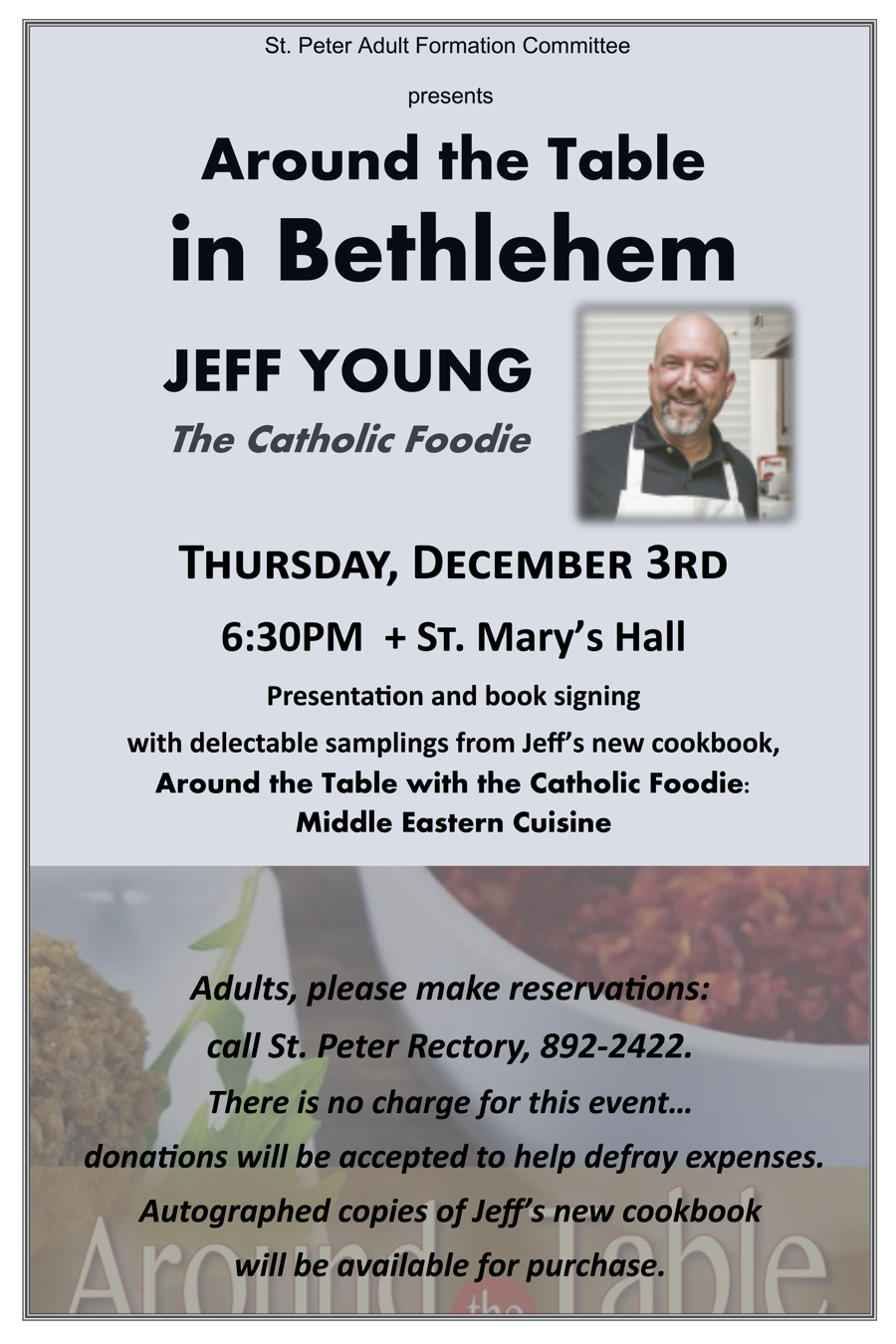 Today we celebrated the culmination of our liturgical year with the Solemnity of Christ the King, and next Sunday we enter into the holy and joy-filled season of Advent.
In preparation for Advent, I have been invited to speak at my parish, St. Peter Catholic Church in Covington on December 3, 2015. Doors open at 6:30. My Advent presentation will take place within the context of a shared meal. Appropriate, huh?
I will be preparing a number of Middle Eastern dishes from my book Around the Table with The Catholic Foodie: Middle Eastern Cuisine. Space is limited. Please make reservations in advance. There is no charge, but a collection will be taken to cover expenses.
Contact information to make reservations can be found in the press release included below:
St. Peter Catholic Church invites all adults to "Around the Table in Bethlehem" an Advent "Growth in Faith" presentation on Thursday, December 3rd, featuring the Catholic Foodie, Jeff Young. Jeff, author of the recently published Around the Table with the Catholic Foodie: Middle Eastern Cuisine will share some of his delectable dishes and fascinating stories of food and faith in the Holy Land. Autographed copies of Jeff's cookbook will be available for purchase.

Jeff is a St. Peter Parishioner, the founder and producer of The Catholic Foodie blog and podcast. He co-hosts the Around the Table Food Show on Catholic Radio, 690AM and 104.9 FM in the city and hosts The Catholic Foodie Show, airing live from noon to 1:00 p.m., Monday—Friday on BreadboxMedia.com. He is the author of Around the Table with The Catholic Foodie: Middle Eastern Cuisine and a co-author of Word by Word: Slowing Down with the Hail Mary, recently published by Ave Maria Press. Jeff is a monthly contributor to CatholicMom.com. As a conference speaker, Jeff has spoken on topics ranging from "growing in faith around the table" to "using social media in the New Evangelization."

Reservations for the St. Peter "Growth in Faith" on December 3rd are required. Please contact St. Peter Rectory, 985-892-2422. There is no fee for this event, however, a donation will be accepted to help defray expenses. The event will take place in St.Mary's Hall on the church campus. Doors open at 6:30 p.m. A light dinner is served. For more information, please contact the St. Peter Rectory or rectory@stpeterparish.com.