April 14, 2013
Around the Table Radio and The French Quarter Festival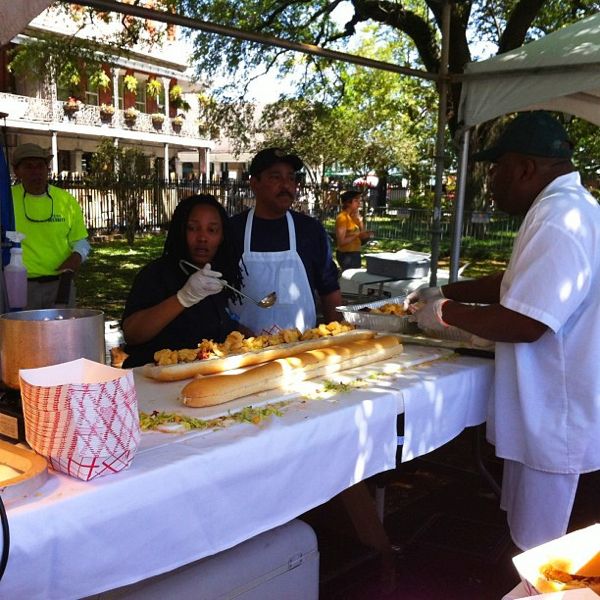 A New Radio Show in New Orleans and Baton Rouge… and Online!
There's a new radio show in town, and it debuted on Friday in New Orleans and Baton Rouge on Catholic Community Radio (690 AM in NOLA and 1380AM in BR). It is also available for listening online.
Like The Catholic Foodie podcast, Around the Table is a radio show that talks about food and faith. Around the Table highlights the local culture and cuisine of south Louisiana. The show is hosted by Dave Dawson and myself. Dave Dawson is the president of Catholic Community Radio, which has stations in both Baton Rouge and New Orleans.
Join us for the show on Fridays at 3PM Central. If you miss a show, you will be able to download as a podcast from iTunes. The first broadcast should be available as a podcast in the next few days. You can check back here at CatholicFoodie.com or find out more information at AroundTheTableRadio.com. In the meantime, I am featuring the final segment of the first broadcast on episode 161 of The Catholic Foodie… just so you can get a taste of this new show!
Our first broadcast featured the foods of the French Quarter Festival. Marci Schramm of French Quarter Festivals, Inc. joined us on show, along with Aynsley Fein from The Court of Two Sisters restaurant, and Nasr Nance from Dreamy Weenies. It was a fun show. I hope you enjoy it!
The French Quarter Festival 2013: In Review
I brought the whole family down to the French Quarter on Friday for the festival.
As you can well imagine, one of the biggest reasons that The Catholic Foodie goes to the French Quarter Festival is for the food. Yes, I love jazz. I love music. But the French Quarter Festival is about more than just music. It is also about our local cuisine down here. As I mentioned last week, the French Quarter Festival is often referred to as "the world's largest jazz brunch," and with over 60 local restaurants serving food there, it's not hard to see why it got that name.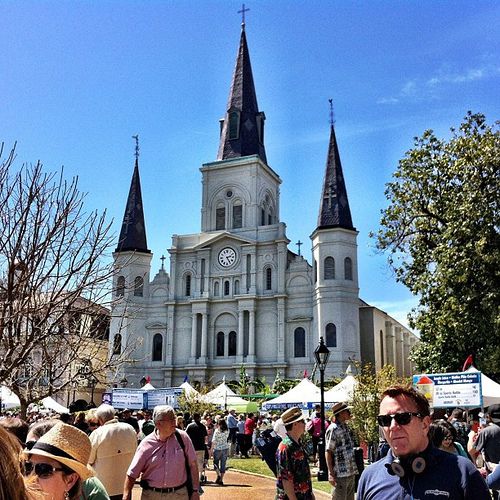 The food is also why I bring the whole family.
My kids love to eat. And they really do appreciate good food. With five us at the French Quarter Fest, it is easy for us to order samples from several different restaurants to share. That way we get to taste more than if each of us were there on our own. It works for us.
Last week I posted my "wish list" for the festival. We planned to spend the entire day there on Friday, so I knew that we would be there for two meals. Let's see how well we did… Here's my "wish list from last week:
The Foods We Ate
And this is what we were actually able to accomplish:
Jacques-Imo's
Shrimp & Alligator Cheesecake – Jacques-Imo's is a fun place to dine. I mean the name says it all. The name comes right out of a classic Mardi Gras song entitled Iko, Iko. Jacques was at the French Quarter Fest on Friday. As a matter of fact, he gave free Shrimp & Alligator Cheesecakes to my kids. [That's an easy way to become a hero to my kids!] We had a fun conversation with Jacques. He seemed genuinely pleased to be there and to be meeting so many people. And my kids loved the savory cheesecakes, by the way.
Slow-Roasted Duck Po-boy – There are so many different po-boys to try at the French Quarter Festival. We couldn't pass up the opportunity to try one of the only duck po-boys at the fest. Jacques-Imo's duck was slow-roasted, which made it "fall-apart-tender." I really liked the duck. I am not really sure which po-boy bread Jacques-Imo's was using, but I found it to be a little bit heavier than I like… especially when there were so many dishes that I wanted to try at the festival.
Galatoire's
Fried Shrimp "BLT" Po-boy –  Now this was awesome. If there hadn't been so many delicious dishes to try at the Fest, then I would have wanted a full-sized Fried Shrimp "BLT" Po-boy. I mean, come on… it was a fried shrimp po-boy with bacon on it! They used Leidenheimer bread for their po-boys, and it was perfect. Leidenheimer Baking Co. specializes in po-boy bread here in New Orleans and it's the favorite of all po-boy diehards. I once heard Emeril Lagasse refer to Leidenheimer's po-boy bread as being so light and fluffy if almost makes you want to crawl into the sandwich and fall asleep. Honestly, I think that this Fried Shrimp "BLT" Po-boy was my favorite food of the French Quarter Fest this year. It was that good.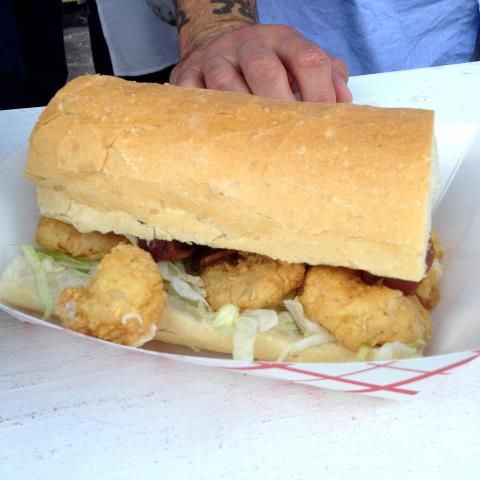 The Court of Two Sisters
Turtle Soup – I've had good turtle soup and bad turtle soup in my life. This turtle soup from The Court of Two Sisters was not only a good turtle soup… it was probably the best I have ever had. It's hard to believe that something that good can be enjoyed out of a styrofoam bowl. It just seemed like it should be enjoyed out of real china.
Dreamy Weenies
I admit it. Out of all the 60+ vendors at the French Quarter Festival this year, I think Dreamy Weenies was the vendor I was most looking forward to seeing. They have only been open on North Rampart Street for about nine months, but in that time they have certainly made a splash on the local food scene. They use all fresh ingredients, most of which are made from scratch right in their kitchen. It is run by two young entrepreneurs, Ahmad Shakir and Nasr Nance. And they are just so much fun! From the creative and tasty hotdog variations they provide, to the quirky, fun, and imminently local flavor of their menu names and marketing, these guys are having a ball. Dreamy Weenies is "Hot Dogs Gone NOLA!"
The Satchmo Dog – Topped with red beans & rice, this hotdog is a tribute to Satchmo… a.k.a. Louis Armstrong. We added some extra onions, bell pepper and celery to ours, along with a little squirt of mustard. This is definitely what happens when the "hotdog goes NOLA!"
The Genchili Dog – Topped with homemade chili and sauerkraut that is also made in-house, this is a hotdog that will definitely make you "slap your mama…" or at least be tempted to! I have to say that this was my favorite hotdog… evah! The fact that the name is a twist on a classic New Orleans neighborhood makes it even better.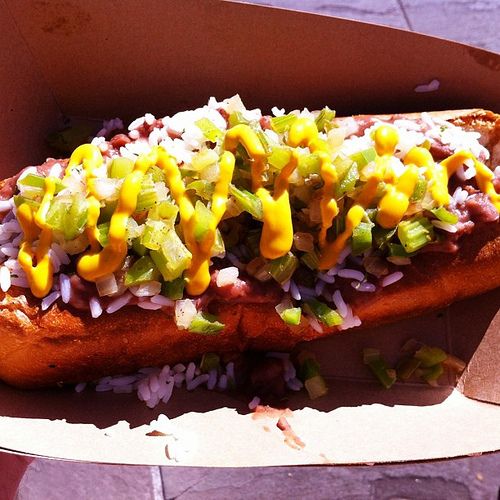 Mrs. Wheat's Pies
Natchitoches Meat Pies – I love meat pies. Made with pork, beef, onions, bell peppers, garlic, and spicy seasonings, these pies are then fried to perfection. As a kid I loved them, and I still do. A south Louisiana festival just isn't a festival without Natchitoches Meat Pies.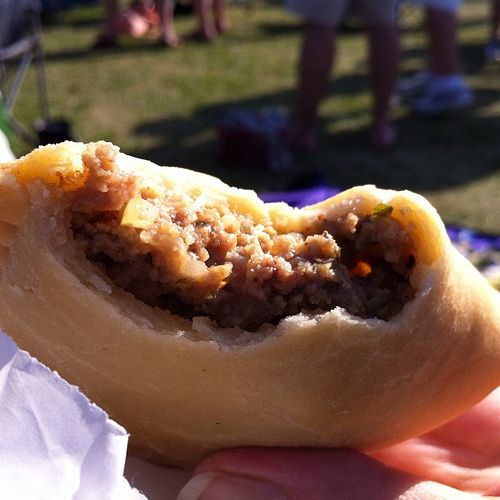 Plum Street Snoball
Located in Uptown New Orleans, Plum Street Snoball is one of those iconic neighborhood establishments that folks rave about. If you are in New Orleans during the spring or summer, you don't want to miss it. I did not have a snowball on Friday, but my son had a chocolate one, and my girls each got a chocolate & coffee snowball. The smiles on their faces told me that they were tasty and refreshing.
Ralph & Kacoo's
Jambalaya with Chicken & Sausage – Here's another one that I did not try, but the kids did. They enjoyed it. I grew up going to eat at Ralph & Kacoo's. It was one of my earliest dining experiences. I remember as a child that I always ordered seafood there, usually fried catfish.
Barreca's
Louisiana Crawfish Étouffée – Barreca's is located on Metairie Road, and they specialize in local cuisine. Between bands, Char grabbed us a bowl of Louisiana Crawfish Étouffée. It was good, and it tided me over until we ordered the tacos from Superior Grill. 😉
Superior Grill
We ordered from Superior Grill well into the night. I have no pictures of the tacos because it was too dark by then. We have always enjoyed Superior Grill, both the atmosphere and the food. As a matter of fact, when Char and I got married about 14 years ago, we had a party for out-of-town guests at Superior Grill a couple of days before the wedding. Good memories.
Superior Grill had three types of tacos on the menu at the French Quarter Festival: Shrimp Tacos, Beef Brisket Tacos, and Pork Tacos. You know that people love Superior Grill, because by the time we ordered, they were out of beef tacos. So we "settled" for three each of the following:
Shrimp Tacos – On soft white tacos, marinated grilled shrimp.
Pork Tacos with Cholula Sauce – Pulled pork tacos on soft white corn tortilla, topped with Cholula sauce.
The Folks We Grate [Greeted]
Crazy Legs Conti
While doing research for the first broadcast of Around the Table, which featured the foods of the French Quarter Festival, I came across a rather interesting character: Crazy Legs Conti.
For the last few years at the French Quarter Festival, Rouses Markets has hosted a crawfish eating contest. We're not talking about a small time event either. This is the Rouses Crawfish Eating World Championship, and it draws professional competitive eaters from all over.
There is actually a league called Major League Eating, and they put on various types of eating contests all over the world.
This year was the fourth year of the Crawfish Eating World Championship, and the purse totaled at $2000.00.
While strolling through Jackson Square on Friday afternoon, I happened upon Crazy Legs Conti, a professional competitive eater from New York. I couldn't resist the photo op.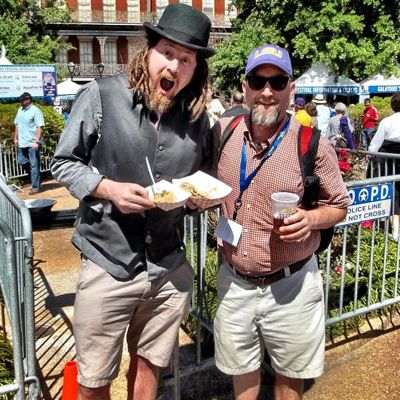 Crazy Legs Conti came in second in Saturday's competition. The top results were the same as last year with Sonya "The Black Widow" Thomas taking first place and Adrian "The Rabbit" Morgan taking third.
It seems like they really enjoy competitive eating, and that's fine… for them. Me? I prefer to enjoy my food one bite at a time. 😉
Maureen McMurray
You might remember Maureen McMurray from The Catholic Guy Show with Lino Rulli on The Catholic Channel on Sirius/XM.
Maureen came down to New Orleans a few years ago with the crew of The Catholic Guy Show to catch Mardi Gras. I was a guest on the show Mardi Gras day. Since then we have kept in touch.
Maureen and her husband, Danny Mulligan are currently living and working in New Orleans. Maureen is the one who produced the story about The Alligator and the Archbishop that was featured locally on WWNO and nationally on NPR.
It was great to see Maureen again and to meet Danny for the first time. Danny's brother was also in town from Chicago to catch the French Quarter Festival.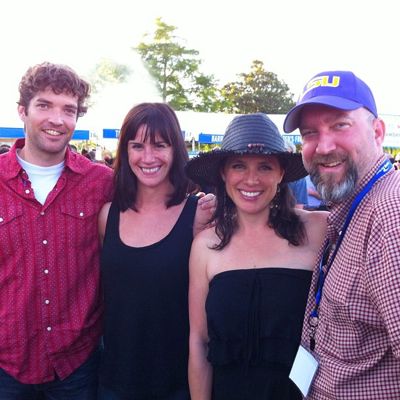 The Songs That Slaked […Our Thirst For Jazz]
Sure, the food is a really big deal down here for the French Quarter Festival. But without the music, there would be no festival. After all, the French Quarter Festival is the largest free music festival in the South.
This year marked the 30th anniversary of the French Quarter Festival, and this year's attendance figures indicate that approximately over 562,000 festival-goers enjoyed the music, food, special events, and of course, the historic French Quarter.
Attendance numbers were slightly down from 2012, because of rain on most of Thursday and on Sunday morning. However, the Festival did host the largest single attendance day in its history – with 303,000 festival-goers on Saturday, April 13th!
FQF: The Kickoff to Festival Season
The French Quarter Festival is unofficially called "the kickoff to festival season in New Orleans."
Over the next few weekends (April 26 – May 5), New Orleans will be hosting it's world-famous Jazz Fest. The 2013 New Orleans Jazz Fest will see the likes of Billy Joel, Fleetwood Mac, B.B. King, Earth, Wind, & Fire, Willie Nelson, the Dave Matthews Band, Maroon 5, John Mayer, Widespread Panic, Hall & Oates, and many, many more.
As you might expect, Jazz Fest is known just as much for the food as for the music. Once again, classic Jazz Fest dishes will be available: Crawfish Bread, Crawfish Monica, Alligator on a Stick, and more. There are going to be some new dishes this year too.
But that's a topic for another time. 😉
Laissez les bon temps roulez… Let the good times roll!