October 20, 2014
Around the Table with Chef Amy Sins
Earlier this month, Chef Amy Sins of Langlois in New Orleans joined us on Around the Table Food Show on Catholic Community Radio to talk about the history and mystique of Creole cooking.
Over the last few months, I have had the opportunity to meet Chef Amy on a couple of occasions. I am always struck by her passion for local cuisine and our mouth-watering Louisiana culinary history. As you will hear, Chef Amy has her hands in many pots and her work always turns out a delicious success.
Chef Amy is not only an excellent chef, she is also a talented teacher and an ambassador of our Louisiana Creole culture and cuisine.
One of the most intriguing aspects of her work (intriguing to me personally) is the edutainment that takes place in the kitchens at Langlois Culinary Crossroads. As a teacher, I always tried to educate my students while keeping their attention by entertaining them. Chef Amy seems to have perfected the idea of edutainment at Langlois where you get a hands-on education in making classic Creole dishes in an entertaining environment.
Check out this description of the cooking classes available at Langlois:
Some New Orleans visitors take home Mardi Gras beads, souvenir cups, and trinkets from the French Market; others buy art from the galleries on Royal Street. If you're here, it's because you're interested in one of the city's greatest gifts: our uniquely delicious cuisine.

At Langlois Culinary Crossroads, you get more than recipes and a cooking class: guests are treated to an entertaining and interactive culinary experience that ends with a restaurant quality meal you can easily recreate at home. For a moment in time, you get to live (and eat) like a local. From Creole and Creole classics to modern interpretations of our favorite dishes, you'll take home an authentic taste of New Orleans. Classes last 2-3 hours depending on menu and participants.

We encourage our guests to cook! The menu is posted during class and we ask for voluntary participation throughout the process. If you aren't cooking, you may be tasting, plating or offering suggestions on the dish. So in summary, our class is hands-on if you want, and hands-off if you would rather sit back and relax. Everything for class is ready for you, so no need to chop or measure. This allows you the chance to take notes, relax, make friends or enjoy a glass of wine. Please keep in mind that we do not set up individual stations for each guest. All meals are prepared as a group on shared kitchen equipment including commercial burners, ovens, and induction ranges. We want our guests to learn techniques such as sauteing, frying, braising, blending, mixing, whipping, baking, plating, roux making and the list goes on!
To learn more about Chef Amy, or to just be entertained by her inspiring stories, listen to the show by clicking on the Play button below.
[embed]
About Langlois Culinary Crossroads
Built inside a turn-of-the-century Italian market in the historic Marigny neighborhood, Langlois Culinary Crossroads delivers the best of both worlds: an authentic New Orleans dining experience set inside a fully-equipped cooking classroom. Langlois offers hands-on and demonstration Cajun/Creole cooking classes and culinary tours, and is home to a retail store stocked with local products, hard-to-find cookware, and gourmet to-go food. Food lovers, cooks of all skill levels and the culinarily curious are all welcome!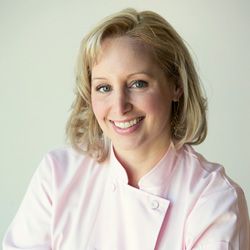 About Chef Amy Sins
Chef Amy Sins is a born-and-raised South Louisiana girl with Cajun and Creole cooking embedded in her culinary DNA. The region serves as her pantry and she cooks with passion and enthusiasm using native ingredients and local food traditions – from boucherie to bayou, rice fields to roux, cypress-filled swamps to seafood fished from Gulf coastal waters.

Chef Amy strives to preserve the unique culture and cuisine of Louisiana by teaching Creole and Cajun culinary traditions in hands-on educational classes for people of all skill levels. Even the building is a nod to the culinary history of the region: Langlois is located inside what was once Ferrara and Sons Italian Grocery in the Marigny neighborhood of New Orleans.

When not teaching at Langlois, Amy hosts The Chef Show, a weekly radio program on WRBH 88.3 FM.

In 2005, Hurricane Katrina threatened the South Louisiana way of life, Amy moved quickly in doing her part to preserve the region's food and culture. She wrote Ruby Slippers Cookbook: Life, Culture, Family & Food after Katrina, an international award-winning cookbook celebrating the local food and stories of life after the storm.

In less than two years, Langlois has received local, regional, and national praise, most recently by Travel & Leisure as one of the "Best Cooking Schools Around the World." Chef Amy was also nominated in the prestigious American Culinary Federation's Best Chefs of Louisiana 2014: Up and Coming Chefs. In 2012, chef Amy won GSN's "Beat the Chefs" reality show cooking competition.
What about YOU?
Do you have a favorite Creole recipe?
Have you ever taken a cooking class?
Leave me a comment below.