November 25, 2014
Around the Table with Chef Keith Frentz of LOLA Restaurant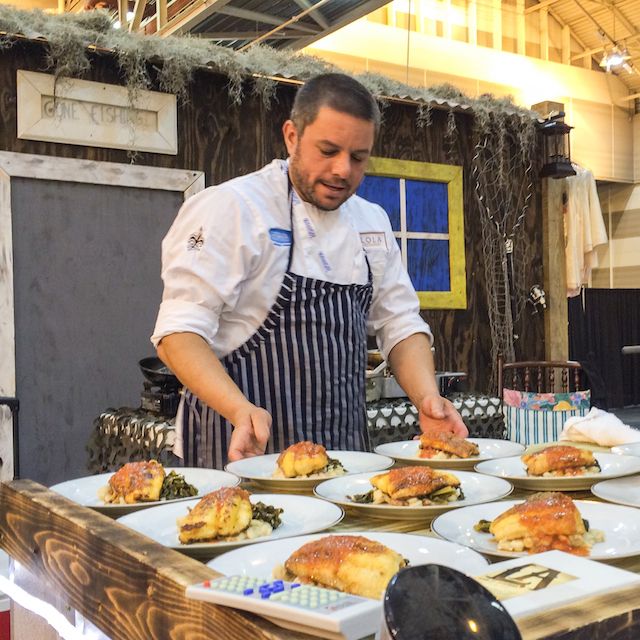 Chef Keith Frentz of LOLA Restaurant in Covington joined us around the table a couple of weeks ago to talk about LOLA Restaurant and about the recent "take over" of Birmingham, Alabama restaurants by Louisiana chefs. The "take over" was for an event organized by Louisiana Cookin' magazine. Chef Keith gives us a peek behind the scenes of that successful cultural and culinary event.
Join us and you will also hear a little more about the recent book launch celebration at LOLA Restaurant where Chef Keith and his wife Chef Nealy prepared a 5 course Middle Eastern dinner to celebrate the release of my first book.
LISTEN TO THE SHOW
To listen, click on the Play button below. The show is also available on iTunes.
[powerpress]
BRING THE HOLY LAND & MIDDLE EASTERN CUISINE INTO YOUR HOME WITH MY NEW BOOK!
"The savory cuisine of the Holy Land will bring new flavor to your table and new meaning to your faith. Gather round and let the incomparable Catholic Foodie, Jeff Young, show you how to prepare delectable recipes, while he shares fascinating stories of food
and faith in the Holy Land."
Around the Table with The Catholic Foodie: Middle Eastern Cuisine is available at Liguori.org, Amazon.com, Aquinas & More, Pauline Books & Media and at your local Catholic bookstore.