October 31, 2014
Around the Table with Fr. Kyle Sanders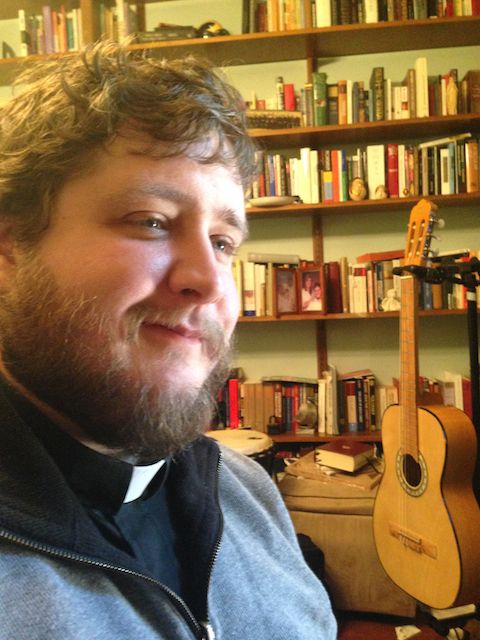 Fr. Kyle Sanders joins us around the table for very spooky* Halloween edition of Around the Table. [*Not really very spooky!]
Fr. Kyle Sanders has been active in blogging since 2007 over at reverencedreading.com where he co-writes about seeing God in the mundane. He's appeared as a guest on several other blogs and podcasts and is a part-time participant in the podcasts Steampunk Chesterton and SportsFathers. He was ordained a priest in 2012. He is the parochial vicar at St. RIta of Cascia in Harahan and is the chaplain at Cabrini High School. He loves to read, play music, write fiction, and collect fountain pens. You can contact him at ksanders@arch-no.org. Check out Fr. Kyle's other projects at:
Fr. Kyle will also accompany me as spiritual director on my next pilgrimage to the Holy Land, February 26 to March 8, 2015. There are still spots available. Come with us! To register, or to get more information, call Susan at 1-800-842-4842.
You can also read more about the pilgrimage here: Travel to the Holy Land with The Catholic Foodie.
Listen to the Show
To listen, click on the Play button below. The show is also available on iTunes.
[powerpress]
Bring the Holy Land & Middle Eastern Cuisine into Your Home with My New Book!
"The savory cuisine of the Holy Land will bring new flavor to your table and new meaning to your faith. Gather round and let the incomparable Catholic Foodie, Jeff Young, show you how to prepare delectable recipes, while he shares fascinating stories of food
and faith in the Holy Land."
Around the Table with The Catholic Foodie: Middle Eastern Cuisine is available at Liguori.org, Amazon.com, Aquinas & More, Pauline Books & Media and at your local Catholic bookstore.