November 7, 2014
Around the Table with Joe Roszkowski of the Original Oyster House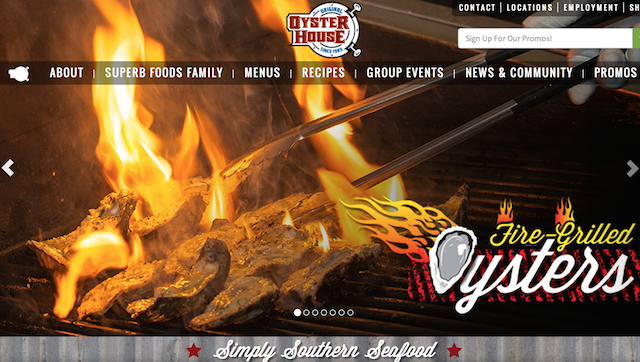 Joe Roszkowski of the Original Oyster House in Mobile and Gulf Shores is making waves… in a good way. A catholic business owner and family man, Roszkowski's family-owned and family-friendly restaurant is not shy in demonstrating the importance of faith and family.
Listen below to our interview with Joe Roszkowski and learn how he shares his faith with families through food.
LISTEN TO THE SHOW
To listen, click on the Play button below. The show is also available on iTunes.
[powerpress]
Watch the Restaurant Commercial that Features the Traditional Prayer Before Meals
The Values Held by the Original Oyster House
Our Values
We accomplish our mission by devoting ourselves to the following shared values of the Original Oyster House.
FAITH & FAMILY: Faith in God is our foundation. The Original Oyster House is a family; from the owners to the management, to the employees and ultimately to our customers! Everyone should feel "at home" when they are in our restaurants.
FOOD: We will serve the best seafood available, using only quality raw ingredients and preparing them consistently to our specifications insuring the same experience every visit.
SOUTHERN HOSPITALITY: We deliver outstanding Southern Hospitality by treating our customers as if they were guests in our own home. "WOW" the customer, exceed their expectations, enhance their dining experience with kindness, attention to detail, and prompt service. Create and preserve a fun atmosphere for customers and employees alike.
COMMUNICATION: As a corporation we recognize the importance of effective communication. We encourage suggestions, questions or concerns for the betterment of the company. Communication keeps you informed and makes you valuable to customers and the company. The most important words in the restaurant are PLEASE & THANK YOU.
COMMUNITY: We support the communities and families we serve through high levels of involvement, outreaching services and enduring relationships; building Original Oyster House into a cornerstone of our communities.
DEVELOPMENT: We nurture our corporate culture by treating our owners, managers and employees with the integrity and respect they deserve in both our business and personal lives. We will become the employer of choice in our trade areas through development of our people; we will achieve structured growth of the Original Oyster House and ensure the continued success of the company and its employees.
STEWARDSHIP: We are very blessed to live and work in one of the most beautiful parts of the world. We respect and value our resources, community and families and will wisely use our talents and resources to help improve communities and the global environment.
– See more at: http://www.originaloysterhouse.com/our-mission.php