February 21, 2015
"Around the Table with The Catholic Foodie" Highly Recommended!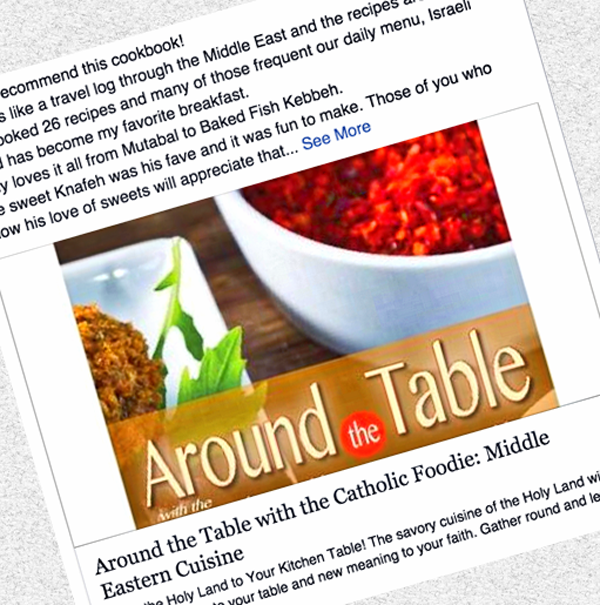 I blushed when I saw this the other day.
Facebook friend Pamela Ostovich posted a glowing review of my book. I was just scrolling through my news feed on Facebook and stumbled upon it.
I was overjoyed to read what she had to say.
I am so very happy that this book is benefiting people… that it is inspiring and encouraging families to grow in faith around the table… and inspiring them to "take a trip through culture and food" from the land where Jesus walked.
Here's what Pamela had to say:
Highly recommend this cookbook!

It reads like a travel log through the Middle East and the recipes are delicious.

I've cooked 26 recipes and many of those frequent our daily menu, Israeli salad has become my favorite breakfast.

My husband loves it all, from Mutabal to Baked Fish Kibbeh.

The sweet Knafeh was his fave and it was fun to make. Those of you who know his love of sweets will appreciate that he could have a bit of Knafeh for breakfast, lunch and dinner.

The recipes are well written for all cooks and all faiths.

So take a trip through culture and food and explore this well written, beautifully photographed book by Jeff Young, The Catholic Foodie.

Just ordered 4 for friends and family.
In addition to posting it on Facebook, she also posted it as a review on Amazon.com, which I very much appreciate! If you have benefitted from the book, please do consider leaving short review on Amazon.com. Doing so will help other people find the book and benefit from it too.
You can click this link to go straight to the book's listing on Amazon.com: Around the Table with The Catholic Foodie: Middle Eastern Cuisine on Amazon.com.