November 22, 2011
Attention Catholic Foodies and Bloggers: Save 25% on Genesis Framework!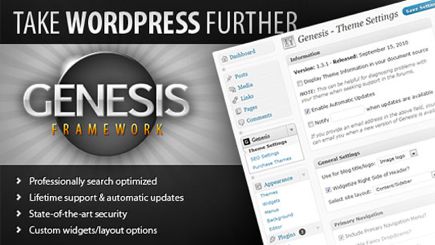 Here's a special Thanksgiving treat in anticipation of Black Friday…
StudioPress, the developers of the Genesis Framework, is offering 25% off on anything and everything at StudioPress.com until 7:00PM Pacific time on Monday, November 28!
I am excited about this offer because The Catholic Foodie (CatholicFoodie.com) is built on the Genesis Framework. As a web developer, I am a big fan of WordPress and the Genesis Framework. It's what I use on the sites I develop for my clients (on both websites and blogs). And my clients are very happy. They get a great looking website that is easy to use and that's optimized for search engines.
Here are a few of the sites I have recently developed (in addition to the Catholic Foodie):
The Genesis Framework offers superior SEO functionality. It's highly customizable, and it's very easy for the end user to use. And for the next few days it's 25% off!
Using the code THANKS at checkout (don't forget that), you can save 25% off of anything you'd like at WordPress design shop, StudioPress.
1. Get the Genesis Framework for only $45.
2. Snag most Genesis / design combos for a song and save close to $20.
3. Wipe the entire shop clean and get the StudioPress Pro Plus All-Theme Package. Get Genesis plus every design they've made, plus every design they make in the future, and save more than $74 off the regular price and over $875 off the retail price — and that's just the existing 43 designs!
All you need to do is use the code THANKS when you check out and you'll save 25% on anything and everything at StudioPress.com.
This deal ends promptly at 7:00 pm Pacific time on Monday, November 28, 2011. Hurry up and claim your new WordPress theme before the code expires!
Bon appetit!