August 1, 2014
Baba Ghanoush – Lebanese Eggplant Appetizer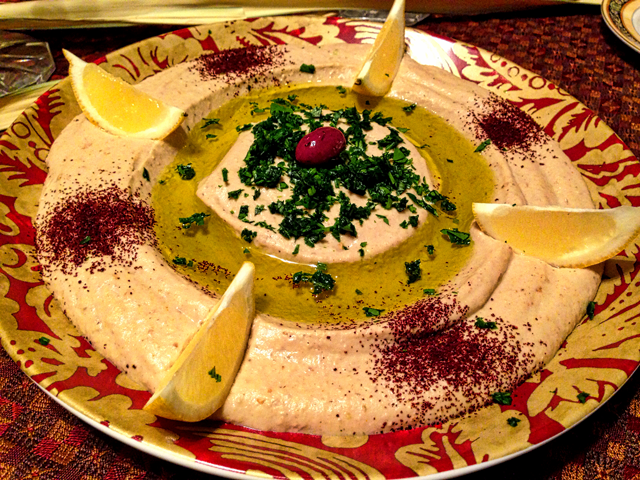 Eggplant wasn't really a friend of mine until recently. We became friends just last February in the Holy Land. I had always found eggplant to be too bitter, and sometimes it stung. So I stayed away from it. But it's hard to stay away from eggplant in Israel. Eggplant is so plentiful, so abundant. It is also more often called aubergine in Israel, which I think sounds so much better than eggplant.
What we know as appetizers in the West are part of what's called a mezze in the Middle East. A mezze consists of lots of small dishes that are shared in common: salads, pickles, grape leaves, pita bread, and several different kinds of dips like hummus. A close cousin to hummus is almost always included in a mezze: Baba Ghanoush.
Baba Ghanoush is an eggplant dip, and the method for making it is very similar to the method of making hummus. As a matter of fact, they both include many of the same ingredients: tahini, lemon, olive oil, and garlic.
How to Shop for Eggplant
When shopping for eggplants, try to pick ones that are symmetrical and are about the same size. That will ensure that the eggplants will cook evenly. You want a firm eggplant, not bruised, with a shiny skin. The older and larger the eggplant, the more likely it is to be bitter. One way to minimize the bitterness is to "sweat" the eggplant after it is roasted. To do so, remove the flesh of the roasted eggplant, discarding the skins, and transfer the flesh to a fine colander or sieve. Allow it to drain for 3 to 5 minutes.
The Smokey Goodness of Baba Ghanoush
It's the roasting of the eggplants until their skins begin to char and blister that lends a smokey flavor to Baba Ghanoush. The recipe below details how to roast the eggplants in the oven, but you can also roast them on a grill, if you like.
Baba Ghanoush is popular in the United States, and it is probably one of the most well-recognized Middle Eastern dishes. It's most often served with warm pita bread, but you can also serve it with slices of cucumber, carrot, or slivers of red, yellow or orange bell peppers.
BABA GHANOUSH RECIPE
INGREDIENTS
3 medium eggplants
½ cup of tahini
Juice of 2 lemons
¼ cup of extra virgin olive oil
3 cloves of garlic, crushed
1¼ teaspoon of coarse ground kosher salt, or to taste
¼ teaspoon of cayenne, or to taste
½ cup of water
2 tablespoons chopped fresh parsley, as garnish
Sumac, as garnish
INSTRUCTIONS
Roast the eggplants: Preheat the oven to 500. Line a baking sheet with aluminum foil. Rinse eggplants well, then pierce them a few times with a sharp knife or a sharp fork (uniformly over the whole eggplant to prevent bursting), and place on the baking sheet. Roast in the oven, turning every 5 to 7 minutes until the skin blisters and begins to crack. Remove from oven, set aside and allow to cool.
Once cool enough to handle, slice the eggplants in half lengthwise and scoop out the flesh with a spoon, transferring it to a strainer so that the eggplant will release its liquid.
Place the eggplant in a medium to large mixing bowl. Add the tahini, salt, garlic, lemon juice and mix well with a fork, mashing up any larger pieces of eggplant. Slowly add water, as necessary, to achieve desired consistency. Alternatively, the eggplant and other ingredients can be placed in the work bowl of a food processor.
Scoop the mixture into a round serving dish and create a well around the area of the dish. Fill the well with the olive oil, and garnish with fresh parsley and sumac. Serve with warm Arabic bread.
Around the Table with The Catholic Foodie: Middle Eastern Cuisine
This recipe for Baba Ghanoush is one of 70+ recipes you will find in my new cookbook, Around the Table with The Catholic Foodie: Middle Eastern Cuisine. The book is available now for pre-order from Liguori Publications.