August 30, 2013
Back to School with Sherrí Hansen and Culinary Kids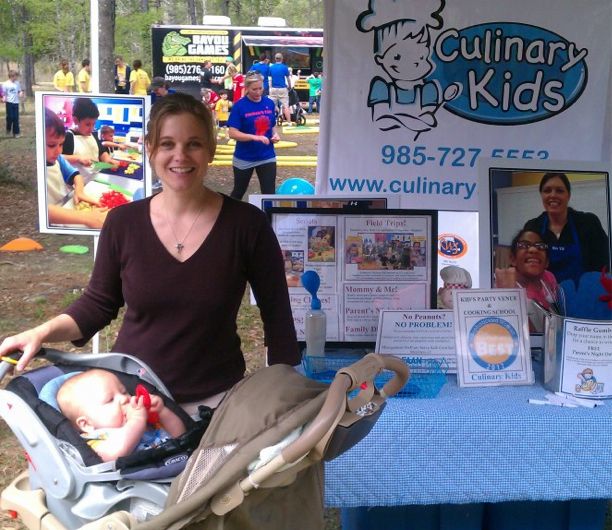 It's Back-to-School Time! What's on Your Menu?
The lazy days of summer are gone and school is back in full swing. Between homework and after school activities, families often find themselves in a bind at dinner time, which makes fast food and eating-on-the-go much more appealing options than they should be. Believe it or not, even amidst the chaos of homework, football practice and other extracurricular activities, it is still possible to prepare something delicious and nutritious for your family… and to gather all the family members together around the table for dinner.
Sherrí Hansen and Culinary Kids
Sherrí Hansen knows a thing or two about kids and cooking. A mother of four (boys!), Sherrí has been through her own personal "boot camp" where she has learned to balance the busyness of life with kids and the joys of connecting with her family around the dinner table… and she has learned to do so with grace. As a mother, Sherrí knows intimately the challenges and struggles that one can encounter at mealtime, especially during the months of transition back into "school mode." Over the years, Sherrí has come up with several time-saving tips that make dinner time for busy families a bit easier.
In addition to being a wife and mother, Sherrí is also the owner and proprietor of Culinary Kids, a fun and educational facility on the Northshore that provides the space for children and families to practice the science and art of cooking, and to learn valuable relationship skills to help them really connect around the family table.
We live in a culture of food, socializing and bonding over meals.

Food is a way for children to learn and connect with each other and their families.We teach practical life skills, encouraging children to share experiences at home enjoying family time together. We raise awareness on issues of childhood obesity, nutritional choices, food allergens and other health concerns. – from http://culinarykidsns.com
This open-space facility is completely malleable to become the perfect venue for any number of programs. There are several standing programs that are a part of the regular schedule at Culinary Kids, like Parents' Night Out, Mommy & Me, and even a Special Needs Cooking Class. There is also a program for adults called Corks & Cooking. You can find the whole lineup of classes at http://CulinaryKidsNS.com.
The Culinary Kids facility is also available for rent for parties and for other cooking events, like a church-based class or a leadership-building event for businesses.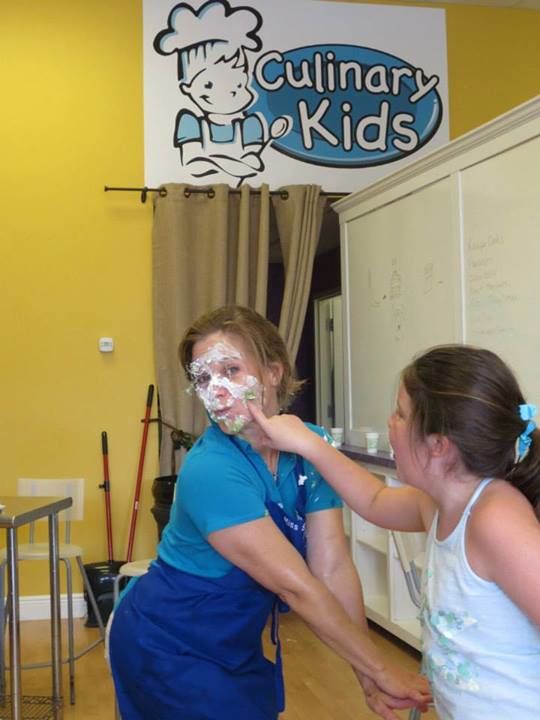 Back-to-School Dinner Time Tips from Sherrí
Sherrí shared a secret with us on last week's Around the Table Food Show. Once school starts up every year, for the first couple of months – at least – her two favorite kitchen gadgets are the food processor and the muffin tin!
Listen to the show below to hear her creative (and sneaky!) ideas for maxing out the use of the food processor and the muffin tin. Click on the "play" button below to listen. Alternatively, you can click here to download the show as an MP3 file that you can listen to at your convenience on your computer or MP3 player.
On this show I also shared some practical tips for speeding up the cooking process (when time is of the essence!) from an article I wrote a couple of months ago called 10 Shortcuts for Cooking Dinner in Record Time.
It's All About Connecting… Around the Table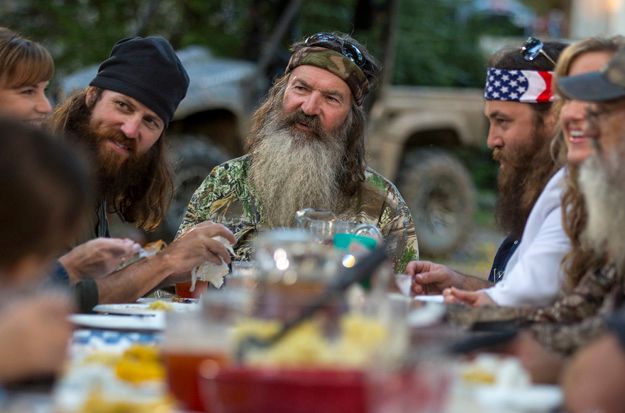 Another fun topic from this show was Duck Dynasty.
I saw my first episode of Duck Dynasty back in July, and it instantly became a family favorite. And not just because I could have starred on that show just a few years ago (see the pic of me and my beard below!). No. It's because Duck Dynasty is oriented toward the family. Family is good. And every episode ends with the family gathered around the table joined in prayer and celebrating life together with food. Listen to show to hear all that we had to say about Duck Dynasty!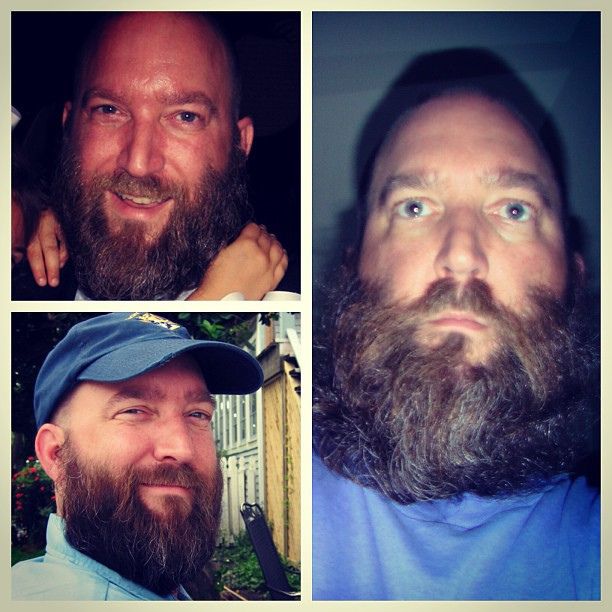 Recipes from the Show
Bruschetta
Redfish on the Half Shell
Ciabatta bread and chicken liver pate
What about You? What's on Your Back-to-School Menu?
---
Join me in the Holy Land in February 2014!
DEADLINE TO REGISTER IS OCTOBER 25, 2013!
Register between now and October 1st and receive $50.00 off, plus get a free copy of Jeff's collection of Middle Eastern recipes!
Contact Information
Susan Prendergrast
(800) 842-4842
catholicfoodie.com/holyland
Join us as we PRAY and BREAK BREAD together in Israel
Experience food preparation and cooking demonstrations led by "Catholic Foodie" Jeff Young and the "Chefs For Peace."
We will not only WALK WHERE JESUS WALKED, and PRAY WHERE JESUS PRAYED, but EAT WHAT JESUS ATE!
Price of $3,795.00 includes airfare from Atlanta, Philadelphia, or Newark.
3 nights in Nazareth and 5 nights in Jerusalem
Highlights include:
Celebrating Mass at Mount Carmel, the Church of the Nativity, the Mount of the Beatitudes, the Basilica of Agony in the Garden of Gethsemane, and the Church of the Holy Sepulchre
Renewing Marriage Vows in Cana and Baptismal Vows at the River Jordan
Visiting the Churches of the Annunciation, Visitation, and Assumption
Sailing on the Sea of Galilee and Swimming in the Dead Sea
Touring a Franciscan Winery in Bethlehem and a Brewery in Taybeh
Praying the Stations of the Cross on the Via Dolorosa, and visiting the "Wailing Wall," the "Upper Room," the Palace of Caiaphas, the Pools of Bethesda, the Mount of Olives , and Dormition Abbey
And finally a Farewell Supper at Emmaus
Details and registration form are at /holyland