October 21, 2014
Bacon Cheeseburger Soup Recipe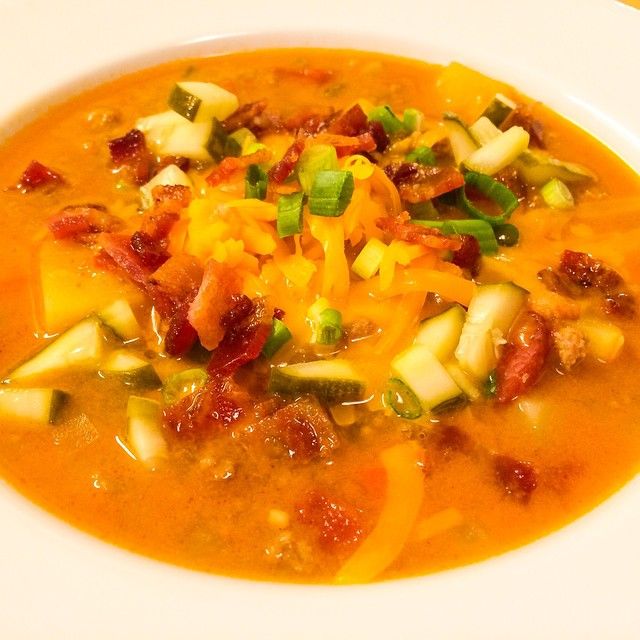 A cheeseburger in a bowl? With bacon on it?
Yep!
Last week my kids asked if I would make cheeseburger soup for dinner. Apparently, one of their friends had recently had cheeseburger soup and told my kids about it. I confess that I was intrigued. I decided to make it that night.
Since bacon makes everything better, well, it was a no-brainer that I needed to make this cheeseburger soup into a Bacon Cheeseburger Soup.
Would you be surprised if I told you that it was a hit? Well, it was. 😉
Here's the recipe so that you can try it for yourself. It's good eats!
Bacon Cheeseburger Soup Recipe
INGREDIENTS
2 pound ground beef (I prefer ground chuck or ground round)
12 slices bacon, cut 8 of them into one inch pieces & reserve 4 slices to crumble to be used as garnish
2 large sweet yellow onions, diced
4 carrots, diced
2 stalks celery, diced
4 jalapeños, seeded and finely diced
4 cloves garlic, minced
¼ cup flour
8 cups beef stock
2 large yukon gold (or other boiling potato), peeled and cut into bite-sized pieces
4 tablespoons ketchup
2 teaspoon dijon mustard
4 tablespoon worcestershire sauce
2 (14.5 ounce) can diced tomatoes
2 cup milk
2 cups cheddar cheese, shredded
Kosher salt and freshly cracked black pepper, to taste
Cayenne pepper, to taste
3 to 4 whole dill pickles, diced
INSTRUCTIONS
Brown the ground beef in a large heavy-bottomed skillet over medium heat, about 10 minutes. Drain and set aside.
While the ground beef is browning, cook the bacon in a pre-heated oven set at 400 until done, about 15 minutes. Remove bacon from the pan and drain on plate lined with paper towels. Reserve the bacon grease.
Add 2 to 3 tablespoons of bacon grease to a large heavy-bottomed soup pot over medium to medium-high heat. And add the onions, carrots, celery and jalapeño, stir well and saute until tender, about 10-15 minutes.
Add the garlic and cook until fragrant, being careful to not let it burn, about a minute
Add the flour and stir well, allowing it to cook for 2 to 3 minutes.
Add the beef stock, bacon, ground beef, potatoes, ketchup, dijon mustard, worcestershire sauce and tomatoes. Bring to a boil, then reduce the heat and simmer until the potatoes are tender, about 15 to 20 minutes. Stir in the milk at the halfway point.
Season with Kosher salt, freshly cracked black pepper and cayenne.
Serve soup in bowls and garnish with cheddar cheese, crumbled bacon and diced pickles.
Have You Tried Cheeseburger Soup Before?
I know there are various recipes for this type of soup out there on the internet and in cookbooks. Some of them add shredded lettuce. Some of them cook the cheese in the soup (I don't like to do that because it becomes a sticky mess!). Some add other ingredients like BBQ sauce or mushrooms.
Have you ever tried a version of Cheeseburger Soup? Tell me your favorite in the comments below!