November 5, 2013
Basil Pesto #Recipe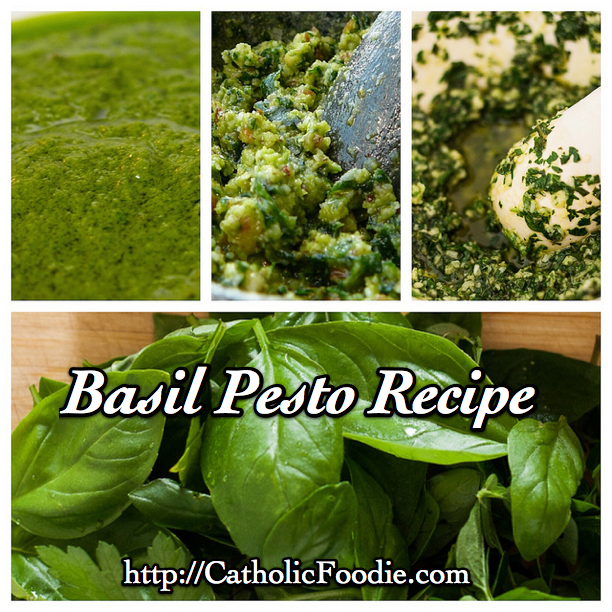 Basil Pesto Is Super Easy to Make!
Super easy to make and ridiculously delicious, this Basil Pesto will knock your socks off! You want to impress your family and friends with your culinary skillz? Then make this pesto. They will remember you and love you for as long as they live.
That being said, please keep in mind that the ingredients make or break a dish… especially one that consists of only a few simple ingredients.
So make sure that you:
use the freshest basil that you can find. If you do not have any in your own garden, then shop for it at a local farmers market.
use the best extra virgin olive oil that you can find. You don't have to go over the top with this one. You don't necessarily have to buy the most expensive. Just make sure that it is as fresh as possible. Olive oil is not wine. It does not get better with age. Look for an olive oil that has the harvest date on the bottle.
don't use cheap cheese. Pecorino Romano has bite. It's a good cheese. And it helps to bind your pesto together. But you have to make sure that you buy quality. Otherwise, you are going to lose out on flavor and freshness in your pesto.
use coarse-ground kosher salt. I don't know what it is about coarse-ground kosher salt, but I have found it to be the best salt to use in most dishes, especially salads, soups, and sauces. Whatever you do, do not use regular table salt.
use freshly cracked black pepper. If you don't have one, invest in a pepper mill that will allow you to change the coarseness of the grind. In my humble opinion, a coarsely-ground black pepper is best in this pesto.
Basil Pesto on the Around the Table Food Show
Just a last week, David Dawson of Catholic Community Radio had me talk about this recipe on the Around the Table Food Show. If you haven't heard the show before, tune in! You can listen live on Friday afternoons at 3:10 PM Central time on 690 AM in New Orleans and 1380 AM in Baton Rouge. The show is recorded and archived so that you can also listen to it online at your convenience. You can find past shows by clicking here: The Around the Table Food Show on CatholicFoodie.com.
Basil Pesto Recipe
INGREDIENTS
2 cups fresh basil leaves, packed tightly
3 to 4 cloves garlic, peeled
¼ cup pine nuts
½ cup extra-virgin olive oil
Kosher salt and freshly ground black pepper, to taste
½ cup freshly grated Pecorino Romano cheese
INSTRUCTIONS
Place the basil, the garlic, and the pine nuts in a food processor and pulse until coarsely chopped.
With the processor running, slowly add the olive oil and process until fully incorporated and smooth.
Season with salt and pepper.
If using immediately, slowly add roughly another ¼ of olive oil oil, pulsing until smooth. Transfer to a large serving bowl and thoroughly mix in the grated Romano cheese.
If freezing the pesto, place in an air-tight container and drizzle roughly ¼ cup of olive oil over the top.
NOTES
You can freeze this pesto for up to 3 months. When ready to use, thaw it and stir in the grated Romano cheese.
You can also substitute pecans or walnuts for the pine nuts. However, in my experience, you should serve it right away if you use pecans. Pecans tend to soften to much when you freeze them in pesto.