December 5, 2012
Beef Stew with Abita Turbodog (beer)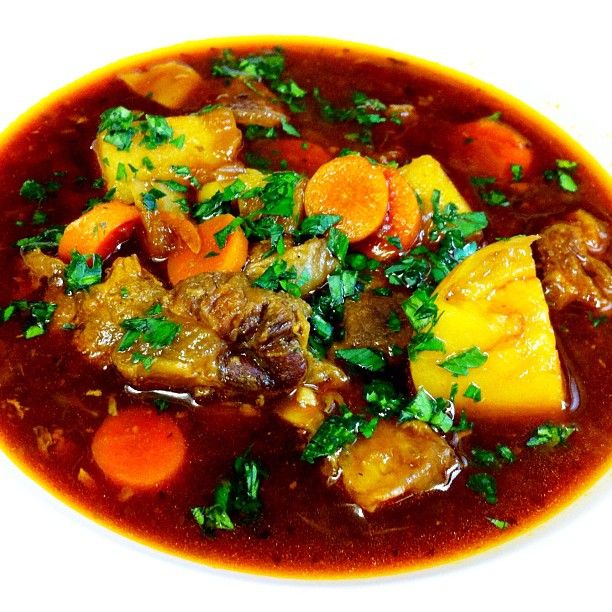 Beef Stew: Comforting, Filling, Heartwarming
There's just something good about beef stew. It's hearty. It's warm. It's comforting, filling, and delicious. It's comfort food for sure.
I made this beef stew last night. It was the second time that I have made it. I wanted to get the "recipe" just right before sharing it with you.
Cooking With Beer – The Jokes and The Delicious Reality
"The mouth of a perfectly contented man is filled with beer." That quote comes from ancient Egyptian hieroglyphics, believe it or not. And I think it's probably true. 😉
I'm sure you've heard the joke, "I cook with wine all the time… Sometimes I even put it in the food." I guess we could make the same joke about beer. But, if we wanted to get serious for a minute, we would have to wonder, "Why cook with beer at all?" Meaning, of course, actually adding it to the food.
Beer brings different flavors to food: 1) bitterness from the hops, 2) sweetness from the malted grains, and 3) a distinct roasted flavor (at least from darker beers). That's why beer goes so well with beef.
Beers, particularly dark beers, also pair very well with certain vegetables like carrots, potatoes, corn, and onions.
I guess by now you can see why I added beer to this beef stew. Beef, carrots, potatoes, onions… Maybe I should have added corn too.
There's a Beer in My Stew!
I used Abita Turbodog for this stew. Why? Well, dark beers like stout are always a good option with beef. I have made stews before with Guinness. But I wanted to keep things close to home, even if Turbodog is just a dark brown ale. And since Abita is practically in my backyard…
If you have never heard of Turbodog before, you are in for a treat. Here's what Abita.com has to say about this deliciously thick and chocolaty brew:
Turbodog® is a dark brown ale brewed with pale, caramel, and chocolate malts and Willamette hops. This combination gives Turbodog® its rich body and color and a sweet chocolate, toffee-like flavor. Turbodog® began as a specialty ale, but has gained a huge, loyal following and has become one of our flagship brews.

This ale pairs well with most meats and is great served with hamburgers or sausages. It is a good match with smoked fish and can even stand up to wild-game dishes. Turbodog® is also great for marinating and braising meats and cooking such things as cabbage and greens. Colby, Gloucester, Cheddar and blue cheeses go nicely with Turbodog®. It's perfect with spicy Louisiana jambalaya or Spanish paella. Some even like it paired with chocolate!
Mis en Place: Simplicity in a Pot
Another beautiful thing about this dish is… It's another one-pot wonder.
I love one-pot cooking. It makes life so simple. And I am always amazed by the way some many flavors can come together to make something wonderfully delicious… all in on little ol' pot.
I've talked about mis en place before. It's a good practice in the kitchen (and in life, in general!). Cooking in just one pot makes it so much easier.
The not-so-secret Secret Ingredient
As I've mentioned before, cooking with stock instead of water is the not-so-secret secret ingredient. It will make you a hero in front of your family, friends and neighbors.
I confess. I have no yet posted my recipe for beef stock on CatholicFoodie.com. But I will. Soon. Like in the next couple of days. Then I will update this post to reflect that recipe.
In the meantime, start making plans to make this beef stew. Believe me, you definitely want to try it. It is ridiculously good. Besides, it's December now. The cold is coming and you and your family need to stay warm. 😉
INGREDIENTS
3 tablespoons olive oil or coconut oil
1 tablespoon butter (we prefer Kerrygold)
2 pounds stew meat
1 – 2 yellow onions, diced
3 – 5 cloves garlic, crushed
1 bottle Abita Turbodog, 12 ounce bottle
6 cups beef stock
1 tablespoon Worcestershire Sauce
2 tablespoons tomato paste
1 can petite diced tomatoes, 14 ounces
1/2 teaspoon paprika
1/2 teaspoon kosher salt, or to taste
Freshly ground black pepper
1/2 teaspoon cayenne, or to taste
1-1/2 teaspoon sugar
4 whole carrots, washed, unpeeled, and roughly sliced
10 – 12 small new potatoes (or small Yukon Gold), quartered
Minced parsley (to top the bowls when served)
INSTRUCTIONS
Heat oil and butter in a large pot over medium-high heat. Brown the stew meat in two batches. Set aside. Cut into bite-sized pieces in half, if necessary.
Add onions to the pot. Stir. Sauté for four or five minutes, until softened. Then add crushed garlic (I use a mortar and pestle to crush) for another minute. Pour in the Turbodog and beef stock. Then add Worcestershire, tomato paste, petite diced tomatoes with juice, paprika, salt, pepper, cayenne and sugar. Add beef back into the pot. Stir to combine. Cover and simmer for 1 1/2 to 2 hours.
The liquid should cook down. If it is too thick, or there is not enough liquid, then add additional water or stock as needed. Adjust seasoning as necessary.
Add the carrots and potatoes. Cover and cook for an additional 45 minutes, or until carrots and potatoes are soft. If necessary, add water or stock. But do so only a little at a time. Toward the end of the cook time, taste. Adjust seasoning as needed.
Serve in bowls and top with minced parsley.
A French baguette would go nicely with this stew.
You can download CF146 here, or press Play below to listen now: