March 18, 2012
Guinness Beer-Braised Rabbit #SundaySupper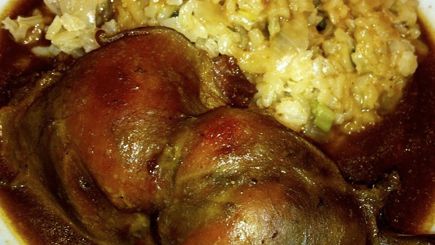 Marcelle Bienvenu is one of my favorite Louisiana chefs. She wrote one of my favorite cookbooks before being a chef was cool: Who's Your Mama, Are You Catholic, And Can You Make a Roux? I love that cookbook… And the title!
More recently, Marcelle collaborated with several chefs in putting together a delightful cookbook for Abita Brewing Company. It's called Cooking Louisiana True. I highly recommend it.
Anyway, just the other day a farmer-friend of mine gave me a couple of rabbits. They were already butchered, and they were frozen. There wasn't much room left in my freezer when I got home, so I decided that we would celebrate St. Patrick's Day with rabbit. And, since it's unheard of to celebrate St. Patrick's Day without beer, I decided that I would prepare the rabbit with beer. But how?
First Time Cooking Rabbit
I admit it. This was my first time cooking rabbit. I really didn't know what to expect. I've eaten rabbit before, and I enjoyed it. But I had never cooked it before. So, I did what I always do when I feel totally inadequate in the kitchen… I grabbed a stack of my favorite cookbooks and started searching for a recipe or two that I could make my own.
In Cooking Louisiana True I came across a recipe by Marcelle Bienvenu for Beer-Braised Rabbit. It looked like a winner to me… except I wanted to give it more of an Irish flare. Below is the recipe I came up with. It is based on the recipe by Marcelle in Cooking Louisiana True.
INGREDIENTS
5 to 6 lbs of rabbit (cut into serving pieces)
4 yellow onions, chopped
4 carrots, peeled and chopped
5 cloves of garlic, chopped
1 bay leaf
Kosher salt (to taste)
Freshly-cracked black pepper (to taste)
Cayenne pepper (to taste)
2 to 3 tbl Butter
3 tbl olive oil
2 tbl all-pupose flour (we like King Arthur)
2 cups chicken broth
1 (12 oz) bottle of Guinness beer
DIRECTIONS
Season the rabbit with the salt, pepper, and cayenne.
Heat the butter and oil in a large, heavy pot or dutch oven over medium to medium-high heat. (I use a large All-Clad pot.) Brown the rabbit on all sides. Once browned, remove the rabbit from pot and store on large platter.
Add the onions, carrots, garlic, green onions, and bay leaf to the pot. Cover and cook (stirring occasionally) until veggies are translucent (about 10 to 12 minutes).
Once veggies are translucent, add the flour to the pot and mix well to make a blonde roux. Make sure you scrape the bottom of the pot to loosen any browned bits, then add the chicken stock and the Guinness.
Return the rabbit to the pot and bring to a boil. Reduce heat to medium-low, cover and simmer for about 1 hour and 30 minutes.
Remove the rabbit from the pot and store in foil to keep warm. Then strain the liquid from the pot through a fine mesh sieve. Reserve as much of the liquid as you can, and return it to the pot.
Over medium-high heat, cook down the liquid until it yields about two cups.
Return the rabbit to the pot. Once the rabbit has warmed up, it is ready to be served. It goes wonderfully with a rice dish or with parsley potatoes.
If you try this recipe, let me know what you think!
Leave a comment in the comments below!