June 16, 2013
Boiled Shrimp for Father's Day – #SundaySupper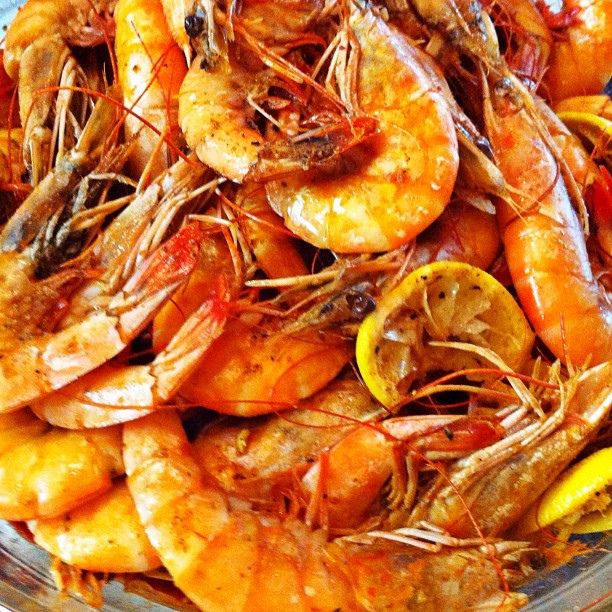 Louisiana: The Land of Milk and Honey… And Shrimp!
It's shrimp season here in Louisiana, and the shrimp are plentiful! Each year Louisiana shrimpers catch 90 – 120 million pounds of both brown and white shrimp, and 69% of the domestic, US shrimp are harvested from the Gulf waters.
We are proud of our seafood here in Louisiana, and that includes our shrimp too. Even if you don't live in Louisiana, you probably eat Louisiana seafood. Louisiana seafood is known around the world for taste, quality and variety. When you enjoy seafood at home or in a restaurant, chances are excellent that it's from Louisiana. Nearly 1/3 of the domestic seafood consumed in the contiguous United States comes fresh from our waters. Louisiana is the number one provider of shrimp, oysters, crab, crawfish and alligator production in the USA and we're a close second in the harvest of fin fish. Situated at the top of the Gulf of Mexico, with a wealth of rivers and lakes throughout the state, Louisiana is indeed the "land of milk and honey" when it comes to seafood.
Buying Shrimp in Louisiana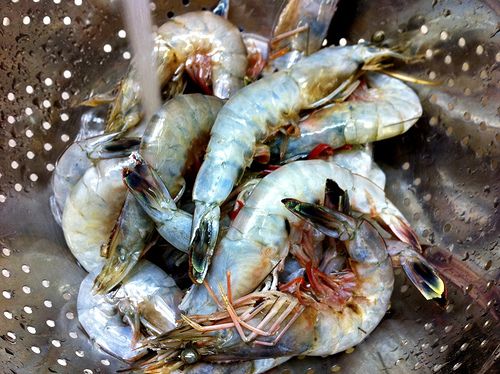 Fresh shrimp are sold according to size, based on the number of shrimp per pound. For example, "16-20 count" means that you will get 16 to 20 shrimp in a pound. 16-20 count are your large shrimp. For boiling, you really want your shrimp to be at least 26-30 count. Anything smaller than that will be too small.
Seafood markets are peppered all across south Louisiana, which makes it really easy to find fresh shrimp this time of year. You might also be lucky enough to come across a shrimper selling fresh shrimp out of his truck on the side of the road. Those shrimp were probably swimming in the Gulf of Mexico earlier that morning or the previous day. If you come across one of those shrimpers, you'll probably pay less for their shrimp than you would at a seafood market.
If you are looking to buy fresh shrimp, but you just don't know where to go, try out the "Seafood Locator" on the website for the Louisiana Seafood Promotion and Marketing Board. They can point you in the right direction. They even have information on buying shrimp from the docks.
Boiling Shrimp Louisiana-Style
Across America it seems that Old Bay is the old standard when it comes to boiled or steamed seafood. Except in Louisiana, of course. 😉 I do like Old Bay, but for boiling seafood, we like to kick it up a notch or two down here in Louisiana.
The recipe below can certainly be adjusted to your taste. We like it hot, so I'm giving it to you hot. Feel free to play around with it until you come upon the taste you like.
INGREDIENTS:
2.5 to 3 cups Zatarain's Pro Boil crab boil
8 ounces Zatarain's liquid crab boil
Kosher salt, to taste
Cayenne, to taste
Granulated garlic, to taste
6 sweet yellow onions, cut in half
10 heads of garlic, cut in half
2 bottles of concentrated lemon juice
20 new potatoes
12 ears frozen sweet corn, cut in half
4 gallons water
20 pounds fresh Louisiana shrimp, heads on
DIRECTIONS:
Bring water to a boil and add all the seasonings, the onion, the granulated garlic, and one bottle of lemon juice. Taste for seasoning, add salt as necessary. Flush shrimp with tap water until water runs clear and the eyes of the shrimp grow in size, about 5 minutes.
When the water comes to a boil, add the potatoes and cook 15 minutes. We like to use a boiling bag (or a lingerie bag) to keep the potatoes together. We use a separate bag for the garlic, since the potatoes and the garlic have different cook times. About 10 minutes after adding the potatoes, add the garlic to the pot, and allow it to cook for about 5 minutes. Sample the water again for seasoning and make any necessary adjustments. Then add the shrimp to the pot. Stir well. Bring the water back to a boil and cook for an additional 2 minutes. Turn off the shrimp boil and add the frozen corn to the pot along with the second bottle of lemon juice. Stir again.
Add salt as necessary. Allow the shrimp to soak for about 15 minutes. Taste one of the shrimp to determine whether you need to add any additional salt or seasoning. Let the shrimp rest in the water for another 10 to 15 minutes.
Note: The garlic comes out soft as butter. It can certainly be saved and used to top some warm french bread.
A Special Father's Day #SundaySupper
It's that time of year to celebrate dear Ol' Dad. We all know the way to Dad's heart on Father's Day is through his stomach. This week, the Sunday Supper Team is celebrating Dad's by sharing our favorite Father's Day Recipes. This is a special event because through the Sunday Supper Movement, we have become an extended family. I am honored to celebrate with all the special Dad's, Grandfathers, Uncles and families that have been brought together by this amazing group. Join us for this special #SundaySupper! – Isabel Foodie from FamilyFoodie.com
Dad's Favorite Main Dishes:
Dad's Favorite Appetizers and Sides:
Dad's Favorite Desserts
Come celebrate Father's day with the Sunday Supper Team! We would love to have you join our Twitter #SundaySupper chat starting at 7:00 pm EST. Follow the #SundaySupper hashtag throughout the day to see the amazing recipes. We look forward to seeing you.  To join all you need to do is follow the #SundaySupper hashtag and share your favorite tips and recipes. Be sure to check out our #SundaySupper Pinterest board for more delicious recipes and photos.