January 21, 2014
Braised Beef Short Ribs with Tomato and Red Wine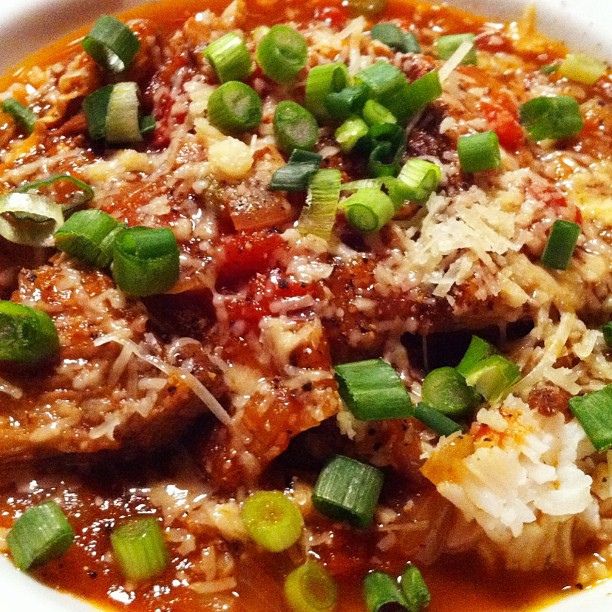 Cooking with Bloody Marys?
I'm sure you've heard the joke, "I love cooking with wine. And, sometimes, I actually put it in the food."
Well, years ago I heard the south Louisiana version of that joke. Question: How long does it take to make a roux? Answer: About 3 beers or 3 Bloody Marys.
That is certainly one way to cook with Bloody Marys. 😉
But this Braised Beef Short Ribs recipe cooks with Bloody Marys in a totally different way. In this recipe, you actually pour the Bloody Mary into the food.
Now, I should probably mention that I am really referring to the Bloody Mary mix, not the cocktail. There's no vodka in this recipe.
This was the first time that I had experimented with using Bloody Mary mix in a recipe and I was blown away by the results. Wow!
Just keep in mind that the Bloody Mary mix is already seasoned, so you will need to taste along the way. Don't get too carried away with the salt, black pepper and cayenne. Taste, taste, taste!
Also, keep in mind that the carrots will naturally tone down the dish, adding a distinctive sweetness.
Most recently, we served this over long-grain white rice. But you can certainly serve it atop a pasta of you choice instead.
Braised Beef Short Ribs with Tomato and Red Wine Recipe
INGREDIENTS
4 pounds beef short ribs, bone in
Kosher salt and freshly cracked black pepper, to taste
Cayenne, to taste
2 tablespoons olive oil
2 tablespoons butter
1 large sweet yellow onion, chopped
2 leeks (white portion only), sliced
1 cup red wine
1 cup beef stock
1 (28 ounce) can petite diced tomatoes
3 cups bottled Bloody Mary mix (we prefer Tabasco Brand, Zing Zang, or Hoosier Momma Bloody Mary Maker)
6 large carrots, peeled and cut into 3-inch pieces
20 small Cremini mushrooms, stems removed
INSTRUCTIONS
Preheat an oven to 350 degrees F, and season the short ribs with salt and pepper, then set aside.
Heat an oven-proof Dutch oven, or wide, shallow heavy-bottomed pot with a lid over medium-high heat. Add olive oil and butter and heat until the butter melts. Stir in the onion, and cook until the onion begins to soften, about 3 minutes. Add the leek, and continue cooking until the onion and leek are lightly browned. Remove and set aside.
Brown the short ribs in the hot Dutch oven until browned on all sides, about 3 minutes per side. Once browned, sprinkle the reserved onions over the ribs, pour in the wine, beef stock, tomatoes, and the Bloody Mary mix. Nestle the carrots among the ribs. Bring to a simmer, then cover, and place in the preheated oven.
Braise in the oven for 2 hours, then remove and add the mushroom caps. Re-cover the pot and continue cooking for an additional hour.
Serve over long-grain white rice or a pasta of your choice.
Bon appetit!