February 8, 2013
Braised Cabbage with Beer and Creole Mustard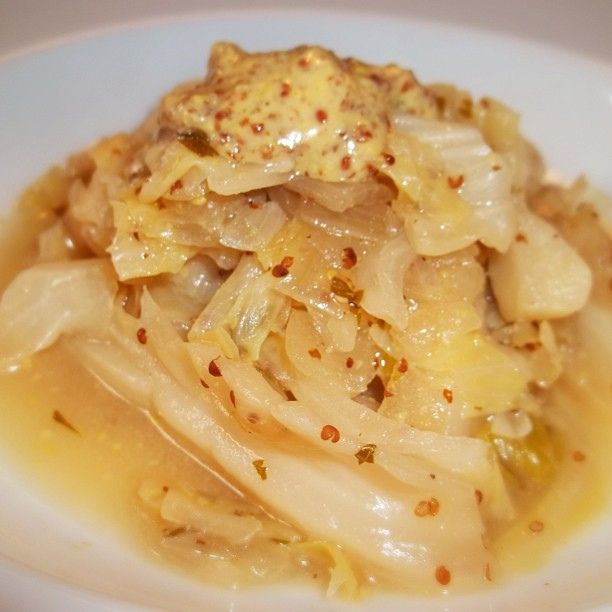 Braised Cabbage: Quick, Easy, and Delicious
It's Friday. We are not in Lent yet. But it's Friday.
Recently, the United States Conference of Catholic Bishops called all the faithful back to the practice of abstaining from meat on Fridays throughout the year, not just during Lent. The bishops also encouraged a renewal in the practice of fasting on Fridays.
Why?
Abstaining from meat on Fridays is just one aspect of a 5-part pastoral strategy to renew our culture through prayer, penance, and sacrifice.
The U.S. bishops have approved a pastoral strategy to advance a Movement for Life, Marriage, and Religious Liberty. It is essentially a call to prayer, penance, and sacrifice for the sake of renewing a culture of life, marriage, and religious liberty in our country.
So you might start seeing more vegetarian dishes on Fridays here at The Catholic Foodie. Like this braised cabbage, for instance.
Cabbage: 'Tis the Season
This is cabbage season. Cabbage is usually available from late fall through the winter. Cabbage is abundant and cheap. It can be served as a side or as a main dish. That means cabbage is an excellent choice for Fridays during Lent too.
Oh, and we can't forget that St. Patrick's Day is coming up. Yes, St. Patrick's Day is during Lent (March 17). Yes, all the Mardi Gras parades will be over for another year. But that doesn't stop us from throwing a party… and putting on parades… and spreading the festivities out over a couple of weekends.
You see, New Orleans is a city that loves to celebrate. And just about any reason for a party will do. Because of the influence of early Irish immigrants in New Orleans, St. Patrick holds a special place in the city's heart. As a matter of fact, my wife and I were married in St. Patrick's Catholic Church on Camp St. That church is often referred to as the "Second Cathedral." It is truly stunning.
But, get this. If you think Mardi Gras parades in New Orleans are crazy for throwing beads, trinkets, and even coconuts from the floats, then you're not going to believe what they throw from the St. Patrick's Day parade floats. There are the usual beads and trinkets, of course. But they also throw… Cabbage! Yep. Cabbage. And carrots, potatoes, lemons, garlic, and tons of other produce. And, I have to tell you, it is fun, fun, fun! Last year, we came home from the parade with a crate of produce. We ate cabbage for weeks, I think. At least it seemed that way. 😉
If you want to try a cabbage recipe with pop – with pizzazz – then try this one. I used an Abita Jockamo for the IPA, but you can use whatever IPA you have on hand. I also used Zatarain's Creole Mustard. In a pinch you could just use a spicy brown mustard. But the Creole Mustard is available on Amazon.com.
Bon appetit!
INGREDIENTS
3 tablespoons coconut oil
2 large yellow onions, thinly sliced
12 ounces IPA-style beer (I used an Abita Jockamo)
Kosher salt
3 tablespoons apple cider vinegar
1 large head (or two smalls) of cabbage, quartered, cored, and thinly sliced
3 tablespoons Creole mustard (plus extra to add when serving)
1 cup of green onions, chopped
1/2 cup of fresh cilantro, chopped
DIRECTIONS
Heat large dutch oven over medium-high heat.
Add the coconut oil, onions, and a pinch of salt. Cook until the onions are translucent, about 5 minutes.
Add the beer, the vinegar,the cabbage, and another pinch of salt. Cover and cook, stirring occasionally, until the cabbage is wilted. About 10 minutes.
Stir in the mustard, and adjust seasoning as necessary. Feel free to add more salt, vinegar or mustard to suit your taste. If you are really adventurous, add a dash or two of cayenne. 😉
Remove from the heat and stir in the green onions and the cilantro.
Serve and enjoy!
Variation
For a non-meatless variation, try chopping 8 ounces of bacon and frying it first… before adding the onions. Just hold back some of the coconut oil if you use bacon. Dat's crazy-good, y'all!
What about you?
Do you have a favorite cabbage recipe? I'd love to hear about it! Tell me in the comments below!
You can download CF154 here, or press Play below to listen now: