June 14, 2013
Cafe Hope and the Creole Tomato Festival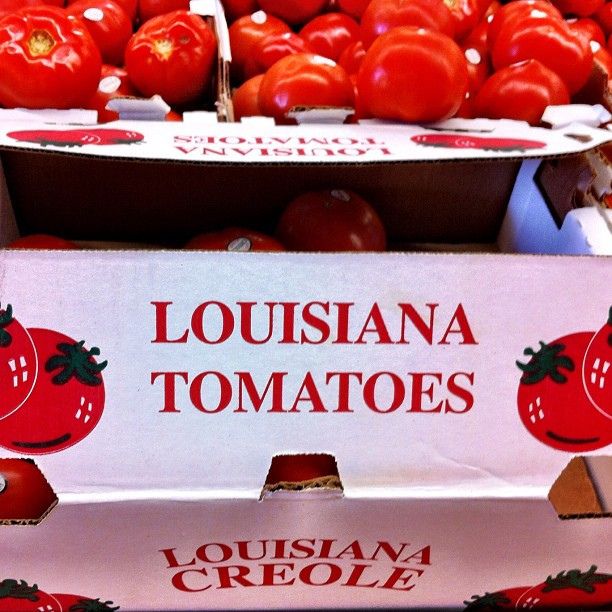 Cafe Hope and the Creole Tomato Festival
Our guests on the Around The Table Food Show for Friday, June 7, 2013 were Luis Arocha, Executive Director of Cafe Hope, and Amy Kirk, Marketing Director of The French Market Corporation that puts on the Creole Tomato Festival each year.
Cafe Hope: Cooking Up Great Food and Bright Futures
Cafe Hope helps at-risk young adults get training in the restaurant and hospitality industries. A ministry of Catholic Charities of the Archdiocese of New Orleans, Cafe Hope is a full-service restaurant that serves lunch Tuesday through Friday, dinner on Friday nights, and is also available for catering.
Cafe Hope takes a "seed to table" approach to food, and this philosophy is instilled into their students who get hands-on experience in the garden as well as in every area of the restaurant.
"At Cafe Hope, our food is slow-food, local and sustainable. The vegetables and fruit we use were grown in South Louisiana. The seafood is from our bayous and Gulf. The meat was raised through good husbandry practices and the grains are sourced locally. We hope you enjoy your dining experience through our delicious food and the knowledge that you are supporting Louisiana fishing, livestock and farming communities, as much as you are supporting the Cafe Hope Apprentice program.

"Because we use local and seasonal ingredients, our menu can change daily depending on what's fresh and in season! Here is a taste of what you can usually expect on our menus!"
The Friday night suppers offer a fixed price menu, and each week Cafe Hope posts the menu on their website: CafeHope.org.
Cafe Hope does not serve alcohol, but guests are welcome to bring their own drinks. Seating is limited, so reservations are recommended. You can reach Cafe Hope at 504-756-HOPE (4673).
Cafe Hope is located at 1101 Barataria Blvd. in Marrero, just 10 minutes from the New Orleans Central Business District.
The Creole Tomato Festival
Creoles tomatoes are simply homegrown tomatoes from this region of south Louisiana. But their taste is so distinct, almost tangy. They are simply my favorite tomatoes. Unfortunately, they are not available all year round. Creole tomatoes are my favorite!
"'In many ways, it's the perfect place for a summer festival. When it's hot, you discover that the French Market was designed to give shelter from the sun and admit breeze,' Amy Kirk who organizes the Creole Tomato Festival said in anarticle about the two festivals by Chris Waddington. 'If you're dancing under the live oaks on Esplanade, you know why the Cajun-Zydeco Festival centers on the Old U.S. Mint.'"

"If you pick up some red, ripe tomatoes at the Creole Tomato Festival, check out food columnist Marcelle Bienvenue's tomato salad recipes. Also, Judy Walker went through The Times-Picayune / Nola.com recipe archives and rounded up her own selection of favorite dishes that let the homegrown tomato shine." – Cajun-Zydeco and Creole tomatoes festivals continue on Sunday
Some of the highlights of the Creole Tomato Festival include:
Fresh Creole Tomatoes and other seasonal produce will be sold by visiting local farmers at the Farmers Market.
Cooking demonstrations will conducted by local chefs hourly 11 a.m. to 5 p.m.
Festival food booths and Farmers Market eateries will feature special Creole tomato dishes for the weekend.
Indoor/outdoor children's activities include: miniature golf, circus arts & craft-making, storytelling, swing dance lessons, face painting & live local music
Main music stage will feature Louisana Cajun-Zydeco Festival performers on Saturday 6/8 and local R&B artists hosted by WYLD-FM on Sunday 6/9.
Brass bands will play on the hour and move throughout the French Market District on Sunday, June 9th.
Shoppers who spend $30 in our retail shops will receive a complimentary box of Creole Tomatoes  from George's Produce and Ben & Ben Becnel's.
Free tomato samples will be given out at several stations throughout the festival.
5,000 free tomato fans will be given out throughout the weekend.
Souvenir t-shirts, tanks, aprons & hats will be sold at 2 locations.
Volunteers from Liberty Bank, Iberia Bank, and Children's Hospital will be on-site manning concession booths, children's activities, tomato sample stations, and souvenir stands.
"Caps for Kids" is our official partner for the Caps for Kids Cool Zone in Dutch Alley; all proceeds from Dutch Alley concessions go to Caps for Kids program.
Parking is conveniently located along the River in the French Market District and in two FMC operated lots at Esplanade and Elysian Fields.  Riverside streetcar use is encouraged, with 3 nearby stops.
Recipes from the Show
With all the talk about Creole tomatoes, of course we had to share some Creole tomato recipes.
The one I shared from CatholicFoodie.com is Simple Tomato, Cucumber, & Vidalia Onion Salad. Try it with Creole tomatoes, or any homegrown tomatoes. It's cool, refreshing, says "summer" to me like no other dish can.
Listen to the show by clicking on the "play" button below:
You can also download the show as an MP3 file and listen to it on your computer later. Click here to download this episode.
Around The Table Food Show
And speaking even more of feeding your soul…
Around The Table Food Show debuted on Friday, April 12, 2013 in New Orleans and Baton Rouge on Catholic Community Radio (690 AM in NOLA and 1380AM in BR). It is also available for listening online.
Like The Catholic Foodie podcast, Around The Table Food Show is a radio show that talks about food and faith. Around The Table celebrates the joy of cooking and dining, and it encourages folks to get into the kitchen and to gather around the table with family and friends… Because good things happen around the table.
Around The Table Food Show highlights the local culture and cuisine of south Louisiana. The show is hosted by Dave Dawson and myself. Dave Dawson is the president of Catholic Community Radio, which has stations in both Baton Rouge and New Orleans.
The show airs on Fridays at 3:10 PM Central (just after the Divine Mercy Chaplet) in Baton Rouge and New Orleans. The listening area spans from the Mississippi/Alabama border all the way to the west of Baton Rouge on the way to Lafayette.
Each broadcast is recorded, archived, and released as a podcast. You can subscribe to the podcast on iTunes. The first two broadcasts are embedded below. You can listen to them in your browser or download them as MP3 files. In just a few days, I will also launch a website for the show at AroundTheTableRadio.com.
We are looking for sponsors for the show. If you, or someone you know, could benefit from the incredible reach that these two radio stations have (talk about advertising exposure!), please do contact me at 985-635-4974 or email me at jeff [at] catholicfoodie.com.