November 10, 2014
Catholic Foodie "Book Launch" Menu and Dinner Party Details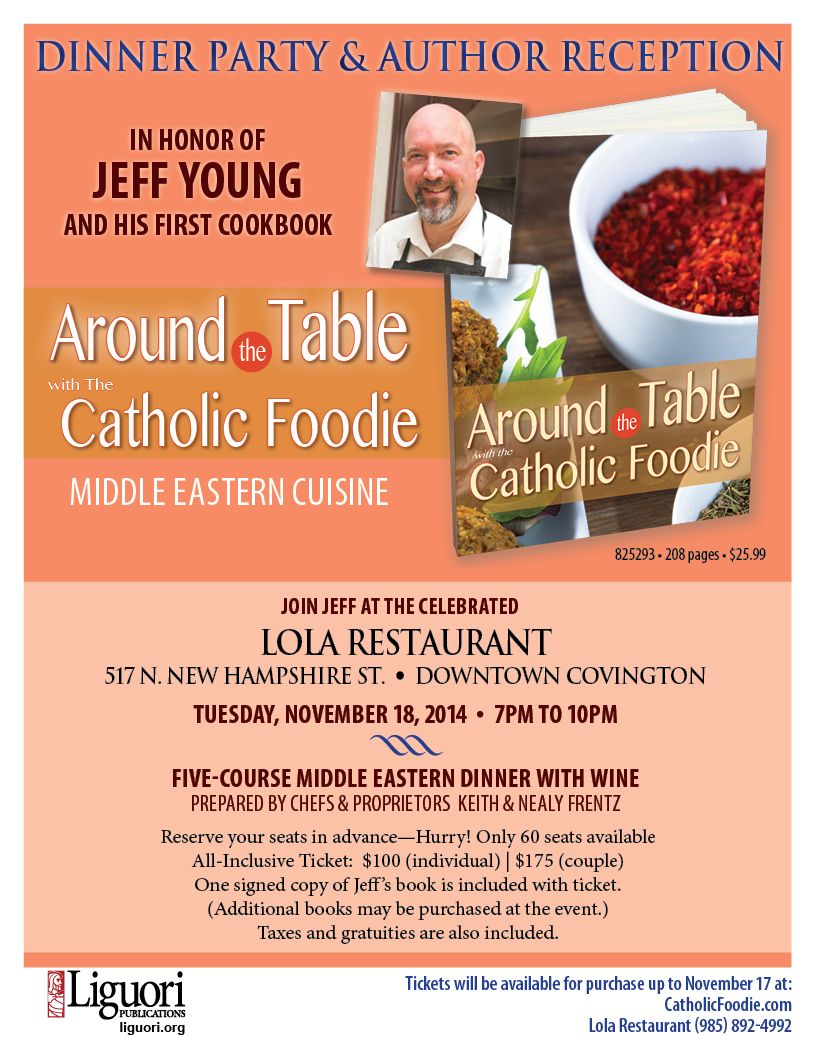 The Details
Join Jeff Young, The Catholic Foodie, at the celebrated LOLA Restaurant 517 N. New Hampshire St., Downtown Covington, Tuesday, November 18, 2014 from 7 to 10 pm.
Five-Course Middle Eastern Dinner with Wine Prepared by Chefs & Proprietors Keith & Nealy Frentz.
Reserve your seats in advance — Hurry! Only 60 seats available!
+ All-Inclusive Ticket: $100 (individual) | $175 (couple)
+ One signed copy of Jeff's book is included with ticket.
+ (Additional books may be purchased at the event.)
+ Wine, taxes and gratuities included.
If you have already pre-ordered the book, you can purchase a ticket that will include the dinner (including wine, tax and tip) for a reduced rate… $75.00 for an individual and $150 for a couple. Book not included. But additional books will be available onsite for purchase.
Tickets will be available for purchase up to November 17 at:
+ CatholicFoodie.com
+ LOLA Restaurant (985) 892-4992
The Menu
We will start the night with a traditional Middle Eastern "mezze" with hummus and fresh pita, falafel and house-made pickled veggies. A mezze is like and extended and leisurely appetizer course that facilitates mingling and visiting. Wine for the night is provided. Lola has a full bar, and beer and cocktails will be available for purchase.
The remaining 4 courses will be:
Salad – A Light Middle Eastern Salad
Dessert – Spiced Plum Cake with Cardamom Ice Cream
Purchase Your Tickets Below
Seating is limited! Get your tickets now!