March 15, 2011
Catholic Media Promotion Day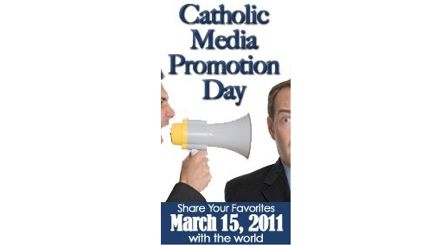 Today is Catholic Media Promotion Day.
What is that, you ask. Well, it's an opportunity for us to join together in promoting Catholic media.
And why would we want to do that? Because there are so many good folks out there producing quality Catholic media. Those folks need our prayers, support, and encouragement. It's really all about the Gospel, the Good News. Jesus commissioned us to preach the Gospel to the ends of the earth. Since the pontificate of Pope John Paul II, we have been hearing about a "new springtime" and a "new evangelization." Catholic media is part of that new evangelization.
Check out the Facebook page for Catholic Media Promotion Day. There are lots of ideas there on ways that we can all help to spread the word about "spreading the Word." Sharing the news about Catholic Media Promotion Day is one small way that we can all share the Good News.
I've listed some of my favorite sources for Catholic media. I know that lots of folks have narrowed down their lists to three items per category. I can't do that. There are just too many good things out there. My list is not exhaustive. It's just a list of some of the websites, blogs, podcasts and other media that I consume regularly. So grab your fork (or your iPod), and dig in!
Don't forget to list some of your favorites in the comments below.
Here are some of my favs (in no particular order):
Catholic Blogs & Websites:
Catholic Podcasts:
Catholic Radio:
Catholic TV:
Catholic Magazines / Newspapers:
Catholic iPhone / iPad Apps:
What are you favorites in Catholic media?