June 12, 2013
Catholic New Media Conference – Oct 2013 in Boston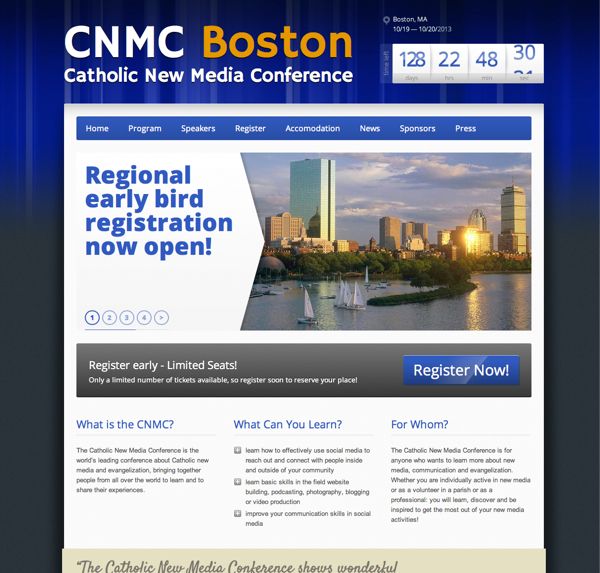 The Catholic New Media Conference Is Coming to Boston in October 2013
REGIONAL EARLY BIRD REGISTRATION NOW OPEN
Early bird registration for attendees from the Massachusetts area to the 7th annual Catholic New Media Conference is now open. The conference will be held on October 19 at the Pastoral Center of the Archdiocese of Boston and will bring together new media experts from all over the world to share their experiences and knowledge with anyone interested in using new media for the New Evangelization.
An extra day will be organized for those who register for a VIP ticket and will include a special evening with the conference speakers, a tour of Boston and a media training on Sunday, October 20.
There is a limited number of tickets available, and attendees from the Archdiocese of Boston and the Massachusetts area will be able to register first. Then on June 17, registration will open to the rest of the world.
Tickets are available on the website http://CatholicNewMediaConference.com
Conference Theme: Using New Media to Reach Inactive Catholics
This year's conference focuses on the question of how new media and social networks can help Catholic parishes reach out to inactive Catholics and to those who are not yet members of their community. How can blogging, social networking, internet radio and video and the use of mobile devices like smartphones and tablets help grow local parishes and motivate people to become active in their faith?
"This is an exciting opportunity for us in the Archdiocese of Boston, and we're happy to welcome the Catholic New Media Conference back after our successful collaboration in 2010," said Domenico Bettinelli, Creative Director of New Media for the Archdiocese of Boston. "With the advent of Cardinal Seán's ambitious multi-year pastoral plan, 'Disciples in Mission', we know that the use of these new media tools and techniques will be essential to helping parishes and Catholics to reach out to share the Gospel and welcome friends and neighbors back to the practice of their faith."
The Catholic New Media Conference is aimed at both beginners and experienced users of new media, and welcomes young adults (18+), ministry leaders, parish volunteers, priests and religious, bloggers, podcasters, vloggers and others.
Program and registration
Talks and demonstrations will cover topics such as internet audio and video production, writing for blogs and websites, photography and the latest trends in mobile communication. In addition, a unique spiritual track will focus on communication lessons from Pope Francis, the spirit of new media evangelization and the art of living a balanced online life.
Speakers include well-known Catholic blogger Elizabeth Scalia, Social Media strategist Pat Padley, Catholic Media experts Scot Landry, George Martell and Dom Bettinelli of the Archdiocese of Boston and established Catholic podcasters like Fr. Roderick Vonhogen, 'Catholic Foodie' Jeff Young and William Newton.
A full list of topics and speakers can be found on the website:
http://CatholicNewMediaConference.com
The Conference is organized by the Catholic Media Secretariat of the Archdiocese of Boston in collaboration with the Catholic New Media network SQPN.com.