September 13, 2011
Cathy LeBlanc's Pizza Crust Recipe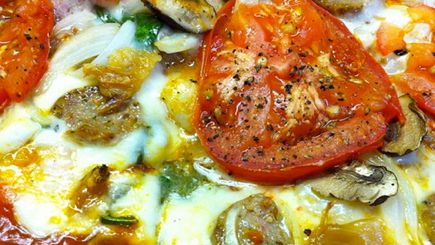 Cathy LeBlanc, from CatholicMomintheCountry.blogspot.com, shared this recipe with me for episode 122 of the Catholic Foodie. Since then, I have used it three times! The crust comes out crunchy on the outside and soft on the inside. Good eats, folks!
A big THANK YOU to Cathy for this recipe!
This is our go-to pizza crust recipe:

1 c warm water
2 T oil (olive)
1 T sugar
1 t salt
1 c whole wheat flour (stone ground)
1 1/2 c bread flour
1 t active dry yeast

I mix it all in my bread maker on the pizza dough cycle…you could knead by hand, then let rest for an hour before shaping. I also add a couple tablespoons of fresh herbs from our garden: basil, parsley, thyme, oregano, sage…whatever I have on hand…dried herbs work, too. Once the dough is ready, I roll it out/shape by hand on a pizza pan (I wish I had a pizza peel!) sprinkled with corn meal….sometimes I hand toss it for the kids' enjoyment, but I don't think that really helps anything, except to help make a mess I make the crust thicker on the edges by kind of rolling them up all the way around. Then, I prick the dough with a fork, brush with olive oil, then sprinkle fresh grated parmesan cheese, corn meal, and garlic salt…I tend to go a little heavy with the sprinkles on the rolled edges of the crust. Pre-bake for 8-10 minutes until the crust *just* starts to turn a golden color and starts to bubble a little (in a 425 degree oven). Then, add sauce and toppings and bake for an additional 15-20 minutes, or until cheese is nice an melted…the more toppings you have, the longer it takes. BEST.PIZZA.EVER! I have never made a spinach crust, but I'm sure you could just add chopped spinach or spinach puree to the dough when you first mix it…if you puree it, you may need to add a touch of flour to compensate for the extra moisture. Not sure why, but it has taken me YEARS to perfect this dough, but it is now by far our favorite. The first (ok, many!) time I made it, it was not so hot. Our favorite toppings these days are thin purple onions, fresh tomatoes, basil, bacon, and mushrooms. It should make about 1 lb. of dough, which is good for 2 thin crusts, or 1 thick. Good luck!