January 17, 2011
CF104 – Grace Before Meals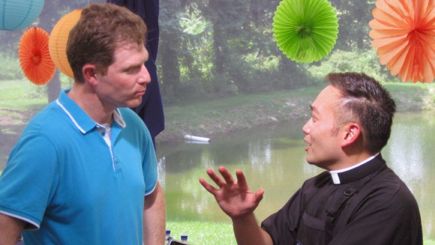 Today we are going to talk about a dynamic priest who dons not only a Roman collar, but also a chef's apron. I'm talking Fr. Leo Patalinghug, folks. You know, the priest who kicked Bobby Flay's butt in a Throwdown in early 2010. Fr. Leo's "cooking" ministry is called Grace Before Meals, and today I'd like to share a few thoughts with you about the Grace Before Meals movement. You can buy Grace Before Meals from my affiliate link at Aquinasandmore.com.
Also on the lineup today:
A wine recommendation – Fat Cat Cabernet Sauvignon
My recipe for Cajun Round Steak Parmesan
And Sarah Reinhard joins us with her Mary in the Kitchen segment. What do a dripping faucet, Confession, and Mary have in common? Find out in this week's Mary in the Kitchen with Sarah Reinhard. Special thanks goes to L'Angelus for letting us use their Ave Maria in the show.
All this and more, right here, at the Catholic Foodie, Where food meets faith.
Before we begin the show today, I'd like to thank our sponsor, DivineOffice.org. Again, I would like to extend the invitation from episode 103 to you. If you are on a Mac running 10.6.6. And you would like get a free copy of the new Divine Office app for Mac, send me an email. Jeff@catholicfoodie.com. I'll be happy to arrange that for you. All I ask in return, is that you spend a couple of minutes leaving an excellent rating and review of the app on the new Mac App Store. I'm trying to promote excellent Catholic apps over there at the new App store and also on iTunes. If you're game, let me know. Jeff@catholicfoodie.com.
There's something else going on too, that I would like to call your attention to. About.com is hosting their own Reader's Choice Awards for 2011. I have some recommendations for you in the Catholic department. Listen to the show to find out what I recommend! You can see the recommendations of the folks from DivineOffice.org by going to their special post dedicated to the Reader's Choice Awards.
I am very excited about Foodista's International Food Blogger Conference for 2011. It's in New Orleans this year! My own back yard! I am looking for a sponsor (or sponsors) for this event. If you would like to help with that, send me an email at jeff@catholicfoodie.com. There are only 250 to 300 seats, so I need to register soon. The conference is in August, but it won't take long to fill up. Registration is $350. And if you plan on being there, let me know! We'll plan a party!
To leave feedback for the Catholic Foodie, call 985-635-4974 and leave a message. You can also leave feedback for me at jeff@catholicfoodie.com.
Download episode 104 here or listen to it below:
Get new episodes of the Catholic Foodie by subscribing for free via iTunes or in another podcatcher. Find me also at SQPN.com.
You can also find me at:
the Catholic Foodie on Facebook
the Catholic Foodie on Twitter
And over at http://jeffyoung.me