February 14, 2011
CF107 – Will You Be My Valentime?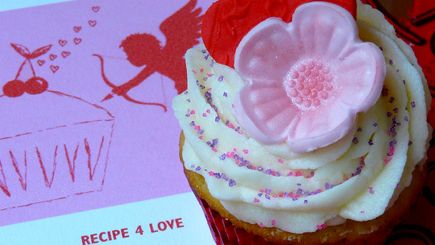 Today is Valentine's Day (or, as it is often known by small humans, Valentime's Day). What a better way to celebrate Valentime's Day here at the Catholic Foodie than by spreading some love around. To do that, I'm going to share with you some of the great things that other folks doing in the Catholic media realm.
I'm excited to invite my good Twitter friend (and great Catholic musician) Justin Combs on the show today. He is one half of the band called The Jacob's Well Experience, and I want to thank him up front for allowing me to play some of his music on the show.
Sarah Reinhard joins us with her Mary in the Kitchen segment. And, very appropriately, she is going to share with us why she now loves Valentine's Day.
We have all this and more right here at the Catholic Foodie… Where food meets faith!
I want to take a moment to thank Dane Falkner and his team at DivineOffice.org for sponsoring the Catholic Foodie. You may remember a few episodes back that I mentioned a contest that was being hosted by About.com. It's the Catholicism Reader's Choice Awards for 2011. When I first made that announcement, About.com had just launched the nomination period. They were looking for the best of the best in the Catholic world online. You may remember that I asked you (and maybe not too humbly) to nominate the Catholic Foodie in one or two of those categories). I also asked you to nominate DivineOffice.org for Best Catholic iPhone App and Best Catholic iPad App. Well, the nomination period is over, and DivineOffice.org is a finalist in 4 categories! Best Catholic Website, Best Catholic iPhone App, Best Catholic iPad App, and Best Catholic Podcast. And voting has begun!
The way this works is that you can go to about.com to vote… every day until the end of the voting period, which is at 11:59PM EST on March 8, 2011. I encourage you to take a couple of minutes out of your day between now and March 8th to vote for DivineOffice.org in those 4 categories.
Why is this important?
About.com has a huge user base. They draw tons of traffic. This is an opportunity to promote the beauty, depth and richness of our Catholic prayer experience. In doing so we are actually able to build up a real network of prayer today that is impacting the lives of thousands of people. If you don't know much about what DivineOffice.org offers, I encourage you to please go visit the site. In addition to the iPhone & iPad apps, they provide the Liturgy of the Hours in both text and audio formats. The audio is beautifully produced, and it can be accessed both at DivineOffice.org and also via their podcast feed (which you can find on iTunes or at DivineOffice.org).
So, please help me to promote this living community of prayer. Visit DivineOffice.org today and follow their link to the About.com Readers Choice Awards… And cast your vote today!
Thank you. And thanks again to DivineOffice.org.
So today is Valentine's Day. A day of romance, dinners, and chocolate. A day that used to be listed as a feast day on the official Roman Catholic calendar. It no longer is. But the feast commemorated a saint: St. Valentine. So, just who is this somewhat mysterious saint? Was he chubby? Did he have wings and used to like dressing like a baby? Was he fond of archery? Well… not exactly.
Instead of warm and fuzzy notions of love that Valentine's Day tends to spark in us today, St. Valentine's life slaps us in the face with the hard reality that love hurts. Love is hard. Love is a decision. You know, there are not many Valentine's Day cards that come with that message printed on them!
Justin Combs and The Jacob's Well Experience
Thank you again, Justin, for taking the time to be on the show, and for letting me play your music. If you want to know more about Justin and Paul and the music they make, you can visit them at TheJacobsWellExperience.com.
If you follow me on Twitter, or if you are part of our community on Facebook at Facebook.com/catholicfoodie then you may have heard that I was on TV last week. FOCUS TV interviewed me a few weeks back, and that interview finally hit the digital waves last week. The FOCUS program is broadcasted in 17 different markets throughout the States, and it is also available online. You can find the full episode at FocusTVOnline.com. The name of the episode is Food Meets Faith. So, what was the interview about? Well, they wanted to know about me, my faith journey, and how the Catholic Foodie came about. I shared several stories from high school and college, from my pilgrimage to Medjugorje when I was a teenager, and from my years living in Mexico with Mother Teresa's priests.
If you haven't seen it, you may want to catch it while you can. It can been seen online at FocusTVOnline.com.
Have you heard about it yet? If you're Catholic and you have consumed any type of media the last week or so, then you must have heard about it. I'm talking about the new Confession app for the iPhone. It was developed by Little iApps. Benjamin Mann of the Catholic News Agency has an excellent article about it: Chart-Topping Confession App Draws Catholic and Non-Catholic Interest.
My good friend, Lisa Hendey, of CatholicMom.com and the Catholic Moments podcast, interviewed Patrick Leinen, who is the developer of the Confession app. You can find that episode at CatholicMoments.com or on iTunes. You can also find the Catholic Moments podcast featured over at SQPN.com.
I'd like to give a shout out to Christie Martin who is a friend and blogger over at GardenOfHoliness.blogspot.com. She recently posted an article entitled: Cooking in the Garden. When I saw that post, I was humbled to discover that, apparently, something I said had inspired her to write it. You may remember that a few months ago I was featured as a guest blogger at FaithAndFamilyLive.com. One of my posts there is The Best Kept Secret of the Kitchen, in which I talked about cooking as a charism… as a gift of the Spirit. Something I said in that article spoke to Christie. She took that thought and built on it. It's amazing how God can use us, to do good things, even when we have no idea he's doing it! You can find Christie's post at GardenOfHoliness.blogspot.com. Thanks, Christie!
Have any questions about Mardi Gras or Lent? Call the voice feedback line at 985-635-4974 or email me at jeff@catholicfoodie.com. I'll be talking about Mardi Gras and Lent over the next few episodes and I would like to cover topics that YOU think are important.
To leave feedback for the Catholic Foodie, call 985-635-4974 and leave a message. You can also leave feedback for me at jeff@catholicfoodie.com.
Download episode 107 here or listen to it below:
Get new episodes of the Catholic Foodie by subscribing for free via iTunes or in another podcatcher. Find me also at SQPN.com.
You can also find me at:
the Catholic Foodie on Facebook
the Catholic Foodie on Twitter
And over at http://jeffyoung.me
Image courtesy of Sugar Daze on Flickr.com.