March 12, 2011
CF109 – Lent. It's What's For Dinner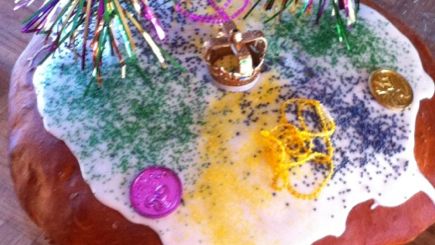 Mardi Gras season is now over and Lent is here! Happy Lent! Today we recap Mardi Gras and talk about Lent and fasting and abstinence. Sarah Reinhard joins us with Mary in the Kitchen, and I give a few shout outs to listeners.
Special thanks to Suzanne Walsh for the photo of the king cake she sent me. This was first king cake she has made. Doesn't it look delicious?
A special shout out to John Caravelli who recently discovered the Catholic Foodie… Welcome, John! Bon appetit!
To leave feedback for the Catholic Foodie, call 985-635-4974 and leave a message. You can also leave feedback for me at jeff@catholicfoodie.com.
Download episode 109 here or listen to it below:
Get new episodes of the Catholic Foodie by subscribing for free via iTunes or in another podcatcher. Find me also at SQPN.com.
You can also find me at:
the Catholic Foodie on Facebook
the Catholic Foodie on Twitter
And over at http://jeffyoung.me