July 18, 2011
CF117 – Super Simple Summer Salads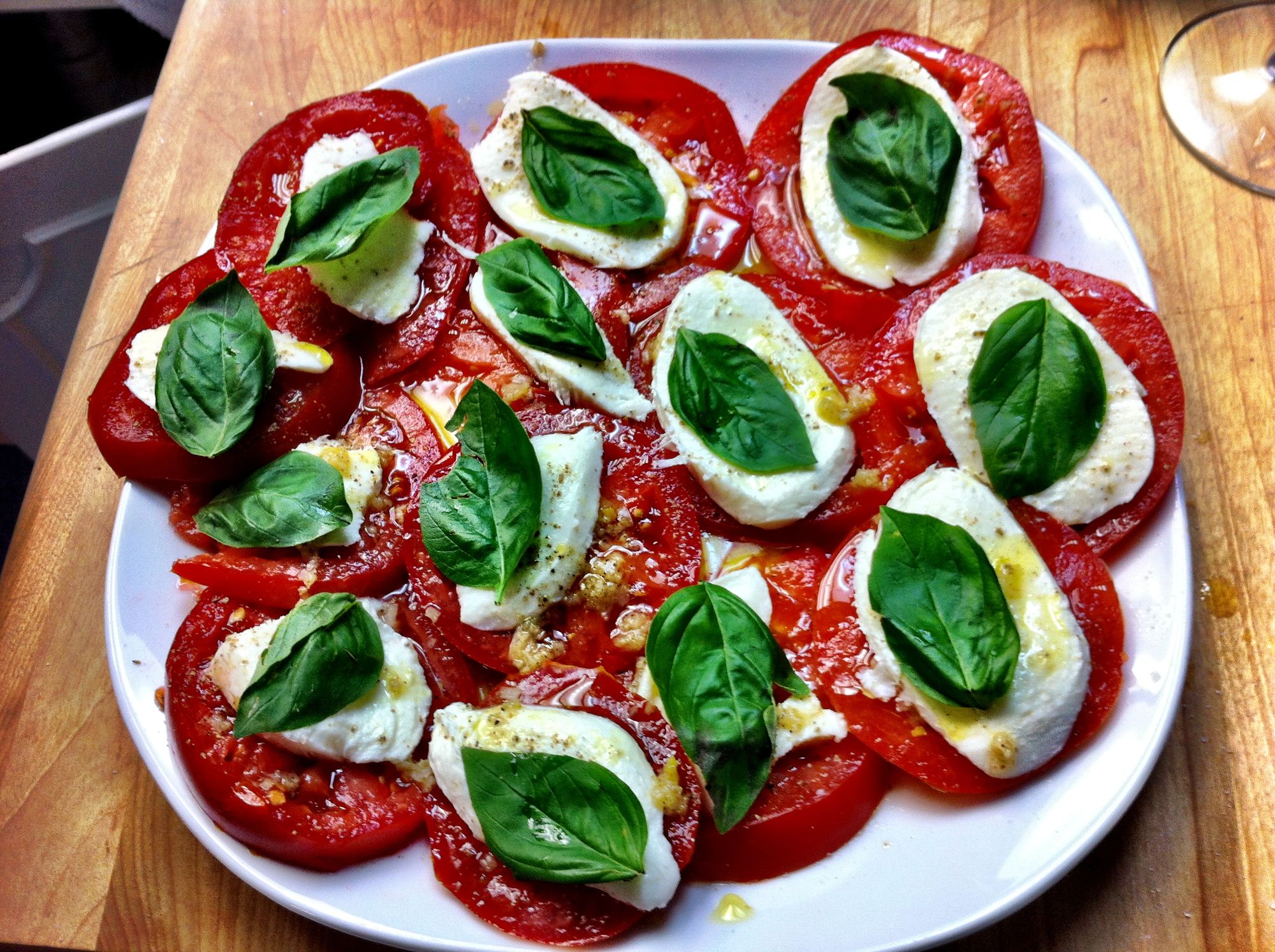 Show Notes for CF117
This is Jeff Young the Catholic Foodie at CatholicFoodie.com, and you're listening to episode 117 of The Catholic Foodie: Super Simple Summer Salads.
Welcome, folks, to the Catholic Foodie, where food meets faith. I'm your host Jeff Young, and today we are talking salads… Summer salads.
I don't know about you, but summer around here means two things: heat and busyness. It is HOT. Temps around here have been in the 90s with about 1000% humidity. And that means we're sorta reluctant to run the oven and even the stove. At least not unless we have to. And with fresh veggies coming out of our garden or the farmers market, Summer is the perfect time to enjoy cool, crisp, refreshing salads.
And since, for some strange reason, we always seem to be busier in the summer than we are the rest of the year, simple salads become a staple in our home. And today, I want to share some super simple salad ideas with you.
Sarah Reinhard joins us and in today's episode she finds "Mary in the Kitchen" along with some homemade noodles and the love of our Savior.
You'll find all this and more, right here, at the Catholic Foodie… where food meets faith!
As we begin this episode I want to thank our sponsor, DivineOffice.org. You will find all things Liturgy of the Hours at DivineOffice.org. Of course, the Liturgy of the Hours is the official prayer of the Church, and it is prayed several times a day by priests, religious, and laity all around the world. It is a treasure-trove of grace, and a rich education in prayer. If you have never prayed the Liturgy of the Hours, I encourage you to give it a try. And DivineOffice.org makes it very easy to do so. You will find the Hours available there in text format, and also in audio. You can subscribe to the podcast version, or download the iPhone or iPad app. And now there are apps for your Android or Nokia. There's even an app for your iMac or Macbook. But the most important thing you will find at DivineOffice.org is a living community of prayer. So, come join us in prayer. At DivineOffice.org.
Cruise & Lebanese Convention
Well, folks, I'm bringing you this episode of the Catholic Foodie right on the heels of an incredibly fun week. Last Saturday – a week ago – Char and I rounded up the kids and met her parents & her brother and his family & several cousins in New Orleans, where we boarded a Carnival Cruise ship: the Triumph. That was my first cruise (and my kids)… and we had so much fun. We cruised down the mighty Mississippi and entered the Gulf of Mexico. We made two ports of call: Progreso, Mexico and Cozumel. There is so much I can say about the experience, and – to be honest –  I think I'm still trying to process the whole thing. I'll probably share more with you about it in a future episode, but for now all I will say is that it was certainly a celebration of life and love and all things good. Especially family.
And speaking of family… You might recall that Char's family is Lebanese. She and I have talked about that fact (especially about some of the food and traditions) on several episodes of the Catholic Foodie. Well… we got off the boat on Thursday, drove home for the day, and then drove back to New Orleans on Friday for the Lebanese Convention. Yep. A Lebanese Convention. I shared a convention with you way back on episode 9 in February of 2009. That episode was titled Marhaba, Habibi. But, basically, here's the scoop…. There was a massive exodus of Lebanese from Lebanon in the early 1900s when war broke out. So, there are lots of Lebanese in the states. In order to preserve their heritage, they have formed cultural clubs. These clubs are organized into regional federations. And twice a year, once in the summer and once in the winter, the regional federations will hold a convention. Whenever the conventions are close to us (Baton Rouge, New Orleans, even Houston), we'll go. It is tons of fun. It's like a massive family reunion. Sometimes there is Lebanese food, but not always. But there is always a Lebanese band. And I love Arabic music. Extremely festive. Lots of dancing. It is a sight to behold. So, because of the convention, we were able to extend our vacation from 6 days to 10 days. But, now I feel like I need a vacation from my vacation. Have you ever felt like that?
Well, today, in honor of the Lebanese convention, I'm going to share with you our "recipe" for Tabouli a little later in the show.
Celebrating Life
You know, a theme that has run through our experience of the last few weeks (and really for years) has been one of the necessity of celebrating life every day. And this idea of celebrating life every day is really a big part of what the Catholic Foodie is all about. The cruise and the convention have certainly highlighted this necessity. But I want to share with you a couple of other things that have happened recently that also impressed upon me the importance of celebrating life… every day.
During Lent, Char read a book that powerful influenced her faith. And she shared some of what she read with me. The book is called I Believe in Love by Fr. Jean C. J. d'Elbee. It's a personal retreat based on the teaching of St. Therese of Lisieux. It's really all about total confidence in God. Early on in the book (page 33) Fr. d'Elbee writes about the Parable of the Prodigal Son. He notes that the process of repentance ends with a feast… and with dancing. This is what he writes:
"Look at the prodigal son. He leaves his father's house. He displays frightful ingratitude toward his father, who is so good; he demands his part of the inheritance to go carousing, far away. Soon he finds himself stripped of everything and is forced to reflect. In the depths of his abjection, he has the grace to recall the goodness of his father. "I shall rise up and go to my father." That is confidence. But, humbly, he recognizes himself to be a sinner: "I shall say to him, 'Father, I have sinned against Heaven and before you; I am not worthy to be called your son. Make me as one of your hired servants.'"
You know how the father reeived him, not as a servant, but as a beloved son. Seeing him coming from afar, he runs to meet him; seized with compassion, he throws himself on his neck, presses him to his heart, and, embracing him, he tells his servants, "Bring forth quickly the first robe and put it on him and put a ring on his hand and shoes on his feet; and bring hither the fatted calf and kill it, and let us eat and make merry." And there was dancing and music. These eloquent details with which the story ends show us a father exulting in his happiness. And why? He tells us why and repeats it to the jealous older brother: "This my son was dead and has come to life again; was lost and has been found."
Oh, this desire, this need of the Father of Mercies to retrieve His lost child and give him life! That is the Heart of God!
Remember that, each time you pick yourself up after a fall, the feast of the prodigal son is renewed. Your Father in Heaven clothes you again in His most beautiful cloak, puts a ring on your finger, and tells you to dance with joy. In a living faith, you will not approach the confessional with dragging feet, but as if you were going to a feast, even if you have to make a great effort each time to humble yourself and to conquer the monotony of routine.
After the absolution, you should dance like the prodigal son did at the request and for the joy of his father. We do not dance enough in the spiritual life.
This marvelous parable gives us a fundamental lesson about education. Parents, educators, give the children confided to your care an understanding of this divine mercy by believing in it and practicing it yourselves. It is this faith that will prevent them from falling again, and, if they fall, they will rise again; they will come back, because you will have acquainted them with the gentleness of God. They will say, "I know how good God is. I know how to abide in His mercy. From the depths of my sin, I shall rise up and go to my father."
Is that not incredible????
And that describes so well what the Catholic Foodie is all about. I am here to remind myself, to remind you, to remind everybody, that God our Father loves us so much – and has blessed us so greatly – that we MUST be joyful. We must be grateful. We must celebrate His Love. I say MUST because, really, that's the only appropriate response. If someone gives you a gift, don't you think they take joy watching you enjoy that gift? And look at all the gifts that God has given us… just those he has given us today. Wow! How can we not be joyful? How can we not celebrate?
Char recently found another book. She hasn't started reading it yet. I think we are going to read it together. It's called 1000 Gifts by Ann Voskamp. You can find out more about that book by clicking on the link in the show notes over at catholicfoodie.com, or by visiting her site: AHolyExperience.com.
And, boy, have we had opportunities lately to enjoy God's gifts! The cruise and the Lebanese Convention come to mind immediately. And there are 1000s of little moments within each of those events. Time together with family and the wonderful meals that we shared together would definitely top the list. The first night of the convention Char and I had dinner with her parents and her brother and his wife. We went to one of Chef John Besh's restaurants in the CBD called Luke. It's on St. Charles Ave. right around the corner from the hotel we stayed in. Wow. It was a breathtaking meal. First of all, it was great to be together again (even though we dined together every night on the cruise). This time, though, the kids were not with us. It was a bit of adult time, which is nice every now and then. Luke was a lot smaller than I anticipated it to be. But that and the rain made it all the more cozy.
Chef John Besh calls Lüke "his homage to the grand old Franco-German brasseries that once reigned in New Orleans." Aesthetically, it has an old-world feel. There are lots of brass fixtures, polished wood panels and aged-looking ceiling fans. Lüke feels like a well-worn Parisian restaurant. It's casual, yet elegant. Seafood is a main feature of the establishment, but not in the typical Cajun fashion that is associated with New Orleans. The dishes at Luke are more "casual" French, Creole and German brasserie fare. But, don't be fooled by the term casual. In this case it does not mean cheap or dressed down. Here's an example of what I mean: One of the favorite items of many guests is the French Fries. They are unlike any fries you'll ever have. Rumor has it they are fried in duck fat. And they are out of this world. They come to the table perfectly salted and sitting in a paper-lined silver cup. Delectable.
In addition to the fries, we ordered several plates for the table:
"Le Plateau" of littleneck clams raw on the half shell
"Le Plateau" of Prince Edward Island mussels raw on the half shell
Shrimp Bisque
Assiette de Charcuterie served with stone-ground mustard, house-made pickles and country bread
Terrine of slow cooked Foie Gras with toasted brioche and sea salt
Pied de Cochon "croustillant" sauce Gribiche
Housemade Boudin Noir with a sauté of potatoes, apples and onions
Choucroûte Maison – house made sauerkraut, with Mangalista pork shank, belly and bratwurst
Redfish "Court-Bouillon" with crab, shrimp, oysters and rice
It was a most enjoyable meal. A true delight.
If you would have asked me Friday night or Saturday morning if there was anything that would have topped that meal for the weekend, I would have said "No Way." But then came lunch on Saturday.
For lunch on Saturday, Char and I took the kids to a restaurant that we have been wanting to take them to for about a year now. It's down in the Quarter, on Exchange Alley. It's called the Green Goddess. Small place. As a matter of fact, Char and I were afraid that the wait would be too long. The first time or two that we tried to dine there (over a year ago) the wait was too long, so we left. Finally, last October we decided to endure the wait. We kept hearing how good this place was. And what we heard was true. Dining at the Green Goddess was a beautiful experience. The dessert we had that Sunday morning in October was a Bacon Sundae. I know I talked about it on the show afterward. I know I did, because I talked about it for weeks. To everyone. It was sublime. The salty sweet goodness of bacon, caramel, black salt and ice cream. Wow. And our youngest, Grace, LOVES bacon. So, she has been wanting to go to Green Goddess since October. It just never worked out. Until Saturday, that is.
As I said, Char and I were afraid that the wait would be too long. It was right about noon, and the sky was threatening rain. But, to our surprised delight, we walked right in and got a table. The same table that Char and I sat at back in October. Everyone was so excited!
As we looked over the menu, I ordered a Bloody Mary. Now, it was actually called a Lightnin' Mary. And I just have to tell you about it. I've never had anything like it.
Here's what the description said in the menu: The Lightnin' Mary is "Our Bloody Mary with Roasted Yellow Tomatoes and our Secret Concoctions, featuring Junior Johnson's Lemon Moonshine, pickled okra and green beans." That sounded delicious, of course. But I learned even more from our waitress. They roast their own heirloom tomatoes. In house. And make their own mix from that. Folks, I've been drinking and making my own Bloody Marys for YEARS, and I have never had one as good as this Lightnin' Mary from Green Goddess. Absolutely amazing.
Ok. So here's what we ordered (before the Bacon Sundaes, of course):
Pressed Crab Sandwich: Dong Phuong French bread filled with Lafitte Blue crab, Robiola cheese and remoulade, pressed to crispy perfection served with a side salad.
Cuban Luau Sandwich: Artisanal salame, pulled pork, manchego, pickled banana peppers, roasted pineapple & garlic aioli on pressed ciabatta.
Char also ordered one of the specials of the day: Smoked duck breast over grits with a red wine sauce and a poached egg on top.
And for dessert we had what is called "Our 'Notorious' Bacon Sundae": Pecan praline ice cream with a creamy bacon caramel sauce carrying a bit of both Pink Himalayan & Black Lava Salts, & micro-planed Nueske's Applewood Bacon, layered with whipped cream, of course!
Simply amazing.
If you are ever down in New Orleans, I would definitely recommend stopping by Luke and the Green Goddess. Just make sure you space those visits to allow for digestion. Both places are phenomenal!
Super Simple Summer Salads
Now, how about a salad? Or at least some ideas for super simple summer salads?
You know, salads are the perfect cool and crisp solution to hot July evenings in Louisiana. And today I want to give you a few ideas of salads you can make quickly and easily at home, and a couple of tips on on how to kick those salads up a notch.
I want to share three salads with you today.
The first is very simple. Fresh cucumber, tomato, and Vidalia onion salad. This is probably my favorite summer salad. I could eat is as a meal. I just chop about 2 cucumbers, 2 or 3 tomatoes, and one half to one whole Vidalia onion and place them all in a large bowl. I like to use Vidalia onions because they are sweet. Then I season it will Kosher salt and fresh ground black pepper, and toss it with EVOO and red wine vinegar. All to taste, of course. Quick. Simple. And very refreshing. I always make this one a little earlier than I need it. I then cover it with plastic wrap and stick in the fridge to keep it cool and to let the flavors marinate together.
Another salad that we enjoy is Romaine, tomato and feta. After washing the Romaine, we usually break each leaf apart by hand. You want small bite-sized pieces, not big chunks. However, if you are in a hurry, you could also slice the leaves first then break by hand. This is a very quick salad to make. If you are really in a hurry, you can buy pre-washed lettuce, but you do lose something in the freshness department by doing so. Anyway, after the leaves have been washed and dried, plate the lettuce, add a couple of slices of tomato on top, and then crumble Feta cheese over it. This is one of those salads that you could stick back in the fridge to chill before adding the dressing and serving. And the dressing is very simple too. It's just EVOO, fresh-squeezed lemon juice, crushed garlic, and salt and pepper. Simple… and oh so good! You can find the recipe for our standard salad dressing over at CatholicFoodie.com. We do not advocate using bottled dressings… mainly because they always add so many chemicals and junk to those kinds of dressings. And they're just not as good as the ones you can make yourself with the tiniest bit of effort.
This last salad I am sharing with you in honor of the Lebanese Convention. It is a family favorite. Now, you might want to temper the use of Cayenne in this recipe because we like it HOT!
Traditionally, Tabouli is a parsley salad with bulgar wheat. We are partial to tomatoes over here, and I'm sure that every family has it's own twist on this traditional salad. Here's what you would need to have on hand to make Tabouli: tomatoes, parsley, mint, bulgar wheat, onions, green onions, EVOO, lemons, and Cayenne.
I probably don't need to say it, but we are talking about fresh ingredients here. Everything fresh. Also, with Tabouli, you want everything small. You want the smallest cut of bulgar wheat, it's called #1. You also want to dice your onions, green onions, tomatoes, parsley and mint. Add it all together in a bowl. Add EVOO and fresh-squeezed lemon juice, and add salt and pepper and cayenne to taste.
So, these are just a few ideas for you this summer for simple and quick salads.
I already mentioned a couple of tips, but I would like to repeat what I said and also mention a few more.
First of all, when you are talking about salads and raw veggies, fresh is always best. We take the extra time to get the best ingredients and to prepare them well. That means that you eat what's in season. Tomatoes and cucumbers are plentiful in the summer. If you don't have your own garden at home, I would encourage you to visit your local Farmers Market. The Farmers Markets always seem to have the best produce. Groceries are hit and miss when it comes to produce, which is why they are never my first choice.
Sometimes it takes just a little planning ahead to save tons of time. If you know you will be pressed during the week, you could pre-wash your lettuce a day or two in advance and store it in sealable plastic baggies in your fridge. As I mentioned earlier, there are pre-washed lettuces available at local supermarkets, but you will always sacrifice freshness going that route.
Another thing that we do to save time is to pre-make our dressings. You don't want to do this too far in advance (a couple of days is sufficient). You want it to maintain its freshness. Over time we have acquired quite collection of old jam and jelly jars. They are the perfect size for our salad dressings. We usually get two salads out of one jar.
Those are my super simple summer salad tips for you today. Do you have any favorite summer salads? I would love to hear about it. Please give me a call at 985-635-4974 or send me an email at jeff@catholicfoodie.com. Of course you can always leave comments over at CatholicFoodie.com or on Facebook at Facebook.com/catholicfoodie.
And now it is time for Mary in the Kitchen with Sarah Reinhard.
Mary in the Kitchen
Thank you so much, Sarah. That was Sarah Reinhard, folks, with her Mary in the Kitchen segment here at the Catholic Foodie. You can find more of Sarah over at snoringscholar.com.
Closing
Well, that wraps up another episode of the Catholic Foodie, folks. Thank you so much for spending time with me here. It's been fun!
Don't forget to register for the Catholic New Media Conference (the CNMC) over at cnmc.sqpn.com. It is quickly approaching. This year the CNMC will be in Kansas City on September 30 and October 1. They have an awesome line up too: Sr. Anne Flanagan – AKA the Nunblogger, Sean Patrick Lovett from Vatican Radio, Lisa Hendey from CatholicMom.com, Pat Gohn from the Among Women podcast, Matthew Warner from Flocknote and the National Catholic Register, and Jeff Geerling also from Flocknote and LOLSaints.com. Be there or be square!
And please do visit my friends over at SimplicitiesofLife.com. Kessie and Coby Thomas have excellent religious jewelry and heirloom-quality rosaries. Simply beautiful. Visit them at SimplicitiesofLife.com.
And, until next time… Bon appetit!
To leave feedback for the Catholic Foodie, call 985-635-4974 and leave a message. You can also leave feedback for me at jeff@catholicfoodie.com.
Download episode 117 here or listen to it below:
Get new episodes of the Catholic Foodie by subscribing for free via iTunes or in another podcatcher. Find me also at SQPN.com.
You can also find me at:
the Catholic Foodie on Facebook
the Catholic Foodie on Twitter
And over at http://jeffyoung.me