July 29, 2011
CF118 – Shrimp… The Fruit of the Sea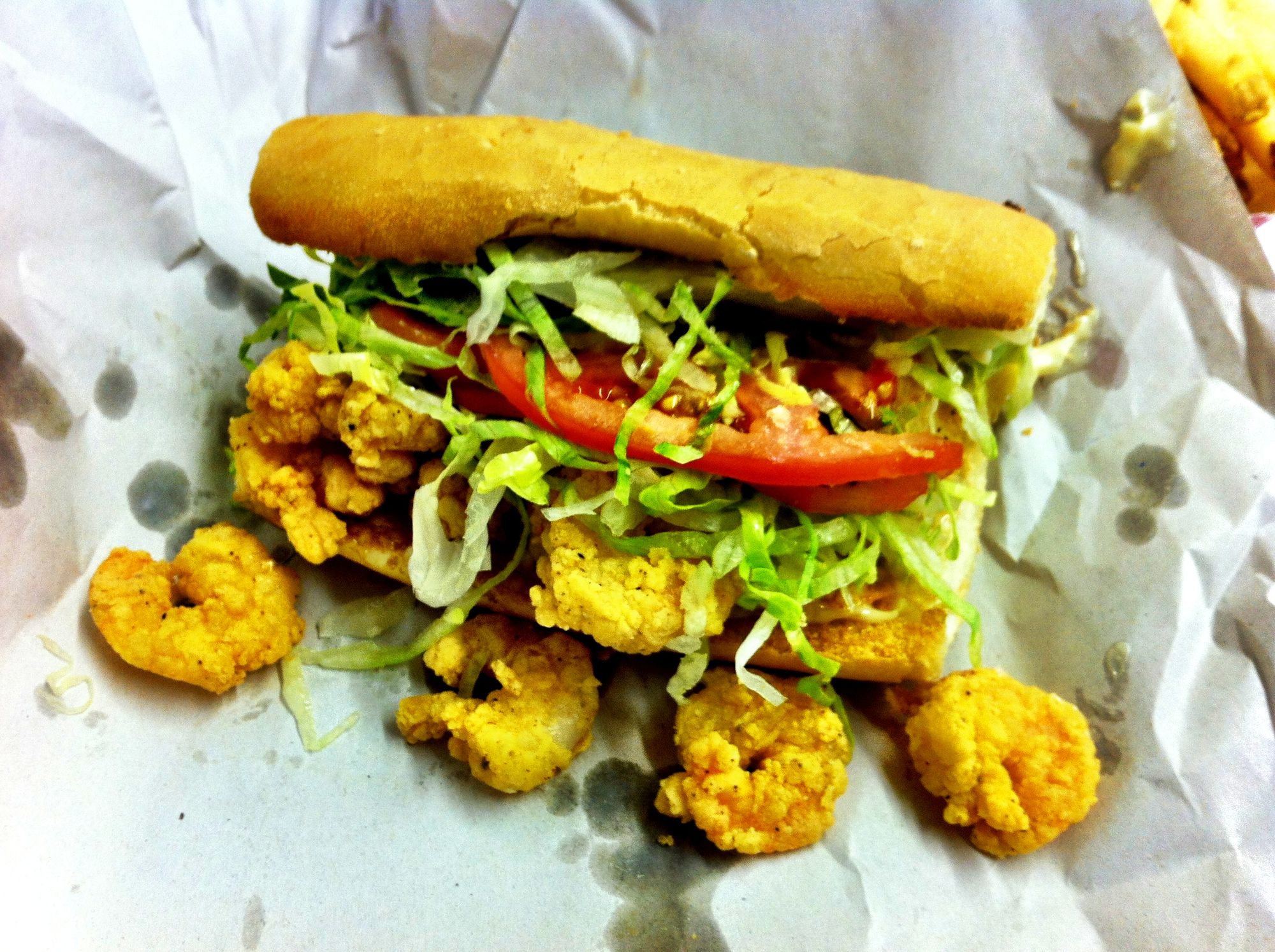 As we begin this episode I want to thank our sponsor, DivineOffice.org. You will find all things Liturgy of the Hours at DivineOffice.org. Of course, the Liturgy of the Hours is the official prayer of the Church, and it is prayed several times a day by priests, religious, and laity all around the world. It is a treasure-trove of grace, and a rich education in prayer. If you have never prayed the Liturgy of the Hours, I encourage you to give it a try. And DivineOffice.org makes it very easy to do so. You will find the Hours available there in text format, and also in audio. You can subscribe to the podcast version, or download the iPhone or iPad app. And now there are apps for your Android or Nokia. There's even an app for your iMac or Macbook. But the most important thing you will find at DivineOffice.org is a living community of prayer. So, come join us in prayer. At DivineOffice.org.
The FunVee, I love that! And we are having fun this week. How can we not? We're at the beach! You know, we come down to Perdido Key a couple of times a year. And we just love it here. We have a tradition that we keep on our way down to Perdido. We usually stop by a restaurant called the Gulf Shores Steamer. Now, if you're not familiar with Perdido Key, let me tell you about it. It's just on the Florida-side of the Florida-Alabama border. On the coast. You may have heard of a pretty famous beach-side bar (a dive, actually) called the Flora-Bama. The Flora-Bama basically sits on the border between the two states (though it's actually in Alabama… Gulf Shores, Alabama). So, you have Gulf Shores on one side of the state line, and Perdido Key on the other.
Anyway, we drive through Gulf Shores to get to Perdido, and the Gulf Shores Steamer is on the way. That place is all about steamed seafood. No fryers on the premises. That means, if you want french fries, you're out of luck. But if you want some delicious steamed or boiled shrimp, Ruby Reds to be specific, then you are definitely in the right place.
Here's a short excerpt from their website, GulfShoresSteamer.com:
Come to Gulf Shores Steamer for the best steamed seafood in town! Voted a Top 3 Restaurant in Southern Living, a Top 20 Seafood Restaurant in Coastal Living, "Best place to eat in Gulf Shores" in the Houston Chronicle, and a "Best place to eat" in USA Today. We're also the only steamed seafood house in Gulf Shores voted "Heart Smart"by Pensacola's Sacred Heart Hospital.
We feature an excellent selection of steamed seafood, including Royal Red shrimp, Alaskan Snow Crab Legs, several varieties of fresh fish daily and much more. Families love our large combination platters, and golfers go for the Buckets of Shrimp & Pitchers of Beer. Dine on Our Breezy Deck or Inside Our Cozy Little Rooms. We invite you to join us anytime for great food & good times!
Sounds nice, doesn't it?
Now, I have to tell you that we encountered a bit of confusion on our way in because the restaurant has moved since the last time we were here. It used to be about 15 to 20 minutes away from Perdido on the Alabama side, but it is now less than 5 minutes away. Lucky us!
We love the buckets of Ruby Reds, also called Royal Reds. If you've noticed, I have now mentioned Ruby Reds several times, and you might be wondering "What is he talking about?"
You know, I consider myself very blessed to live in South Louisiana. I love seafood, and South Louisiana could be called the seafood capital of the world. There's water everywhere. Of course, we are at the top of the Gulf of Mexico, but there are also tons of rivers and lakes, and swamps and marshes all over South Louisiana. Our saltwater seafood comes from the Gulf. That's why the oil spill was so bad for us. Seafood is big business down here.
And when it comes to shrimp, they are definitely plentiful back home. Regular Gulf shrimp, that is. But those are not the only kind of shrimp. Char's uncle loves what River Shrimp, which are freshwater. They are generally smaller than the regular Gulf shrimp, but very tasty.
We love to eat shrimp at home. You might recall that my favorite type of po-boy is a shrimp po-boy. Usually, the shrimp dishes that we get back home all use what I am calling regular Gulf shrimp. But there is a special kind of shrimp that you can only get in certain places. Royal Reds, or Ruby Reds, are one such special kind of shrimp. And they are available down here at the beach.
And what makes them special? Well, the first thing you will notice is that they are redish in color. When raw and when cooked. Another thing that makes them special is that they have a taste and texture that is similar to a lobster. They're delicious!
Of course, with the steamed or boiled shrimp come corn and potatoes (sounds like a crawfish boil, doesn't it?). And you have to have some spicy cocktail sauce for dipping. And plenty of paper towels! Eating shrimp like this is messy business. The first thing out of my mouth after eating one or two of those hot and juicy shrimp was a question. I looked at Char and asked… with a mixture of fear and hope, "You can get this out of my shirt, huh?" I sprayed myself with shrimp juice when I peeled the first one. I went downhill after that. Boy, I can make a mess!
In addition to the yummy steamed shrimp, we had another treat too. Big D was with us! Our good friend, and Christopher's godfather, Duane Desroche, who is known affectionately at our house as Big D, came down to the beach with us for a few days. It was great to have him with us. We had a great time. Unfortunately, he had to leave us early to go back to work. But it was a huge blessing to spend those few days with him here at the beach. We miss you, Big D!
Before we move on to the next segment, I want to share with you an audio clip about shrimp. The classic recipe for steamed or boiled shrimp comes from the back of a can of Old Bay seasoning, believe it or not. And I was delighted to discover that Old Bay has short video instructions on their website, OldBay.com. Here's the audio version of their method for steaming shrimp:
If you listened to last episode, you heard me talk about an incredible Bloody Mary that I had just last week in New Orleans. It was the best Bloody Mary that I have ever had. Actually, it was called the Lightnin' Mary, and I had it at the Green Goddess restaurant in New Orleans. The folks at Green Goddess roast their own heirloom tomatoes to make the mix. It was insanely good. And, after enjoying that Bloody Mary, I have found myself on something of a Bloody Mary kick now.
I shared my recipe for Bloody Marys over at CatholicDrinkie.com about a year ago. You can find it at http://catholicdrinkie.com/bloodymary/
So, yes, I do enjoy making them myself. But, sometimes, I am satisfied with a good bottle of mix. There are a few brands that I prefer and I thought that I would share those with you today.
The first is called Zing Zang. It's an award-winning concoction that was developed in 1996. So, what makes Zing Zang so good? Well, it's made up of 85% vegetable juices… that's juices from 14 vegetables. 9% spices (firey hot and good!). It really is a great tasting mix. I like it too because it has a good tang. Lemon is important. And even when I use a mix, I always garnish with a squeeze of lemon and a squeeze of lime. You can find out more about Zing Zang by visiting ZingZangcom.easystorecreator.com. Strange URL address, true, but they do have some good information there, as well as recipes.
Another Bloody Mary mix that I like is made by Tabasco. It comes in two potencies: Mildly Seasoned and Extra Spicy. I guess it comes as no surprise to hear that I prefer the Extra Spicy. Again… just like the Zing Zang, in addition to the kick, it also has the tang. Gotta love that. Of course, Tabasco is a Louisiana standard. They have been making the world-famous Tabasco Brand Pepper Sauce on Avery Island since 1868.
Here's how the website describes their two versions: TABASCO® brand Mildly Seasoned Bloody Mary Mix is great-tasting, spirited or straight. And it's the only Bloody Mary Mix with the distinctive kick of Original TABASCO® brand Pepper Sauce. Fashioned after the original Bloody Mary recipe created at Harry's New York Bar in Paris, it's made from all-natural ingredients – lime juice, Lea & Perrins Worcestershire sauce, extra thick concentrated tomato juice and Original TABASCO®Sauce. TABASCO® brand Extra Spicy Bloody Mary Mix adds horseradish, lemon juice and more Original TABASCO® Sauce for a stronger kick.
This non-alcoholic mix makes the quintessential Bloody Mary, or you can drink it "as is" for a healthy morning breakfast drink. Start with the following classic recipes, or try adding special touches like 1/4 cup soy sauce, a teaspoon of ground ginger, or a tablespoon of chopped fresh dill. Cheers!
While perusing Tabasco's site, I discovered the story of how the Bloody Mary came about. I was fascinated by it, so I'll share it with you here: http://www.tabasco.com/tabasco_tent/drink_mix/bloody_mary_history.cfm
Pretty neat, huh?
And, finally, here is the last Bloody Mary mix I will share with you today… It's Whiskey Willy's Xtreme with Extra Everything Bloody Mary Mix. Again, think spice and tang. (Have you noticed a trend here?). Whiskey Willy's is what I have been drinking here at the beach. And for good reason. Listen to the story of its beginnings back in 1985. It's a local thing around here. Here's what Whiskey Willy's Facebook page has to say: [Read story from info page at http://www.facebook.com/pages/Whiskey-Willys-Bloody-Mary-Mix/137091746363763?sk=info]
So, there you have it. Three Bloody Mary mixes that I am happy to recommend to you. Notice I did not say anything about the vodka. Well, that part's up to you. Of course, I always recommend going with the best that you can get. Friends don't let friends drink cheap liquor. It just hurts too much. Doesn't taste good either.
But how about you? Do you have a favorite Bloody Mary mix that I did not talk about today? I'd love to hear from you. Give me a call on the voice feedback line, 985-635-4974, or send me an email at jeff@catholicfoodie.com.
Well, we are coming to the end of the show today. I just have a couple of things I want to share with you before with close out.
First of all, I want to remind you that the CNMC is quickly approaching. It will be here before you know it. September 30 and October 1st. Dr. Paul Camarata of the SaintCast has put together a great promo for the Catholic New Media Conference for SQPN. Let's take a listen.
The CNMC, the Catholic New Media Conference… Register now!
Now for something a little geeky: Spotify? Have you heard about it? Apparently it has been all the rage around the world. And it is just now rolling out in the United States. You have to have an invite to open up a new account and use the service. But more about that in a minute. What is Spotify? Well, it's kinda like iTunes on steroids. Imagine being able to access whatever song or album you wanted to listen to at any time. Spotify doesn't have EVERY song in creation (for example, they have no Beatles), but they do seem to have ALMOST every song in creation. Once you set up an account, you search for songs and create playlists… much in the same way that you can do in iTunes. But, here's the beauty part… You don't have to buy the songs.
There is a free version, which does have some limitations. And there's the premium version, which is $10 a month. Premium in this case means unlimited. There's an app that you download on your desktop and mobile devices, and you can use it freely on any of those platforms at any time, even at the same time. So, Char can be listening to something on my desktop at home, while I am in the kitchen listening to something else on my iPhone. Streaming music is what we are talking about. You can also sync songs to your mobile device if you don't want to stream.
It's awesome. I love it. As a matter of fact, I love it so much that I canceled my Sirius Satellite account. Sirius was more expensive and had less features and flexibility. Nothing like saving money while advancing technologically at the same time. It took me about an hour before I happily signed up for a premium account. Yes, it is that cool.
As I mentioned, Spotify is just rolling out in the US, and that means they are limiting the number of people who can sign up. You need an invite to get in. And, guess what… I have an invite to give away! Do you want it?
Well, here's how I am going to go about deciding who to give it to…. I need some help. I need for you to tell me how food meets faith in your life. Yes, I NEED for you to tell me that. So, what I'll do is put your name in a hat when you call the feedback line to tell me how food meets faith you YOUR life. All you have to do is call 985-635-4974 and leave that message. You can also email me at jeff@catholicfoodie.com. I'll put your name in the hat for an email if you don't want to call. But, I have to tell you, I LOVE getting voice feedback!
OK. That's the deal. So, pick up the phone and call 985-635-4974.
We're running out of time, so I am not going to be able to say much about Google+. But I will say that I am impressed with it so far. Not only that, I am VERY impressed by the number of big name social media gurus who are actually moving away from Facebook and going to Google+. Do you have any thoughts on this? I would love to explore it more. Perhaps we can do that next episode. Let me know what you think. 985-635-4974. Or jeff@catholicfoodie.com.
Don't forget to visit my good friends Kessie & Coby Thomas over at SimplicitiesOfLife.com. Gorgeous rosaries. Truly, they are objects of grace and beauty. SimplicitiesOfLife.com.
And, until next time…. Bon appetit!
To leave feedback for the Catholic Foodie, call 985-635-4974 and leave a message. You can also leave feedback for me at jeff@catholicfoodie.com.
Download episode 118 here or listen to it below:
Get new episodes of the Catholic Foodie by subscribing for free via iTunes or in another podcatcher. Find me also at SQPN.com.
You can also find me at:
the Catholic Foodie on Facebook
the Catholic Foodie on Twitter
And over at http://jeffyoung.me