September 5, 2011
CF122 – Mama's Silver Moon Cafe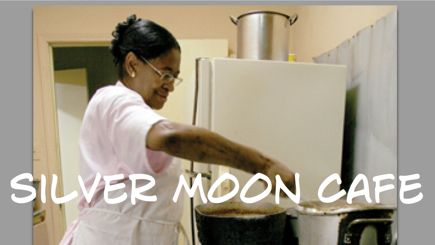 SHOW NOTES FOR CF122:
This is Jeff Young, the Catholic Foodie at CatholicFoodie.com and you are listening to episode 122 of the Catholic Foodie: Mama's Silver Moon Cafe.
Welcome, Folks, to the Catholic Foodie, Where food meets faith! I'm your host Jeff Young and today we take a stroll down memory lane. Char and I have been doing some good ole country cooking lately, and last night our Chicken Etouffee led us to reflect on the Smothered Chicken we used to eat at Mama's Silver Moon Cafe in Baton Rouge. Wow! What a place! A place full of warmth and love and goodness… all on the table. Wow!
I've got some recipes for you today too. Spinach pizza crust, and another excellent pizza crust from my friend Cathy LeBlanc of CatholicMomintheCountry.blogspot.com. I'll also share our recipe for Crawfish (or chicken) Etouffee with you too.
In this week's Mary in the Kitchen, Sarah Reinhard shares a reflection on the nativity of the Blessed Virgin Mary.
We have all this, and more, right here at the Catholic Foodie…. Where food meets faith!
This episode of the Catholic Foodie is brought to you by Write | Design | Media at www.jeffyoung.me.
MAMA'S SILVER MOON CAFE
I don't know about you, but we get on kicks here from time to time. If you remember, in July I got on a Bloody Mary kick. I wanted to try all kinds of different Bloody Mary mixes and try the Bloody Mary's in different restaurants. Well, for the last few weeks, we have been on something of a Crawfish Etouffee kick. Etouffee is a fancy Cajun word that means smothered. It's basically butter, peeled crawfish tails (with the yummy juicy fat!), onions, green bell peppers, garlic, salt, black pepper, and cayenne, and maybe some chicken stock. All that is cooked down and served with some piping hot rice. Of course, you will need some Crystal hot sauce or some Tabasco on the side… just in case. And you can't forget to top it with freshly chopped green onions. Mmmmm Mmmmm! So good!
For the last two or three weeks, we've made Crawfish Etouffee once a week. But Crawfish Etouffee is not the only kind of etouffee. Granted, it is probably the most well-known and the most enjoyed. But you can also make Shrimp Etouffee, or even Chicken. And when the price of crawfish tails keeps going up – I think it's about $12.50 a pound right now – shrimp and chicken start to look real good!
And that's exactly what I told Char as we left Mass on Sunday morning. I said, "Honey, what if we did a Chicken Etouffee today?" She loved the idea! So I made my grocery list, dropped the family off at home and I hit the grocery store. Wow. I bought 2 pounds of boneless antibiotic-free chicken thighs for less than half of one pound of crawfish tails. I think that chicken cost me less than $6.00. And 2 pounds versus 1 pound allowed up to make extra… so that we could have seconds.
It was so good, y'all! Really! Char and I couldn't get over it. As a matter of fact, we found ourselves at the table last night reminiscing about good country cooking, something that we often refer to down here as soul food. Since Char and I are both originally from Baton Rouge, it is no surprise that our conversation naturally turned to the place that served the absolute best soul food in the world: Mama's Silver Moon Cafe.
The place is no longer there, I am sad to say. Since today is a holiday, I thought we might make a trip to Baton Rouge to eat there. But, after putting Google to work, I discovered that the restaurant had moved from its original location across the tracks on Nicholson to the North Gates of LSU around 2000. Then, as that area began to develop, it was forced to close. The land owners raised the rent so high that Mama couldn't pay it. Apparently, the owners wanted to lease the property to a big retail store. So, Mama opened up in St. Gabriel, which is a parish to the east of Baton Rouge. By the way a parish in this context is what you non-Louisianians would call a county. Unfortunately, that location burned down a few years ago. As you'll see in a bit, Mama has not re-opened the restaurant. But she does cook at her house, and folks can call ahead and place an order to be picked up.
"So what?" you might be asking yourself. "What's the big deal?" Well, here's the big deal: LOVE.
Every once in a while you might encounter a meal that is amazing. Maybe it's a dish that you have had many times in your life. But, for some reason, this time it's different. It's like there's an indescribable quality to it. Like there's a special ingredient in it this time… one that you can't really pinpoint. But it's there. And you realize that this dish is one that you will never forget.
You see, that's what Mama's Silver Moon Cafe was all about. If you reflect long enough, eventually you will realize that the special ingredient that you were unable to pinpoint was love. This really shouldn't surprise us. The movie Julie & Julia was premised on this. So was Like Water for Chocolate (but that's a different story).
I think the best way that I can share this fact with you is to read a news report that came out a few years ago. It's an article I found posted on WAFB's website. The link will be in the show notes. There's no author listed, but I tell you what… I am very impressed with whoever wrote it. You're gonna love this!
This article is from WAFB TV's website. You can find it here.
If you boil Baton Rouge down to its roots, you'll find a city built by factory workers and river boatmen. These are blue-collar folk who put in long, tiring days, and they expect hearty fare with their family when the day's done.

As briefcases replace lunch pails, the lunch hour is now nothing more than a meal moment—a break to ingest what WWL-TV Photographer Larry Schirling calls "Styrofoam peanuts for the belly." We've strayed from the lunch hour as an event to lunch as just another appointment. Body maintenance. That's all.

Friend–that dog don't hunt at Momma's Silver Moon Cafe.

You're going to slow down under Momma's roof, 'cause you just can't eat this much good food in a hurry.

Some writers and reviewers have labeled Silver Moon's fare as "soul food," and that's a disservice. Ox-tail soup, turkey necks and liver–the staples of soul food, are absent here. This is down-home, north Mississippi cooking. The menu serves as a timeless reminder of what I had for dinner and supper (that's lunch and dinner respectively to you Yankee folk) when I was growing up.

Momma has neither mission statement nor business plan—she has a mandate from God. "You see over there?" she says, pointing out the open door with a dangerous-looking spoon that just stirred sliced bell peppers into bubbling brown gravy. In her crosshairs is a scraggly, bearded, sandal-clad LSU student on his way to some class on Greek Mythological Dysfunction in Modern Times. "There are 25-thousand of them babies across the street, and their momma ain't here," she says. "God told me years ago, that if those babies came to the Silver Moon, they would leave here having had one good meal." "I will do that for their mommas, and their mommas would do that for me."

That one good meal is posted on a white board outside the café, a copy by the jukebox, and still another over the cash register. Menu items usually consist of a choice of meat items, a side, and something to drink. Note: you must understand that I just crammed a boatload of food into about 18 words.

One usually finds sausage, smothered chicken, spaghetti, jambalaya, and meat loaf in the entree section. Gumbo is served on most Friday's during lent, and Momma just might lay some surprises on you from time to time. When you cook off the top of your head, great things can happen suddenly.

Plan on a wild party in your mouth—Momma says her secrets reside in her spices. Like good Cajun food, it's OK to be spicy as long as one does not commit the cardinal sin of being hot! The idea is to excite the taste buds while tap-dancing around incineration. And Momma can throw a sweet-potato pie full of lovin' your way… Baby!

If one prices food by the pound, throw away your calculator. Bowls come to your table slopping over full with gravy, meat, and jambalaya. All accompanied by cornbread. Momma has even been known to put complimentary bowls of something you didn't order on empty parts of the table "just because it looks better that way." Former Governor Edwin Edwards' brother Marion likes to slip in the back door and fix his own food, because he says Momma gives him too much. (He's also addicted to Momma's black eyed peas.)

Bar none, these are the best red beans and rice I've ever had. Big chunks of bell pepper live here. Their oniony cousins live in the gravy—kept bubbling and thickly brown on the old stove. White beans, black-eyed peas, man-o-man! And you just know there is some fried chicken lurking about if you can work the deal.

This is hearty stuff—Momma says what field hands in Mississippi would eat during their lunch. The idea is to sustain the body for a day's work while feeding the soul. It's all cooked on a crowded gas stove using pots with thick blackened bottoms. You and I would opt for the shiny silver pots, but Momma knows what the years have lent to her cooking. She's always stirring, always adding spice, chatting up "her babies" from the doorway. Hand always on hip, teaching and loving.

Some of her 'babies' can draw her ire as quickly as her praise. Case in point: an LSU physical plant worker who loudly asks (way too early) if the Gumbo's ready yet?

The spoon leads the way as Momma charges from the kitchen, and the strapping young physical plant worker is backpedaling. "Baby–you KNOW (pausing for effect) Momma's gumbo ain't ready till 10:30!!" The worker is smiling—this is an old game and a beloved one. But he is still backing up, as are his buddies who fear collateral damage from that 50-caliber spoon. Our hero calms Momma down with some light banter, scores some fried chicken in tin-foil ( Yankee translation: aluminum foil), adds hot sauce and is on his way.

Let's talk about breakfast for a second. Nothing, but nothing compares to Momma's place for breakfast. While others get away with a ten-dollar day starter, Momma gets you ready for the day, baby. Are you ready for this? Scrambled eggs, grits, a biscuit floating in Momma's "love" gravy, and a couple pieces of fried chicken for less than seven bucks! Eat elsewhere?!? You got to be out yo' mind…! On a cold morning with the windows steamed over, a table full of Momma's love, the old jukebox (all 45s, no CDs) cranking out the blues to Momma's soft humming from the kitchen, and it's time to tell Lord Jesus to take you Home. It just doesn't get any better.

On a diet? Momma has you divinely covered, as the love cooked into her food will more than offset any caloric damage. You see, it's all about taking care of her babies. Momma prays over her food every morning, seeking blessings for her food and for all her babies who will eat it that day.

Don't judge the place by its graffiti-tagged exterior on Chimes Street . Momma can tick off a million-dollar roster of NFL and NBA legends who have sat where you now sit. Shaquille O'Neal would eat double helpings of everything! I defy you to try that.

Recently, Momma had to gracefully bow out of a bidding war between two titans of sports. One of her 'babies' in Baltimore wanted to fly Momma up to cook for him and his buddies. Word of that offer got out, and he was trumped by an even larger "baby" in Washington DC who wanted Momma to cook for the offensive line. All of this was to happen on the same weekend. The bidding and the phone calls were hot and heavy, building to fever pitch as "Game Day" approached.

Who won? Momma did. And both her 300-pound babies got away with empty bellies and intact egos.

Take note children–Momma don't fly.
I love this article. I think it perfectly encapsulates what the Silver Moon Cafe was all about. And I have to tell you that I am so saddened to know that it is no longer open.
Now, I started out this segment by telling you that I had the idea of taking the family to Baton Rouge to eat at Mama's Silver Moon Cafe today. I told you that I discovered that it was no longer open. But, you know what? I discovered something else too. So many people across the country love and miss Mama's cooking! I was blown away by what I saw. And guess what…. They all say the same thing about Mama's cooking. I was totally floored.
Here are some quotes I pulled from the web. This is just a sample. There were so many.
We got in there for lunch one day…didn't leave 'till we'd shot pool for 3 or so hours…and drank every beer she had in the place.I still remember the red beans…even after all those beers.
She cooked all that food in a kitchen the size of a damn closet. 2meats a vegetable and bread…dirt cheap. And she called the red beans a vegetable…she had a ton of pork and sausage in that pot.
I remember her saying "baby..you still look hungry..here's some more."
EVERYTHING had gravy on it at that place, it was excellent to, but I never could eat it during school because it put me to sleep, mama really could cook.
I'm still full from eating there 5 years ago.
I remember her giving food on "credit" because she couldn't "let her babies go hungry." She said pay me back next week or when you graduate and get rich.
Many a sleepy afternoon after some smothered chicken and yams!
"Silver Moon meant a lot to me, and Mama was like a mama away from home."
In truth, I haven't been there since 2001, but the thing about the classics, and this place is surely a classic, is that they don't change.  To this day, when I think of Soul Food, I think of Silver Moon (also Snowflake BBQ on Washington RIP).  Smothered Chicken, beans and rice, greens, corn bread.  Damn! I remember for my 21st birthday, Mama Seabell fixed me a plate of her smothered ribs – fall off the bone good, and poured me a little cup of cognac (out of her stash) to celebrate.
Beans Beans the musical fruit/ the more u eat the more you . . . oh u know the rest.  Well, I've never been a fan of beans- just ask my mom.  However, that all changed the first time I ate at Silver Moon.  WOW!  I didnt know I could tolerate red beans and rice, much less LOVE them.  White beans are pretty damn good, too.  The missmatched china and plates just add to the killer soul food ambiance.  When I think about Silver Moon, I get warm and fuzzy all over.  Ahhhh.
Talk about some killer soul food, this is the place to get some fried chicken, black eyed peas, mustard greens, and fried cabbage.  Even the vegetables have bacon in them.  Good stuff.
Ah, Seabell, how do I love thee.   i can't even count the ways.  i graduated from lsu in '88.  seabell fed me then, when she was across the tracks on nicholson, and she feeds me now on my yearly visits home.  you can't beat her food.  especially the smothered chicken … and her red beans and rice are killer.  i've been using her recipe for years, but i just NEVER get mine to taste as good as hers.  maybe it's the love that mama puts into her food.  lord knows she's got plenty of that.
Ok now it's January 2009 and we sure do miss this place. Thought for sure Mama would reopen somewhere but have not seen or heard anything. Every time we talk about where we are going to eat we say "We sure do wish the Silver Moon was open". Anyone heard anything?
Just saw on WAFB news that Mama is now cooking out of her home on Baton Rouge Avenue. To call ahead and place an order the phone numbers are 324-8836 (cell) and 356-7141 (home). She is in the process of publishing a cookbook of her recipes. She says the book is almost ready. Now this is good news for anyone familiar with The Silver Moon Cafe that used to be near the LSU campus.
Talk about LOVE! These people loved what they experienced at Mama's place. And I understand that. I think it is so awesome. Now, these people might not use these words, but I would say that the reason they loved it so much was because Mama's cookin' was sacramental. It was her love, and God's love for us, that touched us through the dishes she served.
And, as icing on the cake, I have some voice feedback to play for you. My friend Adolfo, when he heard that I was doing an episode on Silver Moon Cafe, just had to call in.
Let's take a listen to Adolfo….
Adolfo, thank you so much for the call. That is wonderful! You know, Char started frequenting Silver Moon Cafe when she was in high school. I didn't discover it until I was attending LSU. That was back when it was just across the rail road tracks off of Nicholson. Boy, that place had character. I never when to the location on Chimes. And now there's no location to go to.
Rumor has it that Mama is writing a cookbook. I tell you what. If that is true, I'll be first in line. I would love to have some of her Smothered Chicken again!
SPINACH PIZZA CRUST, CATHY LEBLANC'S PIZZA DOUGH AND CHICKEN ETOUFFEE RECIPES
I have a few recipes to share with you today.
The first one comes from my friend Cathy LeBlanc, who blogs over at CatholicMomintheCountry.blogspot.com.
On Saturday I had a real hankering for homemade pizza. In an effort to get Char's approval for me to make pizza, I offered to make a spinach crust. Now, I've never made a spinach pizza crust before. So, I put the word out on Twitter and Facebook and asked if anyone had a recipe. Cathy responded with her favorite go-to recipe for pizza crust. It wasn't a spinach crust, but it looked so good I just had to try it. I decided to make two batches: Cathy's crust and a spinach crust.
I ended up finding a recipe for a spinach crust in a pizza cookbook I bought when I was 17. I still have that book, and I love it. Pizza is my favorite food. I not only love eating pizza, I love making it. I can foresee bequeathing that cookbook to one of my children before I die.
Let me give you Cathy's recipe first. Incidentally, she posted it on the Catholic Foodie Facebook page, so you can find it over there. But, here it is….
This is our go-to pizza crust recipe:

1 c warm water
2 T oil (olive)
1 T sugar
1 t salt
1 c whole wheat flour (stone ground)
1 1/2 c bread flour
1 t active dry yeast

I mix it all in my bread maker on the pizza dough cycle…you could knead by hand, then let rest for an hour before shaping. I also add a couple tablespoons of fresh herbs from our garden: basil, parsley, thyme, oregano, sage…whatever I have on hand…dried herbs work, too. Once the dough is ready, I roll it out/shape by hand on a pizza pan (I wish I had a pizza peel!) sprinkled with corn meal….sometimes I hand toss it for the kids' enjoyment, but I don't think that really helps anything, except to help make a mess 😉 I make the crust thicker on the edges by kind of rolling them up all the way around. Then, I prick the dough with a fork, brush with olive oil, then sprinkle fresh grated parmesan cheese, corn meal, and garlic salt…I tend to go a little heavy with the sprinkles on the rolled edges of the crust. Pre-bake for 8-10 minutes until the crust *just* starts to turn a golden color and starts to bubble a little (in a 425 degree oven). Then, add sauce and toppings and bake for an additional 15-20 minutes, or until cheese is nice an melted…the more toppings you have, the longer it takes. BEST.PIZZA.EVER! I have never made a spinach crust, but I'm sure you could just add chopped spinach or spinach puree to the dough when you first mix it…if you puree it, you may need to add a touch of flour to compensate for the extra moisture. Not sure why, but it has taken me YEARS to perfect this dough, but it is now by far our favorite. The first (ok, many!) time I made it, it was not so hot. Our favorite toppings these days are thin purple onions, fresh tomatoes, basil, bacon, and mushrooms. It should make about 1 lb. of dough, which is good for 2 thin crusts, or 1 thick. Good luck!
It was an excellent crust! I have saved the recipe and will be using it again. You can find more of Cathy's goodies over at CatholicMomintheCountry.blogspot.com.
Now, you might be wondering about the spinach crust. It comes from Pizza Pizzazz by Richard Erickson.
This is what Richard writes:
Here is a crust to make your pizza uniquely yours. It requires no rising time, and it can be made in less time than it takes to defrost the spinach.
1 package (10 ounces) frozen, thawed chopped spinach
1/4 cup butter
1/2 cup milk
1 large egg
2 cups all-purpose flour
3 teaspoons baking powder
1/2 teaspoon salt
Preheat oven to 450.
Drain spinach in a colander and squeeze in paper towels or with hands to remove all moisture.
In a small pan melt butter, stir in spinach and cook over low heat for 5 minutes. Remove from heat and stir in milk and egg.
In a large bowl combine 1 3/4 cups of the flour with the baking powder and salt, mix well and add the spinach mixture. Reserve 1/4 cup of the flour to make a firmer dough, if needed.
Grease a 12-inch pizza pan or a 10×14-inch cookie sheet. Place dough on pan and cover with wax paper. Roll out to an even layer pushing up around the edges to form a border. Remove the wax paper.
Bake crust in a preheated 450 oven for approximately 15-20 minutes, then add toppings and bake until done.
Those recipes yielded 3 pizzas Saturday night. The toppings? Well we had shrimp, Italian sausage, fresh spinach, baby Portabella mushrooms, roasted garlic, and sliced tomatoes. Yum!
Finally, I would like to share one more recipe with you. This one is for Crawfish Etouffee. As I mentioned earlier, etouffee means smothered.
This recipe is a variation of the one found in Emeril Lagasse's Louisiana Real & Rustic cookbook.
Ingredients
1 stick of butter
2 cups chopped onions
1 cup chopped green bell pepper
1pound peeled crawfish tails (with the fat)
2 bay leaves
1 tablespoon flour
1 cup water
1 teaspoon salt
1/4 teaspoon cayenne
2 tablespoons chopped parsley (plus additional for serving)
3 tablespoons chopped green onions (plus additional for serving)
Directions
Melt the butter in a large skillet over medium-high heat. Add the onions and bell peppers and saute until soft and golden, 10 to 12 minutes. Add the crawfish tails and bay leaves. Reduce heat to medium. Stirring occasionally, cook until the crawfish begin throwing off a little liquid, 10 to 12 minutes.
Dissolve the flour in the water. Add to the crawfish mixture and season with salt and cayenne. Stir until the mixture thickens, about 4 minutes. Add the parsley and the green onions and cook for about 2 minutes.
Remove the bay leaves and serve over hot rice.
Our variations: We add a bit more salt and cayenne (to taste, of course). The original recipe calls for chopped celery in addition to the onions and bell pepper. We drop the celery. We add chopped parsley and chopped green onions to the plates or bowls when serving.
In addition to crawfish, you can also make etouffee with shrimp or chicken. When using shrimp, be careful not to overcook the shrimp. Shrimp do not take long to cook. You would probably want to add them about 5 or 6 minutes before serving. Chicken Etouffee is economical and delicious. That's what we made Saturday night. And since we had two pounds of boneless chicken thighs, we doubled the recipe. To prep the chicken, Char added just a bit of salt, cayenne and EVOO to the thighs in a bowl, then mixed it up really well. I then cut the thighs up into 1/2 to 1 inch chunks. We LOVED the Chicken Etouffee.
If you decide to try this recipe, please do let me know how it turns out. You can give me a call at 985-635-4974. Or send me an email at jeff@catholicfoodie.com.
MARY IN THE KITCHEN
Thank you so much, Sarah! That was Sarah Reinhard, folks! You can find more of Sarah's work, including her recently published Advent book, Welcome Baby Jesus over at SnoringScholar.com. A big thank you to L'Angelus for allowing us to use their Ave Maria in the show. You can find L'Angelus at CajunRecords.com.
CLOSING
This brings us to the end of the show, folks. I certainly hope you have enjoyed it.
I am looking for voice feedback from… Well, from you! I want to hear from you. How does food meet faith in your life? You can call in your voice feedback by dialing 985-635-4974, that's 985-635-4974. You can call that number day or night. Just leave a message, and I'll be able to play that on the show.
I look forward to seeing you again next week. Until then you might want to check out the Catholic Foodie on Facebook at facebook.com/catholicfoodie. Follow me on Twitter at Twitter.com/catholicfoodie. And don't forget to check out the new Catholic Foodie website at https://www.catholicfoodie.com.
Until next time… Bon appetit!
To leave feedback for the Catholic Foodie, call 985-635-4974 and leave a message. You can also leave feedback for me at jeff@catholicfoodie.com.
Download episode 122 here or listen to it below:
Get new episodes of the Catholic Foodie by subscribing for free via iTunes or in another podcatcher. Find me also at SQPN.com.
You can also find me at:
the Catholic Foodie on Facebook
the Catholic Foodie on Twitter
And over at http://jeffyoung.me