December 21, 2011
CF126: John Besh and "My Family Table"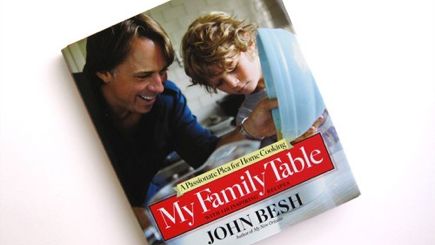 Today we are going to talk about Chef John Besh and his most recent cookbook: My Family Table. I'm going to admit this right up front. I love this cookbook. And I think you are going to love it too. It's unlike so many of the cookbooks on the market. This one was written so that it would actually be used by real people in real kitchens. People who want to cook real food for those they love. Of course, it helps that John Besh is a Louisiana boy too. And that he's Catholic. And a dad and husband. And just an all-around great guy. This episode is going to be fun!
It is Advent and Sarah Reinhard hosts Mary in the Kitchen and considers why changing her attitude is better than surviving this season.
All this and more right here, at the Catholic Foodie, where food meets faith!
As we start this episode I want to thank our sponsor, DivineOffice.org. And I have some news to share with you about DivineOffice.org. You know, I am just amazed at all the great work that the folks over at Divine Office Catholic Ministry are doing. The DivineOffice app is amazing! The Bible App, which they released a few months back, now includes the New American Bible in its lineup. And, now… now they have done it again. Another fantastic Catholic app. This time it's the Catholic Encyclopedia, conveniently called the Catholicpedia. It's available in the iTunes Store for both the iPhone and the iPad.
What does it do? Read the full summary at iTunes.
Again, a huge thank you to DivineOffice.org for sponsoring the Catholic Foodie AND for developing all these great Catholic apps, particularly this latest app, the Catholicpedia.
Congratulations to the new SQPN affiliates!
And we have even more good news today. The Catholic Foodie is proud to be an affiliate of SQPN, the Star Quest Production Network over at SQPN.com. And, recently, four new podcasts have joined SQPN as affiliates:
Congratulations to the new affiliates!
And speaking of SQPN, they are currently in the middle of their annual giving campaign. You can find out more about it at SQPN.com. I also want to share with you the press release that explained what the giving campaign is all about. This is important now. It is very important to support those organizations who are committed to producing quality Catholic content online, and SQPN is ahead of the pack in that department. Here's what was said over at SQPN.com: SQPN ANNOUNCES NEW AFFILIATES!
I encourage to support SQPN in any way you can. You can learn more about how you can support them at SQPN.com.
Chef John Besh & My Family Table
See Chef John Besh's My Family Table on CatholicFoodie.com.
Recipe: Buttermilk Blueberry Pancakes
You'll have to listen to the episode to get the recipe. 😉
Mary in the Kitchen
Thank you very much, Sarah Reinhard.
Wow! I'm amazed at how similar I am to Sarah. I could have presented that Mary in the Kitchen as my own! Life is so funny sometimes.
Yes, Advent is almost over and Christmas is almost here. I don't know about you, but me and my family have been blessed this Advent by a little book written by someone you know. That's right… Sarah Reinhard. It's called Welcome Baby Jesus, and it has been such a treat. I know Advent is almost over, so if you don't have the book, don't worry. There's always next year. And the good news is that she has a Lent book and an Easter book too! You'll find links to those books in the show notes for this episode at CatholicFoodie.com.
Thank you very much, Sarah for producing Mary in the Kitchen each episode of the Catholic Foodie. It is a blessing for me personally and, I know, for all those who listen. You can find more of Sarah's work over at SnoringScholar.com.
I also want thank L'Angelus for allowing us to use their Ave Maria in the show. You can find them at CajunRecords.com.
Merry Christmas!
This brings us to the end of the show, folks. And almost to the end of Advent.
I am looking for voice feedback. I want to hear from you. How does food meet faith in your life? Especially in the Christmas season? You can call in your voice feedback by dialing 985-635-4974, that's 985-635-4974. You can call that number day or night. Just leave a message, and I'll be able to play that on the show.
I look forward to seeing you again next week. Until then you might want to check out the Catholic Foodie on Facebook at facebook.com/catholicfoodie. Follow me on Twitter at Twitter.com/catholicfoodie. And don't forget to check out the Catholic Foodie website at https://www.CatholicFoodie.com.
Until next time… Merry Christmas and… Bon appetite!
To leave feedback for the Catholic Foodie, call 985-635-4974 and leave a message. You can also leave feedback for me at jeff@catholicfoodie.com.
Download episode 126 here or listen to it below:
Get new episodes of the Catholic Foodie by subscribing for free via iTunes or in another podcatcher. Find me also at SQPN.com.
You can also find me at:
the Catholic Foodie on Facebook
the Catholic Foodie on Twitter
And over at http://jeffyoung.me