November 17, 2013
CF182 – Dinner Lab and Supper Clubs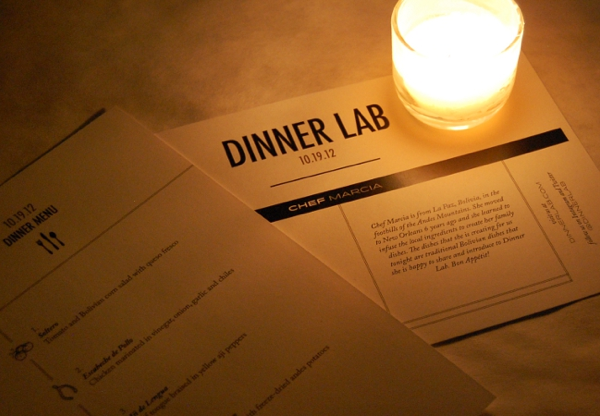 Food in the News: Dinner Lab New Orleans
Dinner Lab, a new social dining experiment, may not be new since it is about 2 years old, but the concept is very new, at least in today's social milieu.
It was founded by a group of foodie entrepreneurs in New Orleans about two years ago. As Forbes magazine reports, "Dinner Lab is a members-only club that hosts semi-weekly dinner parties in remote locations, emphasizing on bringing together new flavors, guests, locations, and talent to each experience. The company quickly gained popularity in New Orleans with its once-in-a-lifetime dinners that include five-course tastings and eclectic combinations like pupusas at a local brewery, a Chilean tasting on a rooftop, Northern Thai in a former brothel, and Cuban fare in an old candle-lit church."
The goal of Dinner Lab is "to make eating out pure again – focusing on the food and people that create the whole experience, rather than the overwhelming choices, prices and trends that sometimes interfere."
Dinner Lab has been featured on Mashable, in Forbes, in The New Yorker and many other online and print publications in local markets across the country. Dinner Lab has an active presence in the following cities: New Orleans, Austin, Nashville, New York, Los Angeles, Chicago, San Francisco, Miami, Washington DC and Atlanta.
"Dinner Lab is a membership-based social dining experiment that unites undiscovered chefs with adventurous diners who are looking for something different from the traditional restaurant experience. Whether it happens on the roof of an abandoned building, the floor of a paper mill, or inside a motorcycle dealership, we believe that good people, good food and good drink are the only elements paramount to a memorable meal.

Our events bring together a group of interesting strangers around a common table to share cuisine crafted by up-and-coming chefs from all over the country. We don't dictate what our chefs cook, but instead give them a platform to tell a story through the menu – recipes that speak to their background or heritage, ingredients they are passionate about, or completely new dishes they've been experimenting with on days away from the restaurant.

Because we keep our cuisine, our environment and our patrons constantly in flux, each Dinner Lab event exists for one evening only. Over the course of a year, we may host up to 100 events in a single city, but no meal will ever happen in the same way, with the same food, with the same people, in the same space.

The Dinner Lab platform flips the traditional top down restaurant experience by putting chefs at the center stage and gives our members access to the "Chef's Table" each time they attend an event. Our member community comes from various ages and backgrounds, but each one shares a desire to expand their culinary horizons in a new and interesting way with an eclectic group of other food lovers from their local area and across the country." – from DinnerLab.com.
Faith in the News: Pope Francis Documentary
A few weeks ago at the Catholic New Media Conference, the Knights of Columbus – a platinum sponsor of the event – made a short presentation in the afternoon announcing the imminent broadcast of a new documentary on Pope Francis, a documentary produced by the Knights of Columbus. Unfortunately, I missed that broadcast. But the good news is that the documentary will air again next week on Salt and Light Television. It is also available for purchase at Amazon.com.
The Pope Francis documentary produced by the Knights of Columbus will air at the following times on Salt and Light Television:
SUNDAY, NOVEMBER 24 AT 9:30PM & 1:30AM EASTERN / 6:30PM & 10:30PM PACIFIC
WEDNESDAY, NOVEMBER 27 AT 8:00PM EASTERN / 5:00PM PACIFIC
You can find the documentary at Amazon.com by clicking on this link: Pope Francis Documentary on Amazon.com.
Listen to the Show
Click the "play" button below to listen to episode 182 of The Catholic Foodie.
Around the Table: Dinner Lab and Supper Clubs – What It's All About
There are many reasons that I am intrigued by Dinner Lab, and I discuss many of those reasons on the show. [You can listen to the show for free by clicking on the "play" button above.]
I guess the main reason that it intrigues me is that it flies in the face of society's current state of mind… uber-busyness and distraction that prevents us from engaging with each other and with God. Food is a way to counteract the poison of our society. We have to eat. And mealtime is the easiest way for us to connect with God and with each other.
A book that I recently discovered has a lot to say about this too. The title of the book is Life Is Meals, and I highly recommend it.
"The meal is the essential act of life. It is the habitual ceremony, the long record of marriage, the school for behavior, the prelude to love. Among all peoples and in all times, every significant event in life – be it wedding, triumph, or birth – is marked by a meal or the sharing of food or drink. The meal is the emblem of civilization. What would one know of life as it should be lived or nights as they should be spent apart from meals?" – page 12 of Life Is Meals

"Primitive man did not eat at certain hours but simply when hungry. Gradually a regularity developed. Families and clans ate together, and in fact, for ages most eating was communal.

"Food is closely interwoven with religion – the sacrifice of animals, the blessing of fields, the Eucharist, the traditional feasts – and it has been crucial to medicine, which, for centuries, was based on dietary principles. In its wake, food has sown cities, formed politics, and been at the root of prosperity or war.

"The most important human relationships are all celebrated with or nourished by the sharing of food. Even death is marked by the serving of food and drink." – page 18 of Life Is Meals
Your Calls & Questions
Today we have voice feedback from Craig Poirier from Vancouver. He tells us what's been going on in his kitchen. Here's a hint: Thai and mushrooms!
We had Thai food again this past week too. Just the other day my wife and I celebrated our 15th wedding anniversary. It was a 2-night celebration. On the first night, we dined together at Sala Thai, a restaurant in downtown Covington, LA. We have been there many times. We were informed by our waitress that there were two new chefs in the kitchen. They had only been there for a couple of weeks. And they obviously know what they are doing because they knocked it out of the park! Great food!
Our second night of celebration consisted of an at-home date on the front porch. I romantically set up table and chairs (with our china and silver… and our crystal goblets!) and placed a candle in the middle of the table. I surprised my bride with a salad and shrimp cocktail, and… steamed lobsters! My girls were out for the evening at a church event, so my son waited on us. He did a fantastic job!