June 23, 2009
CF22 – Who wants to go back to Egypt?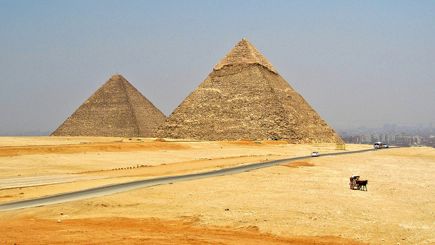 Egypt? That's right, Egypt, ancient Egypt. So, what does ancient Egypt have to do with us today? We'll consult Jim Beckman's "God Help Me" to find an answer. We talk more on prayer, and I announce a new contest.
And don't forget to vote for the Catholic Foodie at www.catholicnewmediaawards.com

As usual, I promise in the intro to talk about something, only to run out of time before closing the show. Sorry! No red beans & rice for you today! But check back soon! Also, the "website launch" announcement will have to wait until next week too.
Don't forget the contest! You could win some Greek seasoning from the Greek Fest in New Orleans!
How do you enter? Simple. Leave feedback! Let me know what you think about the podcast and / or the blog. Tell me what's going on in your kitchen. Share with me one of your favorite restaurants. Is there are particular topic you would like me to talk about on the podcast? Let me know!
Leave feedback… especially via phone. Call 985-635-4974.
So, who wants to go back to Egypt? Do you?
Bon appetit!
To leave feedback for the Catholic Foodie, call 985-635-4974 and leave a message. You can also leave feedback for me at jeff@catholicfoodie.com.
Download episode 22 here or listen to it below:
Get new episodes of the Catholic Foodie by subscribing for free via iTunes or in another podcatcher. Find me also at SQPN.com.
You can also find me at:
the Catholic Foodie on Facebook
the Catholic Foodie on Twitter
And over at http://jeffyoung.me