August 2, 2009
CF31 – A Lunch with Friends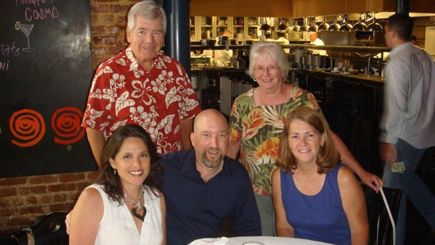 What an exciting episode of the Catholic Foodie! I am thrilled to share it with you.
Sophia (known as @alwayscatholic on Twitter) joins us today. Over the last few weeks I have discovered that she is a true Catholic foodie. And she brings lots of goodies to the table on episode 31. Honestly, I am blown away by what she has to say. You've just got to check it out!
Char and I had the awesome pleasure of having lunch with Lisa Hendey and her parents. Lisa is the Catholic Mom of catholicmom.com. She also produces the Catholic Moments Podcast. I'm a dedicated listener of Lisa's show, and I read her blog on a regular basis. We have also been in touch many times via email over the last several months. I was so happy to meet her in person at the CNMC in June.
Lisa spent last week visiting her parents in Mississippi. Knowing she would be down this way, she contacted me about having lunch with the Catholic Foodie in New Orleans. "Absolutely!" I said. She asked that I pick the place, and they would meet Char and me there.
Pick the place? What a tough task! We're talking New Orleans here. There are thousands of restaurants! And they're all good!
For days Char and I talked about where we could go. "Should we do French Quarter fancy and famous? Or neighborhood casual, with real down-home cooking? Or quaint and artsy Magazine Street?
In the end we chose NOLA, one of Emeril Lagasse's restaurants. It is French Quarter. It's pretty famous. But it retains some of that down-home cooking… At least the dishes are based upon traditional New Orleans fare.
More about the lunch on the show. You gotta listen!
Here are some links to things we talk about on the show:
Again, I can't wait for you to listen and tell me what you think!
To leave feedback for the Catholic Foodie, call 985-635-4974 and leave a message. You can also leave feedback for me at jeff@catholicfoodie.com.
Download episode 31 here or listen to it below:
Get new episodes of the Catholic Foodie by subscribing for free via iTunes or in another podcatcher. Find me also at SQPN.com.
You can also find me at:
the Catholic Foodie on Facebook
the Catholic Foodie on Twitter
And over at http://jeffyoung.me