November 2, 2009
CF45 – Soul Food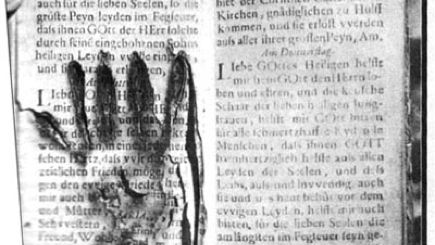 Soul Food! We are celebrating the Feasts of All Saints and All Souls. This is a time to remember that this earthly life is not the end. There is more waiting for us. This is the time to remember the Last Things (death, heaven, hell, and purgatory). This is a time to remember how important it is to pray for the dead.
In CF45 I share with you some thoughts on death… and life. Death has been a theme in my life the last couple of weeks. A friend of mine died last week. Fr. Thomas Perrier, OSB. He was 54. Died in his sleep. The funeral was Friday and it was beautiful. The church was packed, standing room only. And there were so many priests there! And four bishops! What a prayerful and solemn celebration!
And later that evening I had the opportunity to meet St. Mary Magdalene. That's right… St. Mary Magdalene. Well, at least her tibia. As you may have heard on my last Audioboo, the relic of St. Mary Magdalene has left Europe for the first time ever. And, of all places, it was brought to my neck of the woods. I took the family Friday night to venerate that relic. Listen to CF45 to find out more!
And then, of course, we have All Saints Day and All Souls. November is a month dedicated to the Poor Souls in Purgatory. We talk a lot about Purgatory on CF45. Take a listen. And then let me know what you think! I would love to hear from you.
You're not going to believe this, but I totally forgot to draw a name for the contest! Oh well, we'll do that next week… So make some comments! Go to catholicfoodie.com or sqpn.com.
CF45 is a bit long, so you may want to divide your listening time. It pulls in at 1 hour and 10 minutes. Oops!
To leave feedback for the Catholic Foodie, call 985-635-4974 and leave a message. You can also leave feedback for me at jeff@catholicfoodie.com.
Download episode 45 here or listen to it below:
Get new episodes of the Catholic Foodie by subscribing for free via iTunes or in another podcatcher. Find me also at SQPN.com.
You can also find me at:
the Catholic Foodie on Facebook
the Catholic Foodie on Twitter
And over at http://jeffyoung.me