May 6, 2010
CF70 – Hot Tamales de Mayo!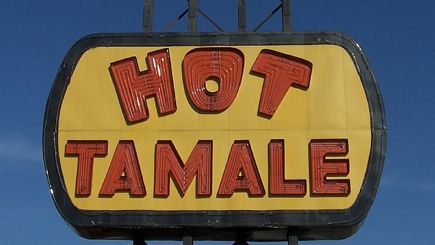 On the menu today: the Gulf of Mexico oil spill, Rockin' the Rails, sushi, Cinco de Mayo, hot tamales (traditional & New Orleans style), & the illustrious Sarah Reinhard with Mary in the Kitchen. The Catholic Foodie… where food meets faith!
Please pray for all those affected by the oil spill in the Gulf of Mexico.
Oh… and remember that authentic restaurant in Houston that I couldn't remember (I mean I couldn't remember the name!)? It's Ninfa's. The original. I don't like the chain. At all.
The original Ninfa's is a hole-in-the-wall on the outskirts of Houston, in a part of town that some would call "seedy." But the food is out of this world! If you're ever in Houston you gotta try it!
A special thanks to Jason Holderbaum for emailing me about Ninfa's. When he heard me talking about an awesome and authentic Mexican restaurant in Houston, he immediately knew which one I was talking about. He happened to be there recently, and I'm jealous! Anyway, he took the time to email me the name, and I greatly appreciate it. Thank you, Jason!
The New Orleans style BBQ Shrimp recipe that I told you about… you know, the one I shared on Wake Up Baton Rouge last Friday. Well, it's coming. I haven't had a chance to type it up and post it yet. But when I do, you'll be the first to know. By the way, that recipe is best with Gulf shrimp, but… looks like they'll be hard to come by for a while.
And those tamales I talked about? Here are a couple of links that you might want to check out: Traditional tamales & New Orleans style tamales. Which one do you think would be the best?
It's a week of deep quotes and little failures during "Mary in the Kitchen," where Sarah Reinhard shares a quote from St. Bede and her experience with not quite preparing for Total Consecration.
A special thanks to L'Angelus for letting us use their Ave Maria in the show!
To leave feedback for the Catholic Foodie, call 985-635-4974 and leave a message. You can also leave feedback for me at jeff@catholicfoodie.com.
Download episode 70 here or listen to it below:
Get new episodes of the Catholic Foodie by subscribing for free via iTunes or in another podcatcher. Find me also at SQPN.com.
You can also find me at:
the Catholic Foodie on Facebook
the Catholic Foodie on Twitter
And over at http://jeffyoung.me