June 14, 2010
CF75 – OPA! Greek Fest 2010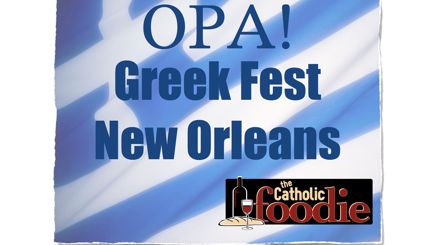 Char joins me on the show today to recap the Greek Fest. We talk about grilling, share some feedback, and I talk Char into sharing her Tabouleh (tabouli) recipe.
Dinner woes? Sarah Reinhard isn't scared off, but finds herself turning to Mary.
A special thanks to L'Angelus for letting us use their Ave Maria in the show! (Note: their website is cajunrecords.com).
Bon appetit!
To leave feedback for the Catholic Foodie, call 985-635-4974 and leave a message. You can also leave feedback for me at jeff@catholicfoodie.com.
Download episode 75 here or listen to it below:
If you like what you see and hear at the Catholic Foodie, please consider leaving a tip!

$2, $5, $10, or any amount… Your tip is greatly appreciated! Thank you!
Get new episodes of the Catholic Foodie by subscribing for free via iTunes or in another podcatcher. Find me also at SQPN.com.
You can also find me at:
the Catholic Foodie on Facebook
the Catholic Foodie on Twitter
And over at http://jeffyoung.me