July 2, 2010
CF77 – Fourth of July, Hot Dogs, and Apple Pie!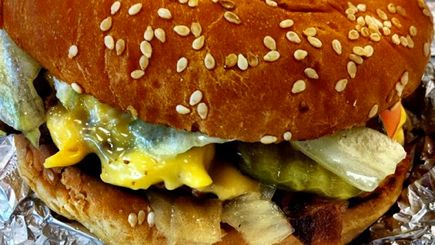 A CNMC challenge from a longtime listener, traditional 4th of July fare… with an innovative twist, and Mary in the Kitchen. Join us at the Catholic Foodie… Where food meets faith!
Call 985-635-4974 with your feedback.
Here are a few 4th of July recipes you might want to try this year:
Sweet Tea with Vodka and Lemonade
Coffee-rubbed Cheeseburgers with Texas BBQ Sauce
Bill Young Burgers – Listen to the episode to learn about these. You'll love 'em!
It's "Mary in the Kitchen" as a reflection on the Mass, where Sarah Reinhard considers her hate of cooking but love of eating and how Mary inspires her to try harder.
A special thank you to L'Angelus for letting us use their Ave Maria in the show!
To leave feedback for the Catholic Foodie, call 985-635-4974 and leave a message. You can also leave feedback for me at jeff@catholicfoodie.com.
Download episode 77 here or listen to it below:
If you like what you see and hear at the Catholic Foodie, please consider leaving a tip!

$2, $5, $10, or any amount… Your tip is greatly appreciated! Thank you!
Get new episodes of the Catholic Foodie by subscribing for free via iTunes or in another podcatcher. Find me also at SQPN.com.
You can also find me at:
the Catholic Foodie on Facebook
the Catholic Foodie on Twitter
And over at http://jeffyoung.me