August 11, 2010
CF81 – The CNMC & New Format for the Catholic Foodie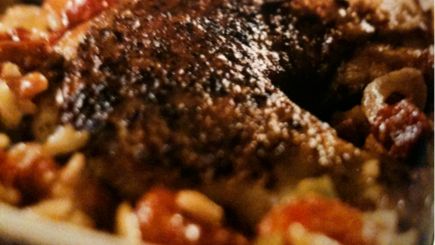 On the show today:
my initial thoughts from the CNMC
a new format for the Catholic Foodie
5 cheap red wines that you can buy without feeling cheap
recipe for arroz con pollo (made with Abita beer)
Join me here on the Catholic Foodie, where food meets faith!
Links:
To leave feedback for the Catholic Foodie, call 985-635-4974 and leave a message. You can also leave feedback for me at jeff@catholicfoodie.com.
Download episode 81 here or listen to it below:
If you like what you see and hear at the Catholic Foodie, please consider leaving a tip!

$2, $5, $10, or any amount… Your tip is greatly appreciated! Thank you!
Get new episodes of the Catholic Foodie by subscribing for free via iTunes or in another podcatcher. Find me also at SQPN.com.
You can also find me at:
the Catholic Foodie on Facebook
the Catholic Foodie on Twitter
And over at http://jeffyoung.me