September 26, 2010
CF90 – Father Abraham… At Your Service!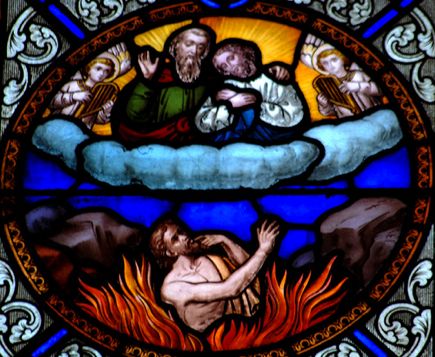 Show notes for episode 90:
Today we talk about bar food, vinegar, and Father Abraham serving dinner to the poor man Lazarus.
Whether you are at the bar with friends watching your favorite football team crush their opponents, or just hanging with friends for a few beers… when you are at the bar, bar food is essential. Pretzels? Peanuts? Hot wings? Not Today! No. Today we get creative with our bar food.
And I am going share with you 12 things you can do with vinegar that may have never even entered your mind before. Talk about some helpful tips!
Sarah Reinhard asks us a question in our Mary in the kitchen segment: "to apron or not to apron?"
DivineOffice.org
A special thank-you to at divineoffice.org, the sponsors of today's show. You know, I prayed morning prayer this morning, and I just want to tell you a special secret. On Sundays, the Divine Office is chanted. You talk about beautiful! An awesome preparation this morning for a holy and solemn Eucharistic celebration with our Archbishop. Check out the Liturgy of the Hours at divineoffice.org.
Prayer:
LORD Jesus, the Prophet Amos & the Evangelist Luke, remind us today that You love the poor and that we should too. LORD you know how infrequently we think of the poor. The closest we may ever get to the poor is passing the poor back in the back of church as we leave Mass to go home. Help us, LORD Jesus, to remember that we are the poor. We are only beggars at the door of Your Heart. Give us a greater awareness of the poor and our responsibility toward them. Help us to give of our time and of our treasure to meet you, Jesus, in the many poor men and women in our community. Bless the food, LORD, that you have blessed us with. And please bless those who go without today. May they be blessed through us and through all who make up Your Body, the Church. Amen.
Reflection:
Short reflection today on the readings from Mass, primarily Amos 6 & Luke 16. Powerful messages here for foodies, folks!
Aperitif & Appetizer:
We combine our APERITIF AND APPETIZER segments today. Instead of talking about beer or cocktails, we talking about creative BAR FOOD. I'm taking these ideas from Bon Appetit Magazine's September issue.
Sometimes we have a drink, not as an aperitif leading to a fine dinner, but to enjoy the company of friends, or to gather at a bar to watch the game. At those times, we really just need some munchies.  Even some substantial munchies.
From the article entitled Eating at the Bar. Pretzels, peanuts, and chicken wings… step back! Here comes some good goodies for the bar!
Flatbread with Arugula, Asparagus, and Fried Eggs (from Baltimore's B&O American Brasserie) – Pair with Pinot Noir
Fried Bread & Butter Pickles with Green Goddess Dressing (from McCready's in Charleston, South Carolina) – Pair with Pimm's Cup
Salad
Today we talk about 12 Unexpected Ways to Use Vinegar. Again, this list is taken from bonappetit.com.
Weed Killer
Flower Freshener
Toilet Bowl Cleaner
Skunk Deodorant
Glue Remover
Pain Reliever
Rust Remover
Microwave de-gunker
Buttermilk Maker
Hiccup Suppressant
Fabric Brightener
Natural Drano
Do you have any special tips or health info that you would like to share? Give me a call at 985-635-4974! Or email me at jeff@catholicfoodie.com.
Kitchen:
Mary in the Kitchen – To apron or not to apron, does it matter? Sarah Reinhard considers aprons in this week's Mary in the Kitchen and encourages you to laugh along with her. (Oh, and if you want a great apron, here's the link to her favorite.) Obviously, I need to send Sarah a Catholic Foodie apron. That would be definitely be her new favorite!
And yes! You heard me right. We do have Catholic Foodie aprons! You can get your very own by going to store.catholicfoodie.com. By the way, if you ever come by our house, you are more than likely to find Char and me wearing our aprons. Char has often said that we seem to live in our aprons. store.catholicfoodie.com. You will also find Catholic Foodie t-shirts and coffee cups. The coffee cups are perfect for drinking your new MORNING OFFERING blend of the Catholic Foodie coffee! catholicfoodie.com/coffee.
A special thanks to L'Angelus for letting us use their Ave Maria in the show!
Dessert:
And for dessert today, just a reminder to subscribe to the new Catholic Foodie newsletter. The first issue went out this past week. Go to catholicfoodie.com/newsletter to subscribe. We have some great contributors to the newsletter. Here's what you will find in the first issue:
Bring Mary into the Kitchen, by Sarah Reinhard
Kids' Mealtime Prayer, by Lisa Jones
A Review of Handbook for Catholic Moms, by Evann Duplantier – Happily shared with us by the folks at Aquinas & More at aquinasandmore.com
How to Bake Bread in 5 Minutes a Day, by Lexi Rodrigo
Smothered Seven Steak, by Jeff Young
Suggested Before Meal Prayers by the Catholic Foodie
Book Project Update
And an announcement!
Closing:
Got a recipe?
You can submit your own recipe to be posted on catholicfoodie.com by going to the Submit Recipe tab or by entering this url: /addrecipe Of course, you can always just click on that link.
To leave feedback for the Catholic Foodie, call 985-635-4974 and leave a message. You can also leave feedback for me at jeff@catholicfoodie.com.
Download episode 90 here or listen to it below:
Get new episodes of the Catholic Foodie by subscribing for free via iTunes or in another podcatcher. Find me also at SQPN.com.
You can also find me at:
the Catholic Foodie on Facebook
the Catholic Foodie on Twitter
And over at http://jeffyoung.me
Image courtesy of Fergal of Claddagh on Flickr.com.