June 9, 2015
Chef Amy Sins Talks Food, Faith, and Family with The Catholic Foodie
Chef Amy Sins of Langlois in New Orleans joins me on The Catholic Foodie Show today on Real Life Radio, and we talk food, family and following your passion. Great stories from a passionate chef in New Orleans! Listen below.
Chef Amy Sins
Chef Amy Sins is a born-and-raised South Louisiana girl with Cajun and Creole cooking woven into her culinary DNA. The Gulf Coast region serves as her pantry and she cooks with passion and enthusiasm using native ingredients and local food traditions – from boucherie to bayou, rice fields to roux, cypress-filled swamps to seafood.

In 2005, when Hurricane Katrina threatened to destroy the community and culture of South Louisiana, Chef Amy wrote "Ruby Slippers Cookbook: Life, Culture, Family & Food after Katrina," an award-winning cookbook celebrating Louisiana foodways and telling the story of life in the aftermath of the storm.

In 2012, Chef Amy opened Langlois – her dream restaurant, an endeavor that seeks to preserve Louisiana cuisine through interactive dining demonstrations and classes. Since then, Langlois has received local, regional and national praise, including selection as one of the "Best Cooking Schools Around the World" by Travel + Leisure. In 2012, Sins also won the GSN's reality show cooking competition, "Beat the Chefs." In 2014, Chef Amy was nominated to the honor of "The Best Chefs of Louisiana: Up and Coming Chefs" by the prestigious American Culinary Federation.

When she's not teaching at Langlois, Amy hosts "New Orleans by Mouth," a weekly radio program on WRBH 88.3 FM. – Bio taken from About Chef Amy Sins
About Langlois: New Orleans' Interactive Dining Restaurant
Langlois specializes in interactive dining experiences exploring Louisiana's distinct culinary heritage. From mis en place to plate, our talented crew of local chefs introduce diners to unique ingredients and create traditional and modern New Orleans menus in a state-of-the-art open kitchen. Think: Chef's table meets Cajun and Creole cooking class with a sophisticated dinner party atmosphere. Seating is family-style, by reservation only, and limited to 20 guests to ensure an intimate, authentic experience. We are also an urban farm, a gourmet boutique, and a culinary event space specializing in team-building activities and private dinners. Langlois is more than a meal, a restaurant, or a cooking class – we deliver fun New Orleans dining at its finest! – taken from Langlois: New Orleans' Interactive Dining Restaurant
LISTEN TO THE PODCAST
To listen to the show, click the player below.
Topics on today's show:
Chefs Amy's culinary influences
The difference between Cajun and Creole cuisines
The story and inspiration behind Langlois
"A day in the life of Chef Amy"
Paying it forward… with a fig tree
Creole tomato season
Chef Amy's favorite food
Chef Amy's radio show, New Orleans by Mouth
And so much more!
A Special Shoutout to Michelle D.!
After last Friday's #RecipeFriday show featuring Louisiana shrimp recipes, Michelle D. / LiveFaithGirl. contacted me via Instagram to thank me for the Greek-inspired Garlic Shrimp with Tomatoes, Peppers and Feta recipe and to let me know that she would be making that dish over the weekend. Sure enough, she tagged me in an photo she posted to Instagram of the dish. It looks beautiful! She did a fantastic job. Here's the photo that she posted: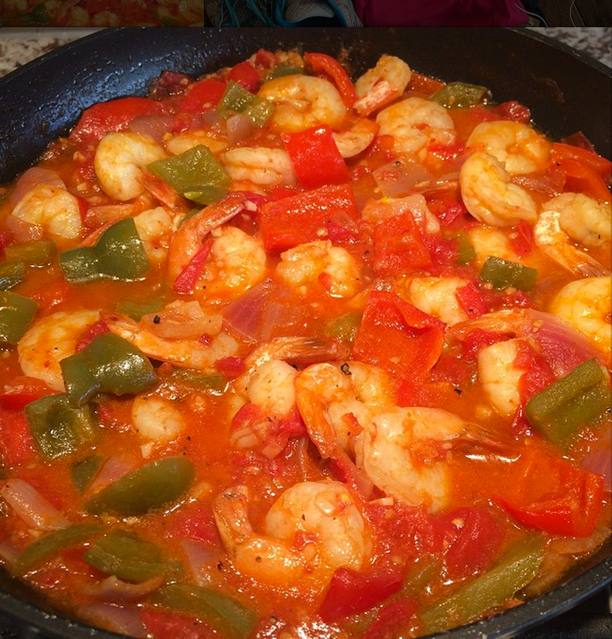 If you have feedback for The Catholic Foodie, you can always call the listener feedback line at 985-635-4974 and leave me a message that I can play on the air!
I look forward to hearing from you!