October 24, 2013
Chef Anthony Scanio and Emeril's Delmonico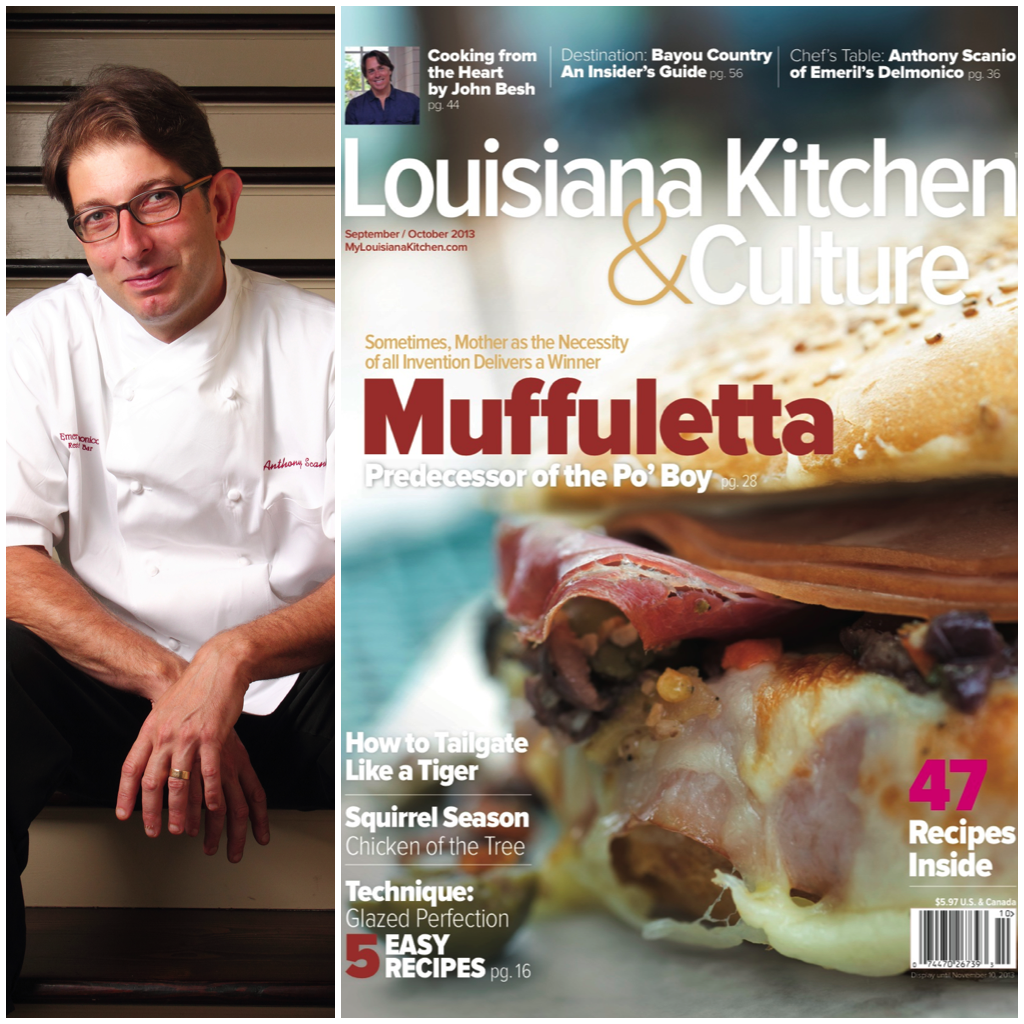 Modern Day Alchemy: A Chef's Perspective on the Sweet Science of Creole Cooking
In the September / October issue of Louisiana Kitchen & Culture magazine, Chef Anthony Scanio of Emeril's Delmonico shared his thoughts on the transformations that take place in cooking.
"Cooking is about transformations," writes Scanio. "It's about taking simple ingredients, and, through various cooking processes, transforming them into new and unexpected flavors and textures. The cooking process allows the raw ingredient – a vegetable, fruit, spice, or meat – to express new characteristics that were previously unknown."
I was fascinated by Chef Anthony's article and I jumped at the opportunity provided by Susan Ford of Louisiana Kitchen & Culture Magazine to have Chef Anthony join us on the Around The Table Food Show.
In his article, Chef Anthony shared three recipes as examples of culinary alchemy… of implementing simple methods that can transform a dish from mush to magic: Zucchini in Scarpece, Watermelon Rind Pickles, and a cocktail called the Elixir of the Seven Powers.
We had the pleasure of delving a bit more deeply into these recipes – and methods – with Chef Anthony on the Around The Table Food Show. Scroll down to listen to the show now or to download it for future listening.
And don't miss Emeril and Chef Anthony's recipe for the Elixir of the Seven Powers. You'll find it below…
Chef Anthony Scanio – Chef de Cuisine at Emeril's Delmonico
Anthony Scanio is a New Orleans native. He has been immersed in the city's culture and cuisine. In fact, on of his earliest childhood memories is uniquely New Orleans: Riding down Canal Street—in a high chair—during the Elks Orleans parade on Mardi Gras day in 1973. Scanio combines experience of New Orleans with his world travels and his love of history to create creole-inspired food for Emeril's Delmonico restaurant.
Scanio didn't begin his culinary career until he was in his late '20s, when he decided to shift his career path from English teacher to chef, enrolling in Delgado Community College's culinary arts program in New Orleans. He cut his chops in the industry at New Orleans restaurants Café Indo followed by Herbsaint, where he studied under James Beard award-winning chefs Donald Link and Stephen Stryjewski. He and his wife then moved to Italy, where he spent about a year studying the country's cuisine and staging in Rome.
Scanio joined the Emeril's family at Delmonico in 2005 as a line cook. Following Hurricane Katrina, he moved to Emeril's Orlando before returning to Delmonico as sous chef in 2006. He was promoted to executive sous chef in 2009. Today, he leads the kitchen at Delmonico and oversees all facets of its culinary operations, from sourcing products, to managing the restaurant's in-house dry-aging program for beef, duck and charcuterie, to working with local farmers, and crafting ambitious nightly tasting menus for guests at his kitchen table.
Scanio's vision and flavor for Delmonico is expressed through his creole heritage and fresh, clean, ingredient-based approach to cooking. He's returning to the roots of creole cooking—homey, approachable, fresh and diverse—and including ingredients and techniques that have been long forgotten to reinterpret the dishes for today's tastes, keeping in tradition with Chef Emeril's signature "new New Orleans" cuisine.
Chef Anthony Scanio on the Around The Table Food Show
Listen to the show below to hear about Chef Anthony's culinary alchemy and about the historic Delmonico and Emeril's "new New Orleans" cuisine. You can also download the MP3 version and listen at your convenience. Just right-click this link and save it to your computer: Chef Anthony Scanio and Emeril's Delmonico.
The Historic Delmonico Restaurant
Emeril's Delmonico is located on the St. Charles Avenue streetcar line. Delmonico – a legendary, century-old institution – is an icon in the restaurant industry and has been a cornerstone of traditional Creole dining since 1895. Emeril Lagasse reopened the restaurant in 1998 after an extensive historic renovation. Delmonico continues today serving a modern style of Louisiana's Creole cuisine with Emeril's warm style of service in a grand setting.
Emeril's Delmonico serves dinner Sunday through Thursday from 6:00 PM to 9:00 PM, and Friday and Saturday from 6:00 PM to 10:00 PM. Happy Hour is from 5:00 PM to 7:00 PM, Monday through Friday. Live music is provided by Ron Jones on Fridays and Saturdays from 6:30 PM to 10:30 PM.
Emeril's Delmonico is located at 1300 St. Charles Avenue in New Orleans. Reservations and walk-ins are welcome. You can contact the restaurant at 504-525-4937.
Recipe: The Elixir of the Seven Powers
The Elixir of the Seven Powers recipe below is published here courtesy of Emeril Lagasse and Chef Anthony Scanio of Emeril's Delmonico. It is shared with permission by Susan Ford, publisher of Louisiana Kitchen & Culture Magazine.
INGREDIENTS
4 bottles (750 mL) semi-premium vodka (100 proof)
2½ tablespoons whole anise seeds
16 whole fresh mint leaves
1 teaspoon whole cloves
½ stick cinnamon
2 vanilla beans, split and scraped
4½ cups sugar
4½ cups water
2 tablespoons orange flower water
1 large pinch saffron threads
1 large piece cheesecloth, rinsed and folded
INSTRUCTIONS
Combine vodka, anise seeds, mint leaves, cloves, cinnamon, and scraped vanilla beans in a large glass or non-aluminium container; stir. Cover well, set aside in a cool, dark place for 6 days to infuse.
On the seventh day, combine sugar, water, orange flower water, and saffron threads in a large saucepan over medium heat. Bring mixture to a simmer; stir constantly until sugar dissolves. Remove from heat; set aside to cool.
Once syrup has completely cooled, add infused vodka; stir to combine. Strain through several layers of cheesecloth; bottle in sterilized bottles as desired. Store in a cool place. Serve the spirit chilled in small glasses as an after-dinner drink.
NOTES
Makes about 5 liters.
This recipe requires good vodka and a bit of your time; it makes a great, personal, holiday gift that any spirits connoisseur would love.