May 19, 2013
Chef John Besh and Monsignor Christopher Nalty on Around The Table Food Show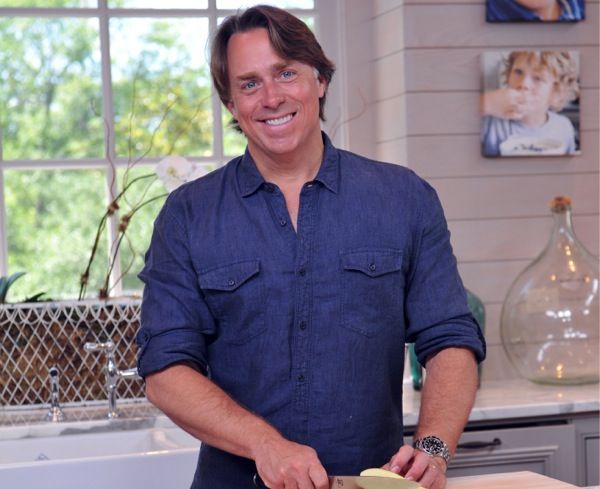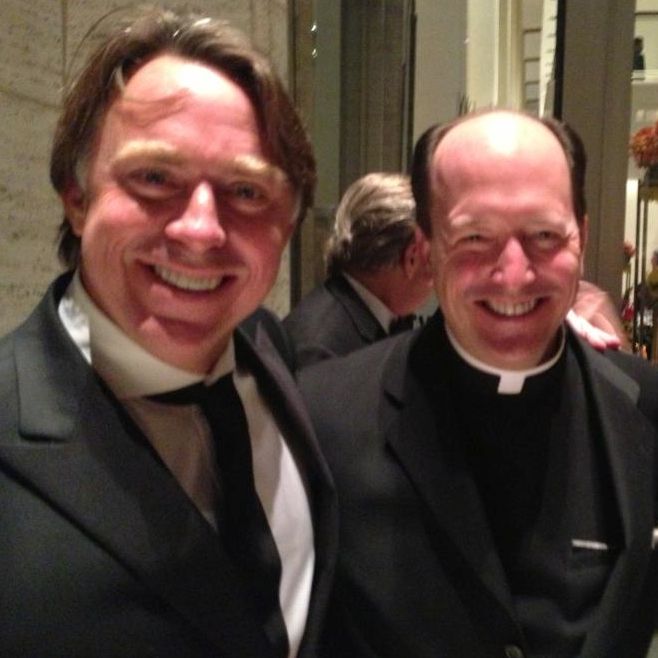 Chef John Besh and Monsignor Christopher Nalty Join Us for Around The Table Food Show
Two special guests joined us for the Friday, May 17th edition of Around The Table Food Show.
Monsignor Christopher Nalty, a priest of the Archdiocese of New Orleans, is the pastor of Good Shepherd Parish, which was formed in October 2008 by merging together three parishes: St. Stephen, St. Henry and Our Lady of Good Counsel. Msgr. Nalty studied in Rome and spent about 10 years in Italy. He loves to cook, and he is really good at it. In 2009, when Fr. Leo Patalinghug was issued a "throwdown" by Bobby Flay, Msgr. Nalty worked together with Fr. Leo to prepare Fr. Leo's famous Steak Fajitas.
On this edition of Around The Table Food Show, Msgr. Nalty shares with us his recipe for Pasta with Garlic & Oil (Aglio e Olio). I include my version of this recipe below.
Chef John Besh is a local chef, restauranteur, cookbook author, husband, father, he has a TV cooking show… Oh, and he's Catholic. 😉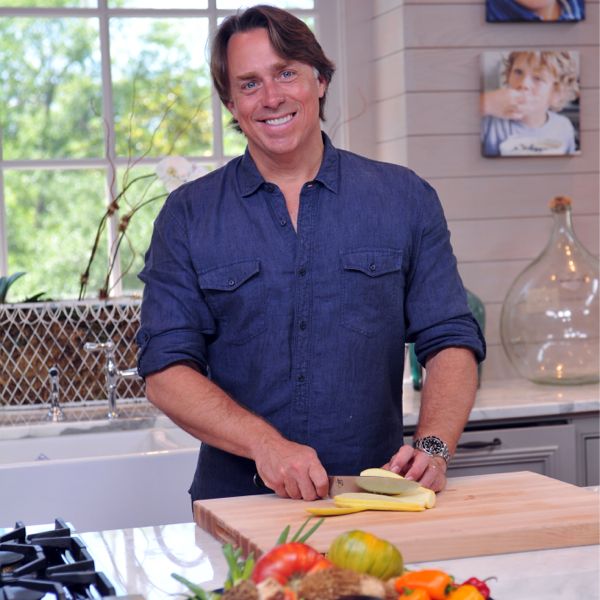 Here's his bio from his website ChefJohnBesh.com:
John Besh is a chef and a native son dedicated to the culinary riches of southern Louisiana. In his restaurants, entrepreneurial pursuits, and public activities, he preserves and promotes ingredients, techniques, and heritage one mouth-watering dish at a time.

From the outset of his career, Besh's talent and drive have earned him continual kudos: Food & Wine named him one of the "Top 10 Best New Chefs in America," and he won the coveted James Beard Award for Best Chef – Southeast in 2006. His nine acclaimed restaurants (August, Besh Steak, Lüke, Lüke San Antonio, La Provence, American Sector, Soda Shop, Domenica and Borgne) each celebrate the bounty and traditions of the region in their own unique way. His flagship restaurant, August, is a Gayot Top 40 Restaurant and a Wine Enthusiast Top 100 Restaurant, in addition to being nominated in 2012 and 2013 for the James Beard "Outstanding Restaurant" award. Besh, the father of four, was featured on the cover of Parade magazine for Father's Day 2012, and is a frequent guest on NBC's "Today" show.

Besh's two cookbooks, My New Orleans (October 2009) and My Family Table in (November 2011) were each recognized with an IACP Award, and his third cookbook is set to be published in fall 2013. He hosts two national public television cooking shows based on the books, "Chef John Besh's New Orleans," and "Chef John Besh's Family Table," which debuted in April 2013.

The John Besh Foundation, founded in 2011, works to protect and preserve the culinary heritage and foodways of New Orleans via initiatives such as the Chefs Move! culinary school scholarship and microloans for local farmers.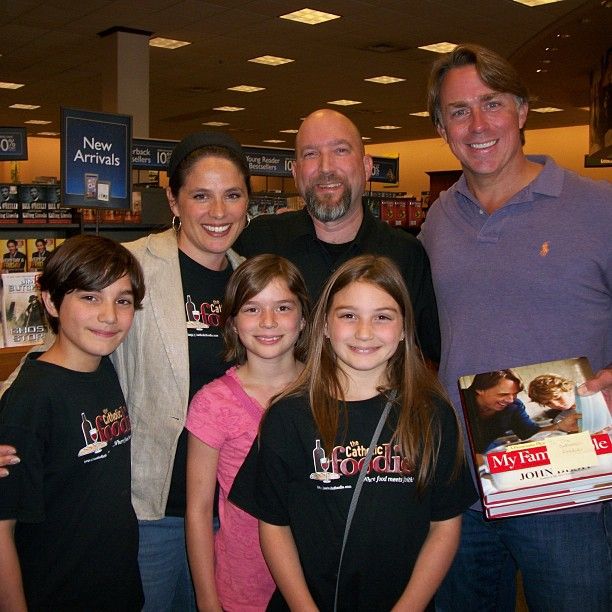 Chef John Besh's Family Table
Chef John Besh's most recent cookbook – My Family Table – and his companion TV show on PBS (Chef John Besh's Family Table) share the same mission as Around The Table Food Show… to encourage and inspire families to get around the table.
In My Family Table, Chef Besh issues "A Passionate Plea for Home Cooking." In the new TV series, "Chef Besh explores his belief that the simple act of cooking at home can change our way of life: it not only feeds a family but also nourishes and strengthens its bonds. Besh is a native son dedicated to the culinary riches of South Louisiana. He takes care to preserve and promote ingredients, techniques and heritage in all of his dishes. The acclaimed chef invites viewers into his home to show them that, by thinking ahead and thinking smart, they can put delicious food on their own family tables every single day" (from a press release by WYES).
Listen below to this edition of Around The Table Food Show to hear Chef Besh talk about his passionate plea for home cooking:
You can also download the MP3 file to listen to it on your computer or MP3 player by clicking here: http://catholicfoodie.podbean.com/mf/play/rgx7n9/CF165.mp3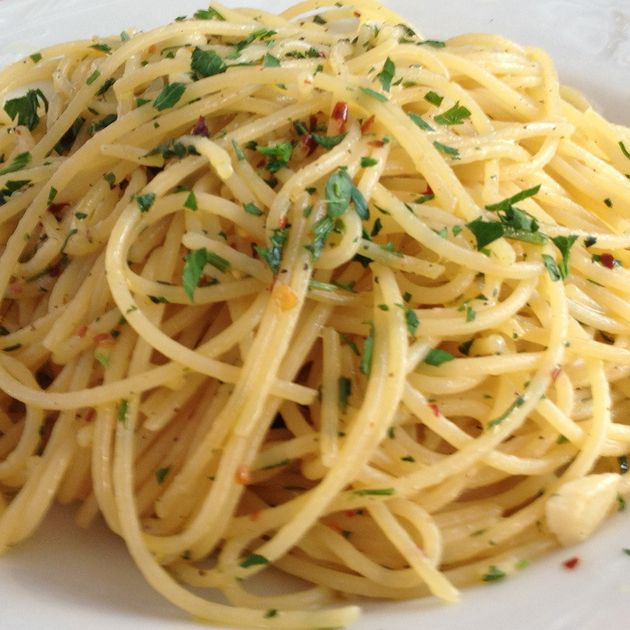 Pasta with Garlic and Oil (Aglio e Olio)
INGREDIENTS
1 pound spaghetti
Sea salt or kosher salt, to taste
6 tablespoons extra-virgin olive oil
6 to 8 cloves of garlic, minced
1 teaspoon red pepper flakes
3 to 4 tablespoons fresh flat-leaf Italian parsley, chopped
2 teaspoons fresh-squeezed lemon juice
1/2 cup Parmesan cheese, (optional)
DIRECTIONS
Bring a large pot of cold water to rolling boil over high heat. Salt the water generously because you will not be salting the "sauce." Add the pasta and cook, stirring occasionally, until al dente. Remove from heat a minute or two before you think it's done (it is going to cook a bit more once you add it to the garlic and oil).
Reserve some of the pasta cooking water – about 1/2 cup – and drain the pasta.
While the pasta cooks, combine the extra-virgin olive oil, the garlic, and red pepper flakes in a heavy-bottomed large skillet. Cook over low heat, stirring constantly, until garlic starts to foam and turns golden, about 8 to 10 minutes. Turn off heat and add the pasta and about 1/4 cup of the reserved pasta water to the garlic and oil. Mix well. Add the parsley and lemon juice. Adjust seasoning to taste.
Transfer the pasta to a warm serving dish. Serve immediately, sprinkling individual bowls with Parmesan cheese (optional). Serves 4 to 6 people.
Do You Cook at Home?
So many folks find that it is a struggle to cook at home and to gather their family around the table. Is that the case for you? Or are you able to prepare meals at home on a regular basis? I would love to hear all about it! Please leave a comment below!
***Image of Aglio e Olio used courtesy of geekygirlnyc on Flickr.com.***