March 22, 2015
Chef John Besh and the Chefs Move! Scholarship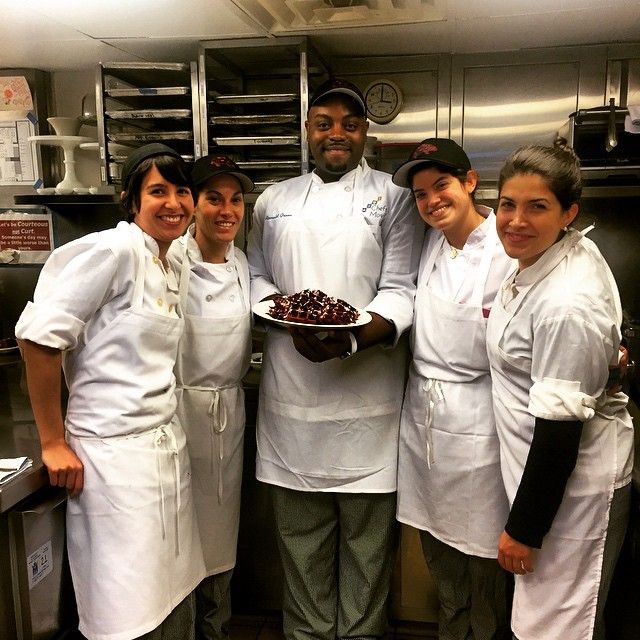 Click below to listen to episode 197 of The Catholic Foodie Podcast, which I have titled Chef John Besh and Cookin' Good… It's all about how food and cooking bring people together – both communities and families – and is the source of so much good. There's a special interview in the show with Chef Ronald Green who is a current recipient of the Chefs Move! Scholarship. He shares with us his experience, tells us about the Chefs Move! Scholarship, and reminds that the deadline to apply is just over a week away: March 31, 2015.
Listen Now or Download for Later
Below is the latest episode of The Catholic Foodie Podcast. You can listen to it by clicking the play button below (or you can right-click and choose save-as to download it to your computer to listen to it later):
Show Notes for CF197
In this episode we talk about some of the good things that can come from cooking… and I'm not talking just about the yummy food that you find on your plates. Of course, good food comes from good cooking! But I'm referring here specifically to the good that comes to communities and to families through the art and science of cooking.
Chef Ronald Green joins us later in the show today to talk about a special scholarship opportunity for young chefs in New Orleans: the Chefs Move! Scholarship, which is provided by the Chef John Besh Foundation.
Stay tuned to hear how goodness has been brought into the life of Chef Ronald Green and the local New Orleans community through food and cooking…. Listen to The Catholic Foodie Podcast.
Catching Up – Catholic Foodie Events
As we start the show today, I want to catch up on a few newsworthy items regarding The Catholic Foodie. It's been a busy few months for me between my usual work, book promotion, and speaking engagements.
If you recall, my book – Around the Table with The Catholic Foodie: Middle Eastern Cuisine – hit the shelves back in November. Several book launch events kicked off between the release of the book and Christmas. I took a few weeks off after Christmas before resuming promoting the book. But since then, I have spoken at a few events, held book signings and even participated in an online Catholic Conference 4 Moms.
I want to highlight 4 of those events here:
Memphis – On Valentine's Day I had the privilege of speaking on food and faith in the Diocese of Memphis at the Our Lady Queen of Peace Retreat Center. Attending that night was my good friend Fr. Mike Werkhoven, who celebrated Mass for us, and several of the folks who joined me on the first Food Meets Faith pilgrimage to the Holy Land in February 2014. As a matter of fact, we had something of a reunion in Memphis the night before. It was such a joy to see everyone and to share memories from that life-changing trip. The weekend was extra-special for me since I was able to have my wife accompany me.
The Catholic Guy Show – Though not directly related to my book, this event allow me to highlight the connection between food and faith. Once again, Lino Rulli – The Catholic Guy on SiriusXM's The Catholic Channel came down to New Orleans to broadcast his daily show during Mardi Gras week. I was honored to join him on Monday and Tuesday of that week, the days that we call Lundi Gras and Mardi Gras. It was my job to get Lino to sample several of our local Cajun and Creole dishes. If you know Lino Rulli, then you know that he is probably one of the pickiest eaters on the planet. So, as you can well imagine, feeding him boiled crabs, crawfish, Cajun boudin and hogs head cheese made for some very entertaining radio. We had a ball. I'll play a little snippet of one of the shows here, but you can find the show from Mardi Gras day on iTunes. Just search for The Catholic Guy.
Catholic Conference 4 Moms – Just a couple of weeks ago, I participated as a presenter in an online conference for Catholic Moms. Called the Catholic Conference 4 Moms, this online conference brought together a host of awesome Catholic speakers to inspire and encourage Catholic moms in their vocations. Other speakers included: Celeste Behe, Connie Rossini, Daria Sockey, Rachel Balducci, Susie Lloyd, Tami Kiser, and many more!
The conference was a huge success with over 4000 moms registered for the event. Now that it's over… it's not over. The full conference is available for purchase (along with a truckload of bonuses!) for only $39.99… or, actually, for $29.99 when you use my special discount code: FOODIE. Get it for yourself or for any special moms in your life. It's a gift of inspiration and encouragement for moms in their vocation.
Theology on Tap – I spoke at Theology on Tap last week in New Orleans. The title of the talk was How to Eat Your Way to Salvation: A Foodie's Guide. Perhaps a little tongue-in-cheek… but 100% true when you stop and think about it. Special thanks to Chelsea Colomb for the invitation!
The Chefs Move! Scholarship
The fact that food and cooking yield good for both families and communities is a common theme here at CatholicFoodie.com. It's a fact that family meals shared around the table are healthy for the individual and healthy for the family.
Over the years I have interviewed folks and written about the many ways that food brings people together and can be used to further good causes in the community.
I'm thinking right now about world-famous Chef Leah Chase who has cooked for presidents and princes… who says that all the world's problems can be solved around the table over a bowl of gumbo and a plate of fried chicken.
The table is a great equalizer. We all have to eat. And when we gather around the table to share a meal together, we gather as equals… and we really can solve – together – life's problems.
I recall two interviews from a couple of years ago – one with Chef John Besh and the other with Chef Matt Murphy. Both of them remarked on how tight-knit the chef community is in New Orleans… how the chefs often come together to help each other or to work together to help a good cause. One of the examples given was when Chef Matt Murphy was in the hospital, quite literally on his death bed. He had somehow contracted a rare blood disease. This was back in 2009. The chefs of New Orleans rallied behind him, giving Chef Matt and his family moral support and also financial support through a benefit fundraiser they organized. Thankfully, Chef Matt recovered. He was miraculously healed.
This is just one example of chefs coming together, using food to do good in the community. The number of benefits put on in New Orleans by chefs is amazing… a beautiful example of using food as a means of bringing people together for a good cause.
But the same thing happens in parishes across the country on Friday's during Lent. The Knights of Columbus are famous for both their Lenten Friday fish frys and the charitable works they fund and engage in throughout the year.
And then there are the foundations – like the Chef John Besh Foundation – and the good works that they do. That's where Chefs Move! comes in.
Details about the Chefs Move! Scholarship
The mission of The John Besh & Bride Mayor Chefs Move! Scholarship Program is to diversify kitchen leadership by providing minority applicants the opportunity to train up and become leaders in restaurant kitchens and in their communities.

Chefs Move! provides two fully paid scholarships (one in Culinary Arts and one in Pastry Arts) to minority residents of the Greater New Orleans area to attend the International Culinary Center (ICC) in New York City. The nine-month program at ICC is followed by a two-month internship with the Besh Restaurant Group (BRG).

Upon completion of the program at the ICC, the Chefs Move! Scholarship recipients will return to New Orleans to complete a paid internship at a BRG restaurant. After the successful completion of the paid internship, the recipient will apply for a full-time job with a New Orleans restaurant outside of the BRG.
The Scholarship Includes:
Full tuition
Supplies (knives, uniforms, books, etc.)
Housing (9 months)
Laptop computer and computer lessons
Move-in assistance
One grocery card ($200)
One MetroCard (30-day unlimited)
Two-month paid internship with the BRG (upon completion of program)
Job placement assistance while in New York City
Mentorship from a BRG chef
Requirements for Applicants:
African-American, Vietnamese, Hispanic or another cultural minority
Resident of the Greater New Orleans Area
Able to commute to the CBD for both training and the paid internship
High school diploma or GED(R)/HiSET(R) and be ready to submit all corresponding transcripts
One year of experience (minimum) in a restaurant kitchen or have graduated from a National Restaurant Association's ProStart(R) program
Two professional letters of reference (additional letters are both encouraged and welcome)
Familiarize yourself with the ICC prior to the official interview
Complete and submit the application (with supporting documents) by March 31, 2015
Conditions of the Award:
Raise $500 in pledges to demonstrate dedication to your culinary education (more details in the application form).
Apply and commit to a full-time job in the New Orleans area for (at least) two years and with a restaurant outside of the BRG.